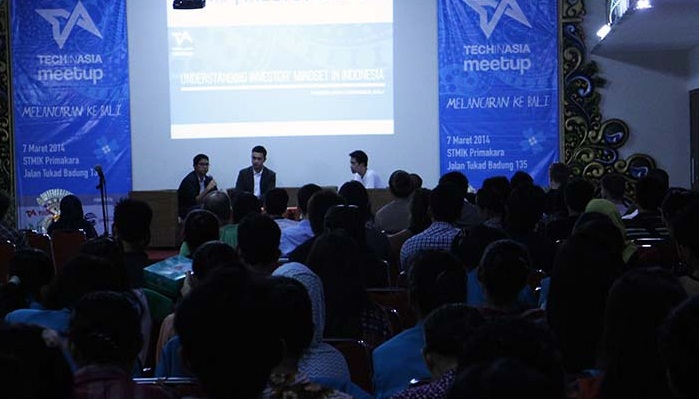 Last week we held our first Tech in Asia meetup in Bali. With the theme of understanding investors' mindset in Indonesia, it was an interesting and engaging evening. We also saw seven neat startups that pitched their ideas:
Deca Deco sells a wide variety of furniture and room accessories. Shoppers can choose a design theme – such as vintage, American classic – to help in browsing items. The Bali-based startup is looking to work with interior designers to provide interior design-related consulting for customers.
If you want to visit Bali, Fantastic Bali could be a useful resource for Indonesian tourists. It has detailed information on places to visit, activities, accommodation, transportation, entertainment, and other touristy things. Fantastic Bali also provides a wide range of tour packages, and so its users can plan a whole holiday itinerary. Unlike package aggregator sites around the world, this Indonesian startup runs its own tours.
Fantastic Bali was founded by Private Leisure, a company that operates in the tourism services field in Bali and a number of countries in Asia such as Thailand, Sri Lanka, Vietnam, and Malaysia. The startup is also looking to provide this web service to other regions across Indonesia.
Another similar player in this field is Thrillophilia, an Indian startup that curates and sells adventure tours across India.
Klakat aims to help users in making a professional website easily. It might be suited to people in creative industries, such as photographers and designers.
Klakat has levels of packages from IDR 50,000 (US$4.40) per month to IDR 2 million (US$176) per year.
(Read more: 5 interesting startups at Tech in Asia Bandung meetup)
Lab equipment is generally expensive, so a school or university has to spend a large portion of its budget to get all that kit. Fortunately, a virtual laboratory can be created instead. One startup in this field is Labster.
The Denmark and Bali-based startup provides a 3D virtual learning environment based in a virtual lab. Labster also provides quiz questions and background theory that engages students in an immersive science experience.
Lots of people spend hours every day sending emails, and Mailbird wants to make that process more productive with its PC email app. After months in beta, Mailbird launched a multi-account feature late last year.
6. The Adventure of Jalak
The Adventure of Jalak is a game developed by Miracle Games Studios. This game developer is founded by three senior high school students in Bali. At glance, this game is similar to Flappy Bird, whereby users have to tap the screen to make the Jalak bird fly. Unlike Flappy Bird, The Adventures of Jalak has several levels with some obstacles in each level. This game is still under development and will soon be available for Android.
7. Monstar
Monstar is a game similar to Puzzle and Dragons and Pokopang, where players must match three or more orbs of the same color to attack the enemies. The gamers can make in-app purchases to buy weapons and heal faster. Monstar organizes regular tournaments among gamers. It's developed by Bali-based startup Sudigital.
Monstar will be available for Android in April.
(Editing by Steven Millward)