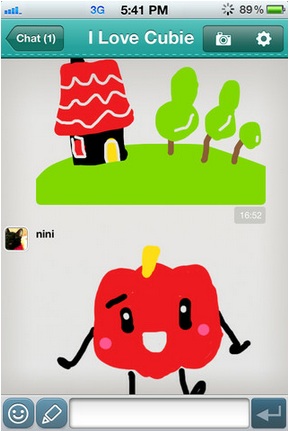 Since launching in March 2012, Cubie has become one of the most talked about mobile messenger apps from Asia. Six months in, it is still going strong, accumulating 4 million downloads.
Available on the iPhone and Android, Cubie resembles a cross between Whatsapp and Draw Something. Its 'Space' feature lets users share their drawings in a public gallery.
The latest milestone, along with some other numbers, were announced on Cubie's blog today. Combined with the numbers from SGE's previous article about them, the overall picture looks rosy for the startup and its founder, Cjin Cheng.
The mobile app gained 1 million downloads 35 days after launch, and from then on scored another 3 million. August appears to be particularly strong for them, with 1 million signups added.
Interestingly, Thailand is their strongest market at 1.1 million signups. A Thai version of the app has been launched to respond to the growth. The other top markets are: Taiwan, Malaysia, Saudi Arabia, Hong Kong, and Singapore.
Cubie says that traction has been "almost entirely viral," relying on users sharing the app with friends, often via Facebook, Instagram, or Twitter.
It continues: "We moved quickly to capitalize on these channels, adding easy to share features and company accounts to interact with existing users and reach out to new ones."
Cubie will soon be available in even more languages, and the startup plans to focus on growing their user base in Japan and US. It also hopes to add user profiles, photo and drawing decorations, Cubie cards that can be sent to friends, and so on. The updates are geared towards creative people who want to have fun while chatting.
Moving forward, it will need to do a lot more to come close to being Asia's top dog in the mobile messaging arena. Currently, that honor belongs to WeChat, which reportedly surpassed 200 million users in September.