The hackathons and tech competitions in Vietnam keep coming. We had three hackathons all in one month, then weeks ago we had DEMO ASEAN. Now, VTC Academy has just put on an event called Mobile's Got Talent, a competition to find the best new mobile app in Vietnam. The folks at VTC Academy were friendly enough to tell us who were the top five teams that came home with the money.
Each team got awarded as follows:
1st prize: 15 million VND ($750) + 54 million VND in scholarship
2nd prize: 10 million VND ($500) + 54 million VND in scholarship
3rd prize: 5 million VND ($250) + 27 million VND in scholarship
4th prize: 27 million VND in scholarship
Each cash prize came with a scholarship to study at VTC Academy, which is a center of learning information and technology based in Hanoi and Ho Chi Minh city. The young teams can go there to learn more about coding, system architecture, and more.
Now, without further ado, the teams
In total, five teams won, and each built a mobile app on either Android or iOS.
1. Game Fairy War (Android):
Ironically, I couldn't get the game that won the first prize to work. The two APK files I received from the organizers had a parsing error, so I'll take a look later when I've gotten a hold of the founders. Otherwise, the four others had no problems with installation.
2. Candy n Puzzle (Android):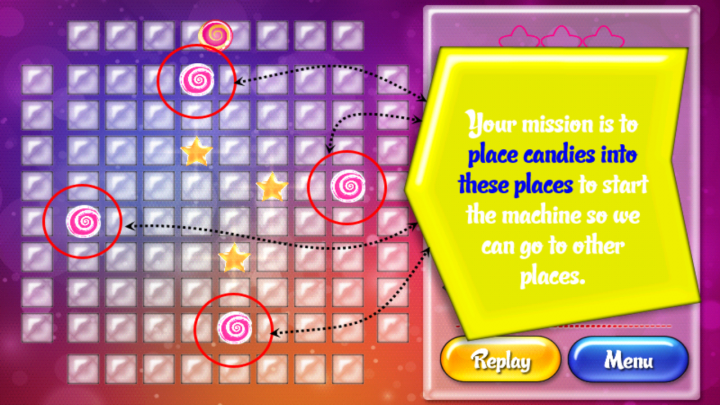 As the name implies, it's a puzzle game involving candies (not like Candy Crush). Basically, you have to drop candies down into the slots while the cursor above moves left and right. Like most puzzle games on mobile these days, it's got a set of levels, in each level you can redeem up to three stars, that you have to pass through.
These days, Vietnamese game developers are starting to adapt new methodoligies, having more consistency and using global mobile gaming conventions like levels, monetizing character appearance, and game mechanics. Candy N Puzzle is one example of this. Unfortunately, we've yet to see great design follow along with these other conventions.
3. BUSITUS (iOS):
Although I've seen several projects before on the web that attempted to tackle Vietnam's bus system, this one does it on mobile. You can see all the buses in the city and track the schedules and routes. My only problem with this is that I don't see any path to monetization (although VeXeRe is indeed attempting a booking platform for a different bus system). In San Francisco, they've got apps very similar to this (and more sophisticated) but much of the time they're either free or paid. It's not a scalable model beyond being a useful tool.
Another telling problem is most of the people that take buses in Vietnam don't use smartphones. Buses are also perceived to be a method of transport for people in poverty (majority of Vietnamese middle class own motorbikes). If BUSITUS makes its way on to the growing Android then it stands a better chance of seeing strong adoption rates, but at this particular time, as an iOS app, its potential audience is extremely limited.
4. Bien Nien Su Hao Khi Viet (Android):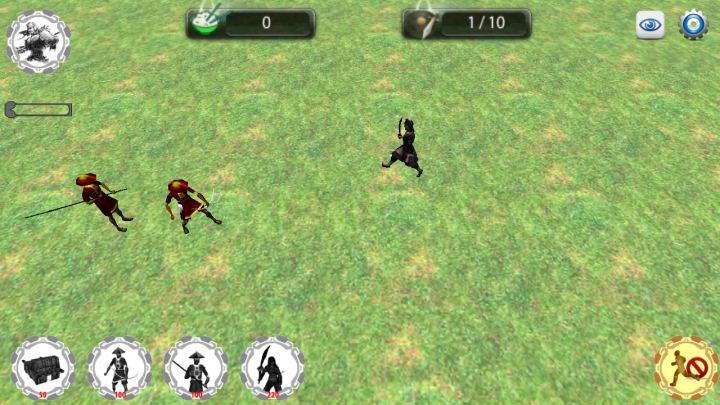 Bien Nien Su Hao Khi Viet is a turn-based strategy game where you place characters on a board that will react to computer-based opponents. Each level gets more difficult but every time you beat a level, you can use tokens to buy better characters. As you can see below, I've got a pikeman and archer and he's going up against a dude with a sword.
From what I can tell, this is still very much in beta, but the concept and graphics show promise. Of course, it's not at the level of Infinity Blade but for young students, this is a huge step.
5. Street Foods Guide (Android):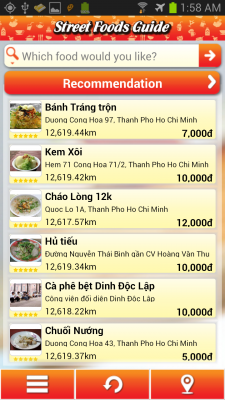 This is probably my favorite of the bunch. It's odd that it only got fifth place. We've seen this team pop up in several hackathons recently, and the team has been winning awards along the way. It's a social mobile app that allows users to see what is the best street food in your favorite cities. It's a pretty interesting concept considering that Foody.vn, a similar-themed app, just got another round of funding from CyberAgent Ventures.
Street Foods Guide is pretty smooth, although a bit ugly, and might be interesting for young folks who want to try out what kinds of street food Vietnam's big cities have to offer. Just like Foody, it requires users to upload their own photos and add locations. So far it's populated with locations from the founders.
More hackathons on the way
I've heard through the grapevine that there are more hackathons on the way, as well as StartupWeekend. As mentioned earlier this week, Vietnam's startups scene is building in momentum, but I wonder if the five startups that we see above and others we've seen in previous hackathons are capable of growing beyond a weekend hacking project? There are currently no credible accelerator programs for startups besides Founder's Institute in Hanoi, which last I heard, is on hiatus.
(Editing by Terence Lee and Josh Horwitz)