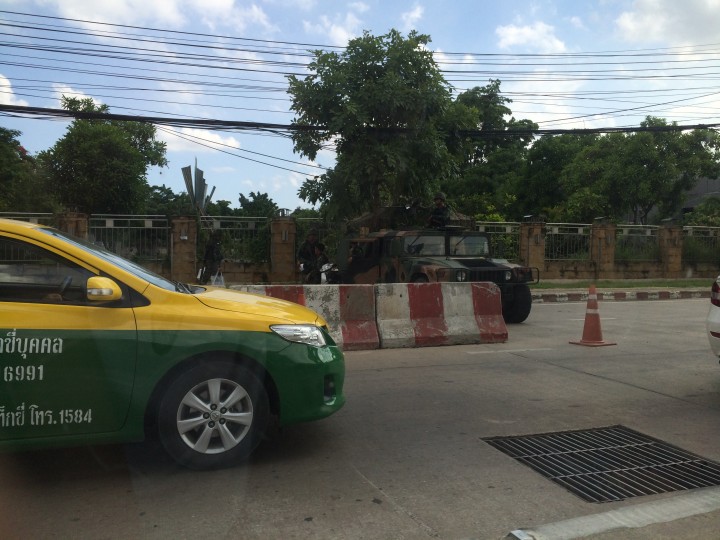 Bangkok is the number one global tourist destination of 2013. The tourism industry accounted for 16.7 percent of the country's GDP in 2012. Since the military coup that overthrew the Prime Minister on May 22, Thailand has been under curfew and that's causing many to question whether it's safe to visit.
Personally, I get many overseas friends asking if they should cancel their Thailand trips or not. I reply that, in my view, Bangkok and the rest of the country are still safe to visit so long as you're not going into areas where there are protests – which results in a heavy police and military presence.
Perhaps the nest way to gauge the situation on the ground is to do the same as locals – turn to social media. However, while hashtags like #Thaicoup and #Thailandcoup can be useful, it's tricky to filter out all the selfies, gossip, repetition, and confusion. So here are five Twitter users we've handpicked as reliable sources of information about what's happening in Thailand as the coup rumbles on.
Q&A @RelaxedTravels: From what I hear from Thai friends, it's safe. Concerns overblown? => It's actually safer now for tourists than before

— Richard Barrow (@RichardBarrow) June 3, 2014
Barrow is a full-time travel blogger in Thailand, but he covers almost everything about Thailand. He also has a useful website.
During the ongoing protests, he used his own drone to take pictures of the protest sites. He's also very active in reporting what's going on in Bangkok during the coup with an updated map showing which streets are shut down.
Another view on Vic Monument looking east: empty! RT @CasnovaShim: @fm91trafficpro 16:00 รอบอนุเสาวรีย์ชัยตอนนี้คะ pic.twitter.com/DnkdlPqG7z

— Saksith Saiyasombut (@Saksith) May 29, 2014
Saksith is a political blogger who writes for Asian Correspondent. He posts pictures from the areas where there are protests and a heavy military presence so you know where to avoid. He's also good at getting political scoops.
So shocking: Thai undercover police bundle screaming woman protester into Bangkok cab; she's now in military custody. http://t.co/CaKaWv7jn7

— Andrew RC Marshall (@Journotopia) June 2, 2014
Marshall works for Reuters. He won a Pulitzer Prize this year for his reporting in the region. Since he has been living in Thailand for quite a few years, he has some useful insights about the country. Even though he writes for a media outlet, he tweets about a lot more than just what he covers for Reuters, including a great deal of breaking news. He tweets as he sees things happen.
#BBC, #CNN now back on major cable TV provider True — but with #NCPO bug in upper right hand corner of screen. #ThaiCoup

— Steve Herman (@W7VOA) June 2, 2014
Herman is an Asia expert who's Voice of America's bureau chief in Bangkok. He has been living in Asia since 1990, with time spent in Japan, India, and Korea. Now he's in Thailand tweeting about Thai politics – and now the Thai coup. According to his profile, he's a Shorty Awards 2014 finalist for best journalist in social media.
That is not 2 say lady in vid was not detained by undercover cops. Photos https://t.co/SyWFAlOLUD + pic.twitter.com/aBSprhEoTQ suggest she was

— bangkokpundit (@bangkokpundit) June 2, 2014
Bangkokpundit might not be sharing pictures from down on the ground all the time, but his tweets are timely and well-curated from a variety of sources around Twitter and other places on the web. His focus is mainly politics, so you can learn about the background political issues as well as get updates on what's happening on the streets.