Indonesia's online games industry is big, with an estimated US$190 million in revenue in 2013. One of the keys to that success is the ridiculous ease of payment for gamers to make online purchases. Here we take a look at the top five payment solutions in Indonesia to help gamers spend their money: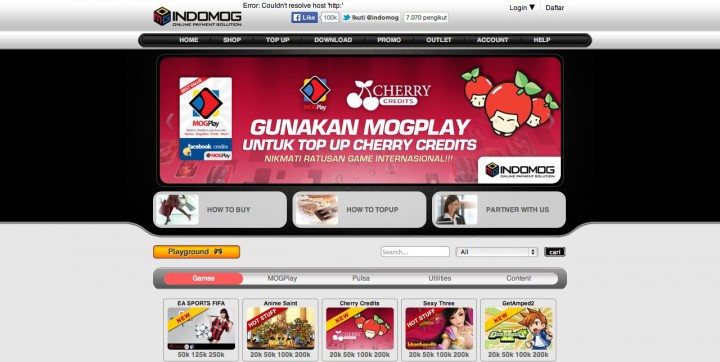 This Indonesia-based company might be the one that offers the biggest offline payment options to gamers in the country. Gamers can buy Indomog physical vouchers in various physical outlets like grocery retailer Carrefour and Hypermart, a handful of internet cafes, and even in several shops inside universities. Not only that, Indomog also accepts online payments like bank transfer, credit card, mobile banking, and internet banking.
Users can use their Indomog credits to make purchases on famous online games like Point Blank and League of Legends. Besides that, Indomog also lets users buy phone credits, pay utilities bills like electricity and broadband internet, and top up their Steam Wallet.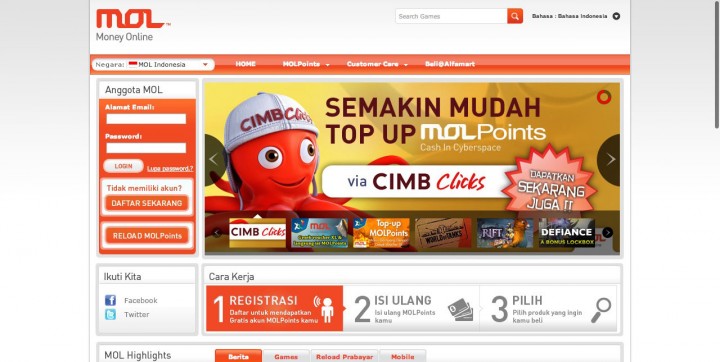 Malaysia-based payment service MOL offers a game credit product called MOLPoints. Users can top up their credits using various payment methods like internet banking, offline vouchers at physical grocery retailers, carrier billing, and through other internet payment providers like AyoPay and Gudang Voucher.
MOLPoints is connected to over 200 online games, including Dota 2, Ragnarok Online 2, and Crystal Legacy. The company representatives noted that in Indonesia, it is widely known as the company which offers Facebook game credits.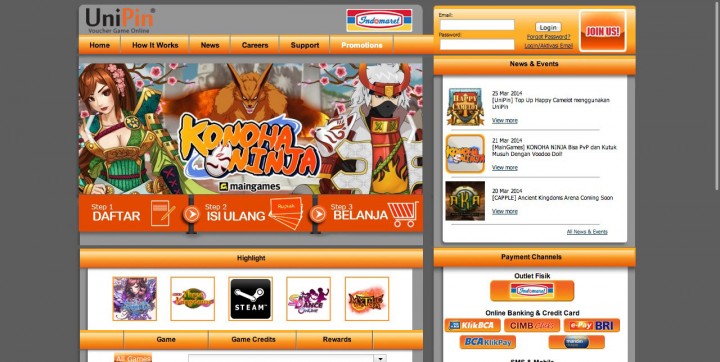 Just like its compatriots, Unipin accepts various payment methods including online banking and credit cards, mobile payments, and bank transfers. Users can also buy physical vouchers at grocery retailer Indomaret. Gamers can use the Unipin credits to make purchases in popular games like Audition Ayo Dance and Counter Strike Online. Gamers can also top up their Steam Wallet using Unipin credits.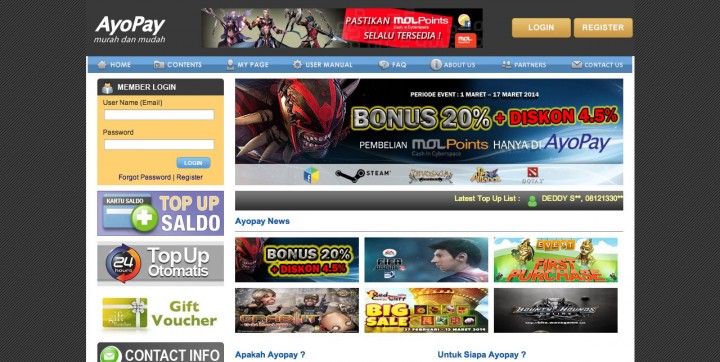 AyoPay is integrated with the three big Indonesian banks: BCA, BRI, and Mandiri. It offers bank transfer and internet banking transactions, but unlike its rivals, the company doesn't sell physical vouchers.
Users can use AyoPay to top up a lot of game publishers' currencies like Qeon's Qash, Lyto's Game on, Garena Online's Shells, MOLPoints, and Steam Wallet. AyoPay was acquired by MOL last year.

Gudang Voucher accepts various payment options like internet banking and bank transfer from BCA, Mandiri, and CIMB Niaga. The company also accepts payment via BBM Money. Besides the ability to use Gudang Voucher's credits to buy various game credits from online game publishers, users can also use it to buy vouchers in a few e-commerce shops, to pay cable TV fees and software.
(Featured photo from Flickr user Michael Martin)