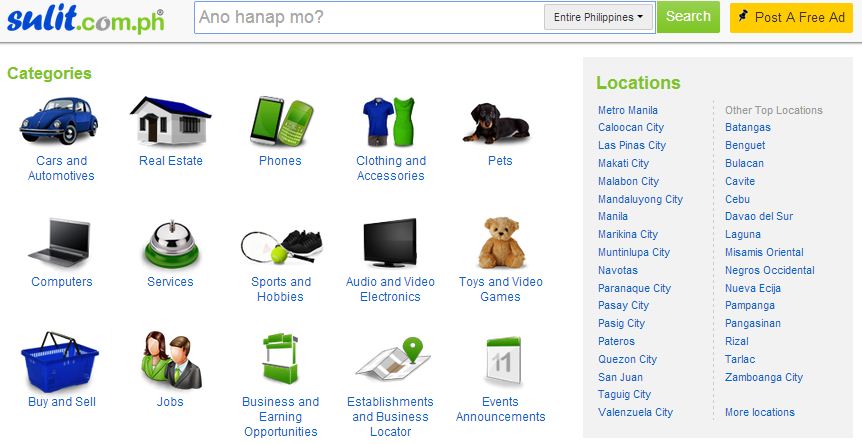 Sulit, which started in the Philippines in 2006, is an e-commerce site that blossomed when there wasn't much competition yet. It kept its momentum over the years and remains the top e-commerce site in the country. The Sulit team understood that they had to keep up with technology, which led to the birth of Sulit's mobile app.
In the recent Developers' Connect Summit 2013 held in SM Megamall, Pasig City, Sulit's user experience engineer Micael Andrei Diaz shared his experience and lessons in mobile app development.
Here are some of the points he shared:
1. Speak the users' language
Diaz says the most important factor in user experience is understanding who the users and potential users are. He adds:
If you don't understand their culture, it's going to be difficult to understand how the app should work for them.
As you form an idea for an app, you must have a demographic market in mind. Refer back to this and learn what they will likely look for in your app. Another example is adding an autofill search feature like Sulit has done.
2. Help users find the app's value
One of the things users get irritated with is when they have to jump between screens before they can get to the actual activity they wanted to do in the first place.
Sulit saw that people stopped using the app because of multiple forms users had to fill out before they could post an advertisement. This is where login with Facebook (or other similar sites) can help.
3. See how other apps evolve
The measure of an app's usability is "heavily influenced by the overall experience on the web," says Diaz. "There are no rules for creating a delightful UX."
Do your research, look at other apps, and add a little personality. For instance, an interesting feature in mobile dating apps is the easy-to-use swipe gestures in picking a possible match for the user, but its implementation varies from app to app. Then, test to determine if the research and new ideas worked.
4. Measure!
"In Sulit we measure everything so we can improve," says Diaz. "[It helps us] understand male-female demographics without asking them, and know their affinity category."
In the Philippines, Sulit realized that most of their users are not using high-end phones, so they built the app that's suitable for low-end phones. They were able to see what phones people were actually using through analytics.
Utilize analytics in your app to see who is actually using it and who is not. This can lead the developers to further improve the app and tap a wider market.
5. User feedback
Validating these ideas is key, and the best way to do so is to get feedback from users. "The majority of the task is about talking to people," says Diaz.
Qualitative user research and usability testing can also be used to get feedback from random users. Most developers pick selected users for closed beta testing and improve the prototype from there before releasing it to the public. In some instances, the team also uses the app internally for themselves to see if the app gives a delightful experience.
A good app should not only be a unique idea; the execution should also be there to ensure that people will continue to use it.
(Editing by Paul Bischoff)