Filipinos love shopping. As a matter of fact, five of the malls in the Philippines are considered some of the world's coolest malls. But apart from shopping, there's something else people are looking forward to – rewards and discounts.
A number of startups in the Philippines have started to realize this. So today's landscape has evolved from traditional loyalty cards that consumers keep in their wallets. Technology and smartphones are now helping to make the process less tedious. Here are some startups that can help consumers get rewards in the Philippines: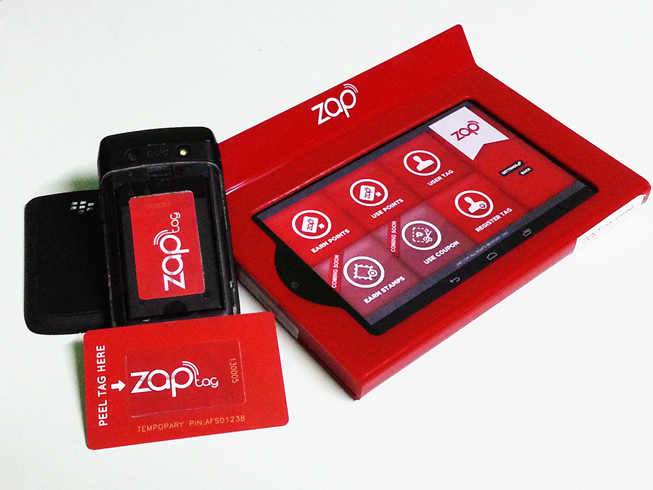 A startup-backed by incubator Kickstart Ventures, it launched in March with the aim of giving cashback rewards to its users. Instead of the usual loyalty app, it provides smart stickers which can be tapped on merchants' terminals whenever people make a purchase. Through the stickers, it even does away the use of smartphone apps. This is a move to tap the huge feature phone userbase in the country.
But it also plans to launch an app soon, while still keeping its smart stickers.
To date, over 180 merchants and 10,000 consumers are already using its platform. Zap also pitched at Startup Arena Jakarta 2013.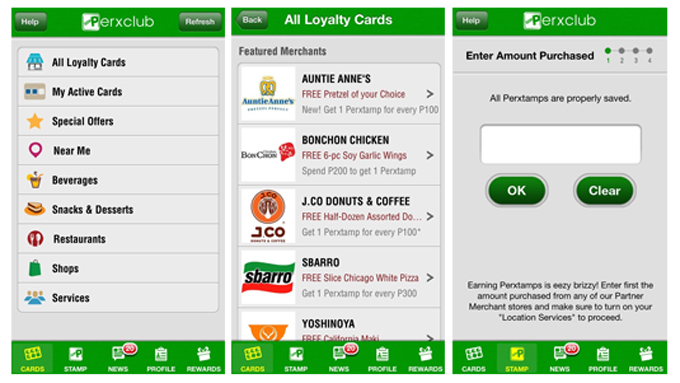 In the earlier days, loyalty cards were provided by a store through physical cards, where each visit by a customer is equivalent to a stamp. Then say, on the customer's fifth or tenth visit, he earns a prize or discount. Launched in September 2012, Perxclub is the modern-day equivalent of that. But today, instead of collecting tons of loyalty cards from different stores, customers can keep it in their phone.
Whenever a customer visits one of its partner merchants, he or she just scans the store's QRcode, called a PerxCode, and that is already equivalent to a stamp. For the fifth and tenth visit, the customer gets a reward or a discount.
It currently has over 100 partner merchants. The Perxclub app is available as a free download on iOS and Android.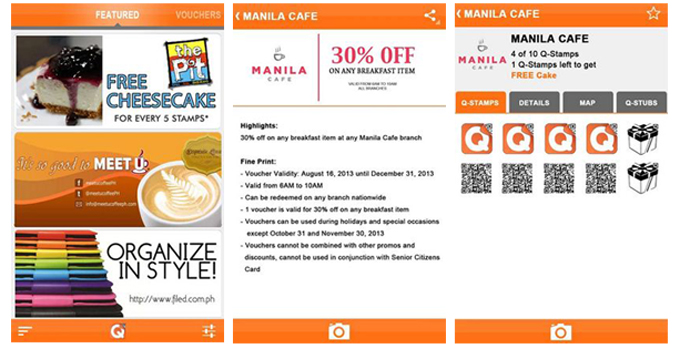 Launched in October, Qoupon is pretty much similar to PerxClub. Users, which it calls Qouponers, can visit its partner merchants and make a purchase. After they do, they need to scan the merchants' QR code – usually found in the store – and it will be equivalent to a digital stamp. After a number of visits to a specific store, they will be rewarded through freebies or discounts.
Qoupon has a few merchants on board and is currently tapping more merchants to join their platform.
The qoupon app is available as a free download on Android and will soon be available on iOS.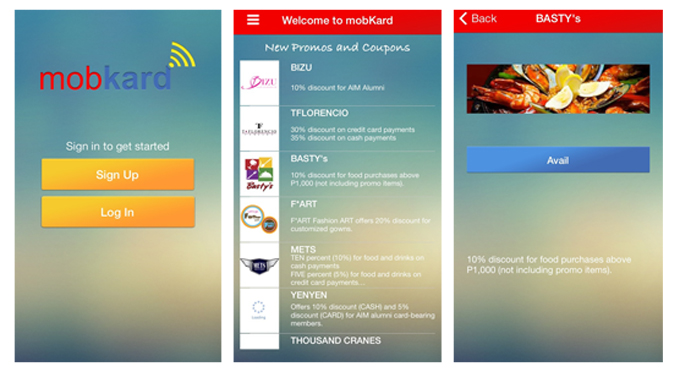 MobKard is one of the first ten incubatees of Smart telco-backed Ideaspace Foundation. Similarly, it's an app that provides rewards and discounts to its users. The difference is that, it offers location-based promos. Through the app, it informs users if there are available promos with its partner merchants. It currently has around 40 partner merchants.
MobKard is available as a free download on iOS and will soon be available on Android.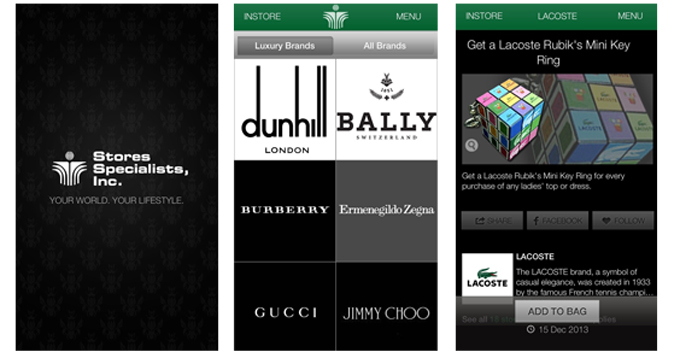 (UPDATE: The app was made by Stores Specialist Inc. (SSI) Sprooki is in charge of its retail marketing platform.) Sprooki saw the potential of the Philippine market for SSI as it decided to expand in the country through its app SSI Life.
SSI Life focuses on giving consumers discounts and promos on luxury brands such as Gucci, Prada, Lacoste, Tory Burch, and more. It currently has around over 80 brands, where most of its partner stores are in Manila and Cebu.
The app alerts the user if there are promos going on within the vicinity, or users can search available promos by brand within the app. If a promo interests the user, he can click 'add to bag' and a digital voucher will be saved in the app. This will then be presented to the store for the promo or discount to be claimed.
The "What's On" tab shows some of the upcoming sales in the country. User can then save the sale date in their phone's calendar.
SSI Life is available as a free download on iOS and Android.
(Editing by Terence Lee)