Yuna is a Korean entrepreneur living in Tokyo. She loves meeting new people and talking with CEOs/leaders over lunch and startup events. You can contact her via Facebook or email.
---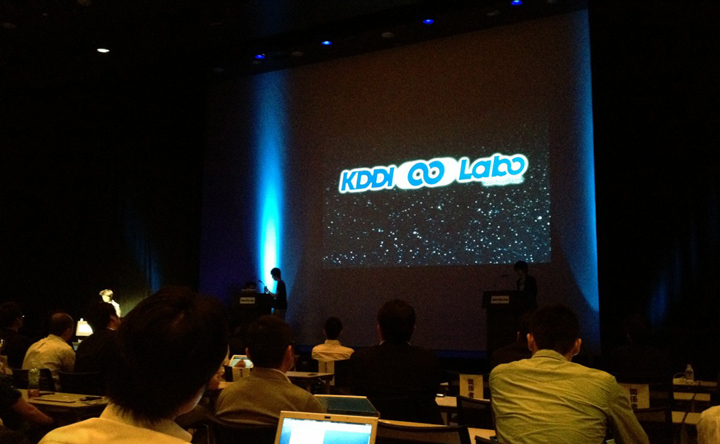 KDDI Mugen Labo had its fifth demo day in Shibuya, Tokyo last Friday. Five startup teams successfully graduated from the accelerator program of KDDI, Japan's second-largest telecom giant, and the demo day was organized for the selected startups to pitch to potential investors and partners. The event drew over 300 people to Hikarie, Shibuya to see the pitches.
We have listed down all the five startups below. The winner for this batch is Smaoku.
1. Aoi Zemi
Aoi Zemi ('zemi' means 'seminar' in Japanese), is an online lecture service for junior high school students. The startup provides users with free live-streaming curriculum, hiring its own teachers to conduct classes over the net. Students on Aoi Zemi can ask questions to their lecturer just like in an offline class. The startup aims to reduce operating costs while providing a conducive online learning environment for its students. Aoi Zemi is now preparing content for high school students; that will be available this Spring.
2. Zukan
Zukan in Japanese means illustrated guide. It is a photo curation and sharing service with an emphasis on knowledge- and information-sharing across all fields, with all its photos neatly categorized by topic so that users can browse for photos of specific things. The startup is seeing over 300,000 monthly visitors.
3. Smaoku
Smaoku is a Japanese mobile name-brand auction app for females. It provides a platform where sellers can list their second-hand name-brand items in 3 minutes on smartphones and get the highest bid among potential buyers within 24 hours. For now, products are delivered to the buyer for free.
4. PEDALRest
PEDALRest is a platform service that provides real-time information on parking space availability to Japanese commuter cyclists. The beta version of the service is now available in Shibuya-Ku, Meguro-Ku, and Setagaya-Ku.
5. Dr. Wallet
Dr.Wallet is an application that scans your receipts and automatically creates a record of your personal financial data and book-keeping information. How does this work? Instead of using OCR (Optical Character Recognition), it depends on 150 real human operators who enter data for the users.
---
Speakers and special guests at KDDI Mugen Labo demo day included Ishii Yoshiaki, director at Ministry of Economy, Trade and Industry (METI), Gen Isayama, co-founder and CEO of WiL (Work Innovation Lab); Soichiro Swimmy Minami, founder and CEO of LUXA; and Yoshiki C. Yasui, CEO of Origami Inc. Two of the previous KDDI Mugen Labo graduates, Kota Uemura at Donuts, Inc. and Toshiki Abe at Ridilover also made a speech to the audience.
"0 to 1"
Tomohiro Ebata, the head of this KDDI Mugen Labo, mentioned that it wants its startup teams to make things happen from nothing to something, or achieve "0 to 1", through the program.
Since its inception in August, 2011, KDDI Mugen Labo has produced 24 startup teams and it has now opened the application for its sixth incubation program. You can find out more about KDDI Mugen Labo here.
(Editing by Charlie Custer, Image credit @pchap10k)