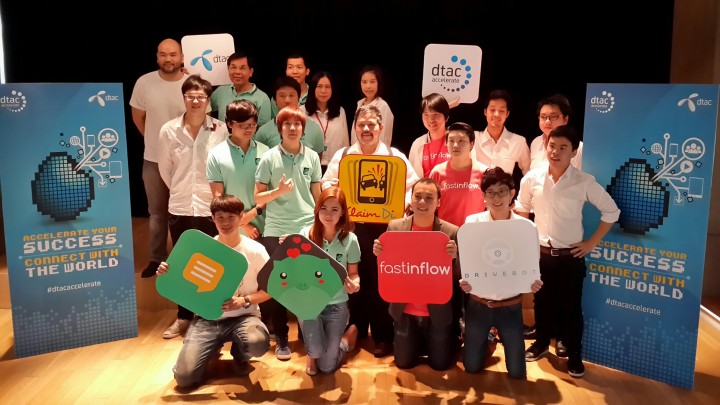 Back in March, Thai telco Dtac announced the beginning of the second running of its accelerator program, Dtac Accelerate, as well as a plan to revamp it to give it more importance within the company. Today at an event in Bangkok, the telco revealed its five finalists in the newest program.
In line with Dtac's change of plan, the program is now divided into two tracks – the accelerator and incubator programs. Thus the finalists are separated into two categories.
Acceleration track
1. Anywhere to Claim
Anywhere to Claim is by Arunsawad, which is the team behind the useful i-lert you app. The team has created a new app called Claim Di, which helps shorten the auto insurance claim process, including investigation, fault or no-fault claims, and accident reporting.
Users can take pictures of the damaged car and/or the incident and then submit photos through the app and get an insurance claim approval. It currently works with 11 leading insurance companies in Thailand. With the help of Dtac, the team plans to launch the app on June 9.
2. Fast in Flow
Fast in Flow is last year's winner of the Dtac Accelerate program. It's a consumer research platform that allows marketers to get consumer insights within five minutes and provides the analysis of survey samples within one day. Marketers can create questions, send them to prospective consumers, and receive the results via the app. At the same time, the app allows people to collect points to for answering questions and exchange them for rewards. The company currently works with about 50 brands.
3. Piggipo
Piggipo is basically the Thai version of Mint. It's a credit card management platform to manage and track credit card spending and payment due dates. To distinguish itself from the already established competitors, Piggipo has weaved in its own Asian selling point: it uses cute cartoons and stickers to lighten up the seriousness of keeping up with your finances. For example, if a user hits a set spending budget, a pig mascot will appear crying when the user signs in.
See: What I learned setting up a startup incubator in Myanmar – and what you need to know about the country itself

Incubation track
1. Drivebot
Drivebot is the only hardware startup in this batch of Dtac Accelerate. The team is also one of the finalists from this year's Echelon Satellite Bangkok. Drivebot is a Fitbit for cars that pairs with smartphones and aims to help reduce car maintenance times running costs, and fuel consumption. The device can be connected to a standard car interface via a smartphone. Users can get instant feedback on the efficiency of their driving, read about the status of the car, and review their driving history.
2. Storylog
Storylog is another alumni of Dtac Accelerate from last year. It's a storytelling social media site that allows users to share their stories with followers who can then comment, like, or share them. Instead of just sharing to a small group of friends on Facebook, users can share them with everyone on Storylog.
The five finalists will receive an initial investment of 500,000 baht (US$15,300) to 1.5 million baht (US$ 45,900) each. All five teams will also attend the 90-day intensive bootcamp that's part of the Dtac Accelerate program. Workshop speakers include Bill Reichert of Garage Technology, Jeffrey Paine of Golden Gate Ventures, and Neil Patel of KissMetrics.
Andrew Kvalseth, senior vice president of corporate strategy and business innovation, told Tech in Asia at the event in Bangkok:
150 teams applied. Selecting five means only three percent of the teams that applied got accepted. These teams are top notch. We looked at 1) the team and the people; 2) product and idea; and 3) the market for the product.