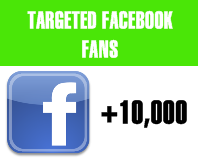 A controversial company, Usocial is "selling" social media friends and fans; causing it to be in the spotlight of many blogs and news channels.
For $654.30, Usocial will deliver 5000 new friends to your Facebook account. Pay $1167.30 to double that number.
Will you buy your Facebook fans?
I definitely won't and here are 5 reasons why you shouldn't.
1. All quantity but no quality
There is no point in having 10,000 fans where only a small percentage of them are interacting with your brand. The very basis of social media marketing is to engage fans who want to be part of your brand. Think, who are reaching out to? Are you speaking to people who are sincerely interested and receptive to your products?
Are your bought fans going to read your updates and buy your products? Is a huge following the only motivation for true fans to join your group? If they really like you, they should support you when you need it the most.
2. You may get negative interaction
Imagine what the bulk of your bought fans are going to say, if they actually say anything?
Willis says "Hey! How many people are bought over here? and what other fan pages are you guys paid to join?"
Sarah replies "Me! I'm on FB page X and Y too. Heh"
I don't think businesses will want this. Maybe you can start paying for positive comments too?
3. You will appear desperate
Imagine a small business, which is not engaging in too much marketing. What would be your reaction when you notice that it has received a sudden boost of 10,000 fans within a month. Does it appear suspicious? Is the business that desperate?
4. It may piss off your true fans
Once you, as a true fan notice that you are being crowded by a group of insincere fans, what are you going to think and feel?
• I feel betrayed
• I don't want to be appear like I'm bought too
• I am not going to continue supporting a brand that is so desperate
5. Will bought fans stay?
Usocial guarantees to deliver the quota within 30 days. I'm not too sure if there is a clause for fans to stay. If there isn't, how many of them would remain on your Facebook page?
Hmm, fans retention depends heavily on your post content. Is your content good? If yes, why bother buying fans?
Conclusion
Growing a fan page is a problem that most businesses face. Usocial has indeed brought upon an innovative product to ease their suffering. But how effective is it? There are definitely good reasons to buy fans; an obvious one would be how good it would look on your business in such a short time.
Obviously, I'm not too comfortable with the idea just yet. So what are your thoughts? Share them in the comment forum!