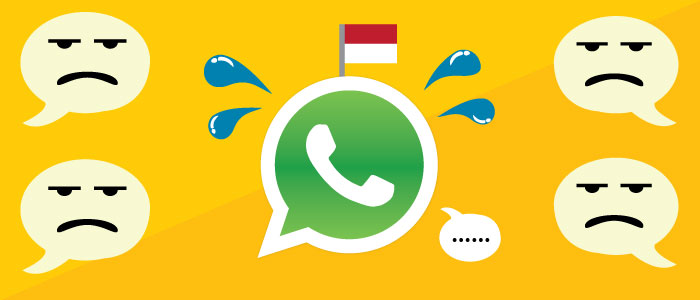 (Update: Apparently WhatsApp is tied to both your phone numbers and your smartphone. So even if Indonesians change their numbers a lot, as long as they don't change their phones, their friends can still contact them. So our original point about it's a drag that people need to keep telling their friends about their new phone numbers to still get connected on WhatsApp is not correct.)
According to a study by Nielsen, WhatsApp occupies the second spot in terms of the most used messaging apps in Indonesia. Its rivals there are BBM (BlackBerry Messenger), Line, WeChat, and KakaoTalk. I don't want to ruin the party, but I believe there are four reasons why WhatsApp still can't win the Indonesian market anytime soon:
1. No free calls
With 50 billion messages sent each day on WhatsApp, the app has likely overtaken SMS usage. But there's one more traditional communication method left to overthrow: phone calls. While BBM, Line, WeChat, and KakaoTalk have all introduced the free online calls, WhatsApp seems to be left behind.
If you want to do a free call over the internet, WhatsApp isn't the app you'd use.
2. No fun features
This one is very subjective. There are people who love using WhatsApp because of its no bullshit approach to messaging, but there are also people who love using Line, WeChat, and KakaoTalk precisely because they have fun features like stickers and social gaming integration. The question is, which model would attract more users in Indonesia? I believe the latter.
Given the fact that 30 million of Indonesia's 75 million internet users are teenagers, they are a market – often most keen on new features – that WhatsApp will never win up against the more fun chat apps. Indonesians tend to use multiple chat apps to reach out to different social circles, so WhatsApp could still be content in becoming, for example, Indonesia's first choice of "professional" or mature messaging app.
3. No marketing impact
Line, WeChat, and KakaoTalk are very aggressive in Indonesia – and many other markets across Southeast Asia – with each of them launching their own TV ads and other promotional stunts. These have resulted in strong user growth in a short period of time.
WhatsApp doesn't do any marketing in Indonesia, and the reason why the app grew very popular here is because of WhatsApp's first mover advantage – a bit like with BBM. That advantage is quickly being eroded by the constant and very persuasive marketing campaigns of its rivals.
4. WhatsApp isn't free
There are a lot of Indonesians who have been using WhatsApp for over a year without paying anything. But when WhatsApp starts being strict in charging Indonesian users the annual fee, there will be a lot of people considering moving to other – and totally free – messaging services instead.
If many of your friends are not using WhatsApp in the future, why should you still use it?
---
Of course this prediction only works if WhatsApp doesn't change its approach. Facebook – which is very popular in Indonesia – could figure out some ingenious ways to boost WhatsApp and make it even more popular than it is today.
(Editing by Steven Millward)