Steam Dota 2 Workshop is well-known for amazing in-game cosmetics contributed by members of the community. What's great about the workshop is that it also gives back to the item-makers by giving them a percentage of their items' sales.
Better than that is how recent collaborations in the Steam Dota 2 workshop between artists and professional players are set to also give a portion of the revenue generated to the players involved.
Here is a list of the latest player-affiliated sets. You can click on the set's image to head to its respective Steam Workshop page.
1. BurNIng Anti-Mage set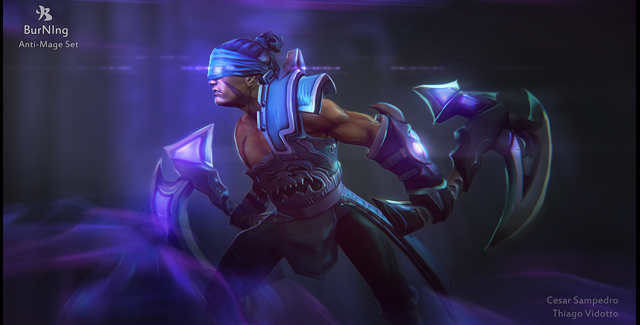 Artist: Thiago "T_Vidotto" Vidotto, Cesar Sampedro
Player: Xu "BurNIng"Zhilei
Xu "BuRNing" Zhilei of Team DK is dubbed to be the best carry in the world. He has been praised mostly for his very impressive Anti-Mage game play. In fact, in Warcraft 3 DotA (WC3 DotA), Anti-Mage is named after him. Anti-Mage is BuRNing's most played hero with 24 games with a win rate of 70.8% (17-7 win-loss ratio).
According to Vidotto, one of the reasons why he chose BurNIng to make a set for is that the Chinese legend is one of his favorite players and has been an inspiration as well. With the help of Spanish artist Cesar Sampedro, concepts were created and sent to BurNIng for approval.
"He (Burning) suggested for us to reference on Chinese warfare and culture. The hair came inspired from the "terracota warriors" sculptures. And we added some dragon references on the armor and arms. There is also a logo based on the Chinese word from "fire" and the letter "B" from BurNIng," Vidotto said. The logo is represented in the arm piece.
2. The Ice Breaker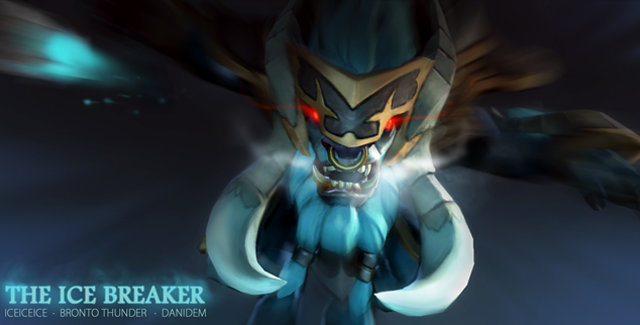 Artist: Daniel "Danidem" Lucanu, Benjamin "Bronto Thunder" Retter
Player: Daryl "iceiceice"Koh
Known by many to be the "ultimate troll", Daryl "iceiceice"Koh is one of the most unique players you will ever find. He currently plays the offlane position for Team DK, but has impressively taken on carry and solo mid roles in his career. Iceiceice's stream used to be one of the most famous in Asia before he flew to China to join Team DK, which caused him to stop streaming.
According to artist Daniel "Danidem" Lucanu, they chose the hero Spirit Breaker because iceiceice loved playing the hero especially in pubs. Before the 6.79 patch, he even played solo lane Spirit Breaker in one of Team DK's official match. The horns of the set were inspired by the Oliphants from Lord of the Rings and how they charge into enemies with horns. Danidem recounted that it was very similar to how Spirit Breaker charges and crashes into its target.
3. Beaver Kappatain Sing Sing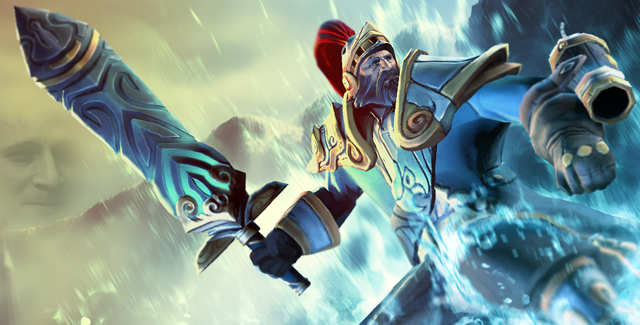 Artist: Daniel "Danidem" Lucanu, Benjamin "Bronto Thunder" Retter
Player: Weh Sing "SingSing" Yuen
Weh Sing "SingSing" Yuen is one of the most popular and charismatic Dota 2 pro players to date. Whenever his stream goes live, it is often found at the top of the live stream lists in most websites.
Kunkka is SingSing's most played hero with 21 games so far and a win rate of 76.2% (16-5 win-loss ratio). SingSing also goes by the nickname 'Beaver Knight', hence the name of the set. He earned the nickname 'Beaver Knight' from playing the hero Chipper (a beaver) from Heroes of Newerth. The term 'Kappa', on the other hand, is a term commonly used to refer to trolls or trolling, and was derived from the Twitch TV emoticon of the same name.
SingSing had a very clear idea of what he wanted and literally directed the whole creation of the set, which is also based on the character Guts from Berserk. According to Danidem, the challenge was translating the Beaver Knight design into a set for Kunkka. Although he is happy about how the set came out, recounted that it wasn't easy, as it had to fit not only the Dota 2 environment, but the hero as well.
4. KuroKy's set of the Cruel Magician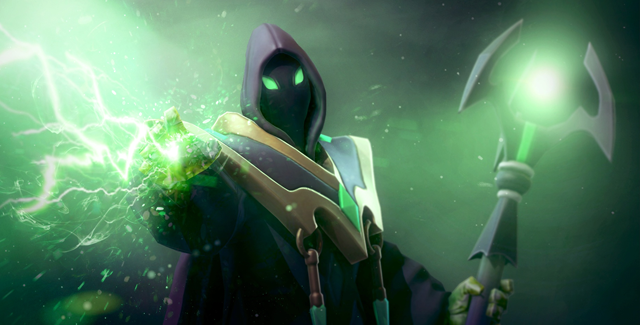 Artist: Felix "FewesW" Westin, Sarah "Buntcake" Scott
Player: Kuro "KuroKy" Salehi Takhasomi
Fans of old school WC3 DotA should know who Kuro "KuroKy" Salehi Takhasomi is, as he was one of the most amazing players as well as one of the youngest during his time when he took on the role of carry. Fans who are new to the scene, however, probably know him more as one of the best support players today. He is commonly mistaken to be ethnically German as he lives in Germany, but is actually of Iranian/Persian descent.
According to Buntcake, KuroKy wanted a darker theme for his Rubick set, which was quite appropriate for the hero's equally dark Rubick's Dota 2 lore. Buntcake worked on the concept art partially inspired by a particular monster and atmosphere from Dark Souls. The set initially had a mask or a helmet. KuroKy mentioned that he thought a hood would look better, which turned it into current version with a maskless face obscured by a hood. The hood might also be his nod to the Dota 1 (WC3 DotA) Rubick model. After the concept art was complete, Fewes then did the 3D work.
The spell-stealing Rubick is one of KuroKy's current signature heroes and is also currently his most played hero with 113 games and a 66.4% win rate (75-38 win-loss ratio).
5. Phantom Reaper set – Alliance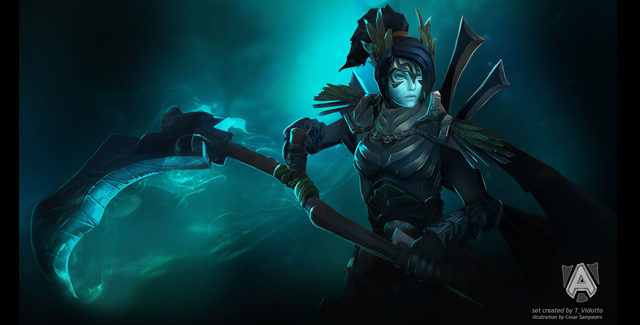 Artist: Thiago "T_Vidotto" Vidotto
Player: Jonathan "Loda" Berg
The Phantom Reaper set is a tribute to Jonathan "Loda" Berg who is currently part of The International 2013 champs, Team Alliance. Loda is yet another old school legendary player whose professional career started in 2006. His name is actually an acronym meaning 'Lord of Dol Amorth' from Lord of the Rings. Many fans believe that aside from his skill as a player, Loda has amazing luck when it comes to using heroes that has chance-on-hit abilities.
According to the set's creator Thiago Vidotto, Loda is by far the best Phantom Assassin player he has ever seen. Phantom Assassin's double-bladed weapon has been replaced with a scythe to bring something new to the character. Unlike the previous sets, the sales of the Phantom Reaper set are to be split with Team Alliance instead of going to just Loda.
---
At the time of writing, all of these sets are still in the Steam Workshop and will only be ported to the game when they gain Valve's approval. Fans may help them get to the Dota 2 store by giving their sets of choice a positive rating on its Workshop page. As mentioned earlier, clicking on the item set's image in this list will link you to the set's respective pages.
Of course, there are a lot more heroes in the game as well as a lot more players in the scene, and I definitely feel like a lot more deserve their own sets. Which players and their corresponding signature heroes do you want to have a set made for? Let us know in the comments below!
Statistics: DatDota.com