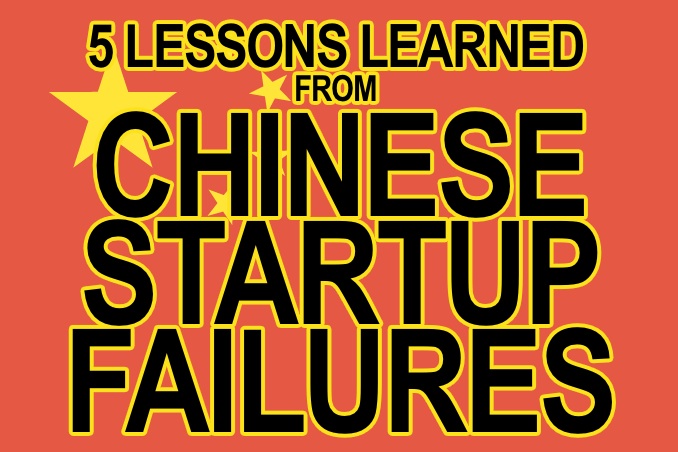 They say you learn more from failure than you do from success. And that appears to be the theory behind a new blog post from Sinobeat Capital managing partner and Fortune China columnist Ding Chenling. In his very long post, Ding lays out the stories of 17 Chinese startups that ultimately failed, and breaks down the lessons learned. The whole thing is a bit too long for our purposes, but here are a few of the most interesting startups (and lessons) Ding picked.
---
Company: Fanfou
Lesson: Startups shouldn't work in areas that could be politically sensitive.
Fanfou is actually still around, but these days it pales in comparison to its competitors Sina and Tencent Weibo, even though it was around long before either of those services. Fanfou was China's first Twitter clone, and back in 2009 it seemed to have the world at its fingertips. 300,000 users and growing, the company had netted a big investment from HP. And although the company was doing its best to block "sensitive" words and keep political speech to a minimum, it was blocked (along with a host of other sites) following the Urumqi riots in July, 2009. This gave big companies, which already had established relationships with the government and were better equipped to implement censorship, time to develop their own microblog products, and by the time Fanfou was allowed to re-open, Sina and Tencent had already left it in the dust.
The story has sort of a happy ending, though, as Fanfou founder Wang Xing went on to found Groupon clone Meituan, which has been quite successful.
---
Company: MySee.com
Lesson: Don't get cocky, don't waste money.
MySee looked like a company that had it all. P2P video services were hot. Investments were pouring in from all over the place. But the company burned money too fast. A few dozen employees were costing hundreds of thousands of dollars per month, and the company went all in on an expansive, ostentatious office that cost nearly $200,000 to decorate. But it also had to spend hundreds of thousands on video content, and in just a few months, it burned through nearly all of a $2 million investment. The company leadership was also inflating its numbers for the press, and using these fake numbers to brag about themselves. Investors found out, the money stopped coming in, and MySee folded.
This one doesn't have a happy ending, either: Ding says that he saw MySee founder Gao Ran at a conference in 2010, but no one else there recognized him. He also says he has heard that some of MySee's original investors had been telling other VCs never to invest in a project that Gao Ran was associated with.
---
Company: 24quan
Lesson: Pick investors you can work with.
Like everyone else on this list, things were once looking great for 24quan. At its highest point, the company was China's fifth-biggest daily deals site, which is no small accomplishment considering that at the time there were literally thousands of daily deals sites. But when winter came to the group buy industry, only the most robust companies could survive, and although 24quan was actually seeing profits in some cities, CEO Du Yinan was having an internal struggle with his investors over control of the company. Like with an ugly divorce, it's hard to know who is at fault now, with both sides blaming the other, but the end result is that 24quan is on permanent hiatus.
There are rumors that Ftuan might still be interested in buying the company, so a kind of happy ending might be possible here, but even if that happens — I wouldn't hold my breath — the price is going to be very low.
---
Company: Weimian
Lesson: Pick your industry carefully.
Weimian was a luxury sock and stockings e-commerce company that won a big investment by catching the eye of angel investor Xu Xiaoping. But even with a million RMB in cash to play with, the company struggled and ultimately folded. The reason? Socks — even luxury socks — just weren't expensive enough to keep up with the costs of running an ecommerce company in China. Order totals were relatively low because socks don't cost that much, and competitors kept margins pretty thin, so Weimian wasn't able to make much money。 Ultimately, the company folded, and at least in Ding's opinion, it failed because socks and Chinese ecommerce don't really mix.
Of course, as we wrote recently, Xu Xiaoping invests in people, not products, and it only took him twenty minutes to offer Weimian a one million RMB investment, so I'm guessing Weimian's founder will be able to get Xu to invest in his next project if he wants.
---
Company: 5 Minutes
Lesson: Stay focused on what you know.
You may not have heard of 5 Minutes, but you've probably heard of Happy Farm, the game Zynga copied to make Farmville. 5 Minutes was the Chinese game developer behind Happy Farm and a host of other web games, but the transition to mobile didn't treat them well. Earlier this year, the company launched its first HTML5 game and its first mobile game, but it also continued to work on web games and, ultimately, spread itself too thin. When the company's B-round of financing fell through, it wasn't focused enough on any one game to be generating much revenue. It also wasn't really ready for the stiffer competition it faced from global developers in the app stores. Now, it's dead, although reportedly it may have been split into two new companies that will work in similar spheres.
(A lack of focus wasn't 5 Minutes' only problem, though; it was also bleeding staffers thanks to an inexperienced management team, and losing that round of financing is probably also indicative of poor management.)
---
If you're interested in lessons from more failed Chinese startups, Ding Chenling has a whole heap of them for you to wade through. But the big lesson here is to learn from other people's failures instead of making these mistakes yourself. So if you're doing a startup in China, really ask yourself whether you could be making any of the mistakes these companies made. They were all well-funded, and many of them were well on their way to success when mistakes brought them crashing back down to earth. Don't let that be you.