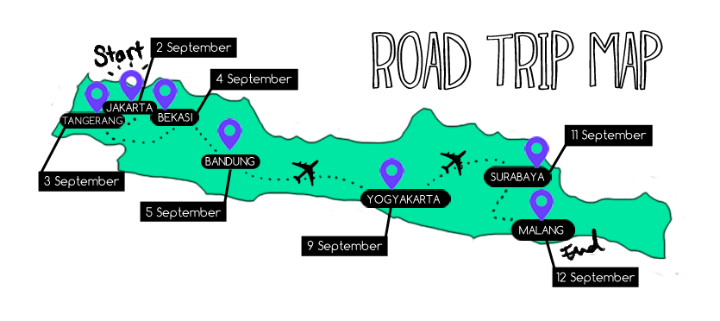 Bandung is the fourth city of our seven-city road trip. Five interesting startups pitched their ideas at the meetup in Bandung Digital Valley:
Need a wedding organizer? Merityuk could be the solution for you. Merityuk is a wedding portal that helps clients organize their wedding. Like other wedding organizers, it helps to plan every aspect of your wedding such as the venue, souvenirs, foods, photos, and more. After users input their wedding budget, Merityuk will display vendors that match the budget. Users can then make arrangements with the vendors they pick.
Kreasik is an Indonesian marketplace for handmade products. Visitors can both shop and sell handmade products. Kreasik takes a four percent commission per sale from merchants. In the spirit of helping the local economy, Kreasik plans to promote Indonesian handmade products globally. It will start expanding to New South Wales, Australia first.
If you go to the city of Bandung and you know nothing about it, then you better ask Kiri. It is a search engine for angkot (a kind of public transportation) routes in Bandung. Users can type the place name or the street name to find which angkot can reach their destination. Kiri believes that by using public transportation like angkot, users can reduce pollution and help the local economy grow.
The product is named after 'kiri' (literally translates to 'left'), a signal to let bus drivers know the passengers have reached their destination and want to get off the bus. Kiri also provides a beginner's guide with information about travelling with an angkot. Kiri plans on expanding to other cities like Jakarta.
Gotcha, or 'gesture-based captcha', is a unique version of captcha that requires visitors to drag and drop pictures instead of typing words. It provides visitors with a more fun version of captcha. The pictures that are dragged and dropped are often branded ads of a newly launched product. These ads are the sources of Gotcha's monetization.
See our review of Gotcha from our earlier this year.
Unyu is a pop-up SMS application that offers a fun way to text message. Unyu users can send SMS with fun sticker images, which makes Unyu similar to other messaging apps. The difference is that Unyu users do not need internet access to use it. Unyu is simply an SMS application that requires the normal charges. Unyu is developed by AITI (a startup innovative technology company based in Bandung) and is currently available for featurephones (Java) and Android.
We talked about how Unyu works before when it pitched on IDByte Jakarta.
Registration
Surabaya and Malang will be the sixth and seventh cities of our road trip. If you haven't signed up for those two last meetups, register now. Also, if you want to show your startups off during the meetups, grab the chance by registering here.
(Editing by Paul Bischoff, Terence Lee, and Steven Millward)