NHK (an acronym for Nippon Hoso Kyokai, or Japan Broadcasting Corporation in English) will open the doors of its Science and Technology Research Labs (STRL) to the general public tomorrow. The annual open house allows Japanese citizens, who fund the national broadcaster through subscription fees, to catch a glimpse of the future of domestic broadcast television.
Tech in Asia was given a preview tour of the laboratory, located on the outskirts of Tokyo, yesterday. Here are some of the most exciting things that NHK is working on.
1. 8K Super Hi-Vision Cameras
8K video was the overlying theme of NHK's event. If you're thinking, "8K? Aren't we just now seeing semi-affordable 4K TVs?," you're right. So what exactly sets 8K apart?
When HDTVs first hit the market, they offered 720p, that is to say 720 vertical lines of resolution. Then came 1080p "True HD" and 2K (which both offer 1080 vertical lines of resolution, but with 2K offering slightly more horizontal lines). More recently, 4K televisions have upped the ante, offering 2160 vertical lines of resolution. The more lines, the clearer and sharper the image becomes.
If all those lines currently offered don't provide a realistic enough image for you, enter 8K – with 4320 vertical lines.
In 1964, the broadcaster became the first to show its domestic audience portions of the Olympics in color. With the 2020 Tokyo Olympics just six years away, NHK wants to be the first to offer a mind-bogglingly realistic 8K SHV broadcast. But before that can happen, they need to design cameras that can shoot 8K video.
The first one encountered on the tour was a Fujifilm-branded 8K theater camera.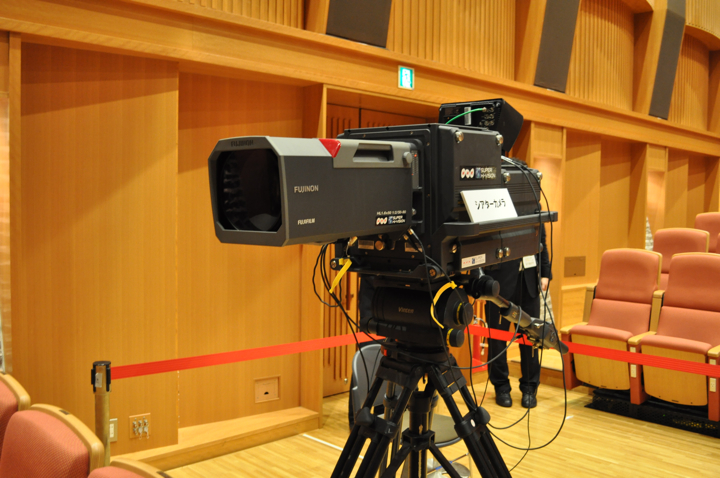 NHK's 8K theater camera uses a large 2.5-inch image sensor that allows it to shoot clearly in a dark setting. It also uses a pixel addition method that eliminates video noise (the background fuzz that is especially visible in video with a lot of black areas).
Last September, the broadcaster filmed Teatro alla Scalla's Rigoletto performance at NHK Hall with the 8K SHV theater camera, which was screened at STRL yesterday. The video and sound quality were impressive to say the least, and the image remained incredibly sharp even during the opera's darkest scenes. It was as close as I've ever felt to being at a live performance without actually being there.
Next up was NHK'S compact 8K SHV camera.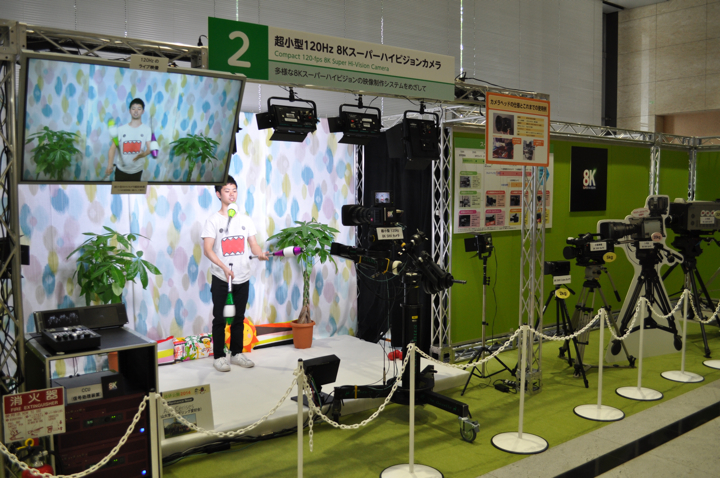 Measuring only 15.1×12.5×13.5cm and weighing a mere 2 kg (previous iterations weigh between 5 and 32 kg), the tiny camera offers nearly limitless mounting possibilities – cranes, remote-controlled platforms, and perhaps even drones. When connected to an optical transmission unit, the camera head can be operated using the same fiber-optic cable as conventional HDTV cameras.
The compact 8K SHV camera captures video at 120 frames per second – twice the rate of current 4K video. This makes it perfect for shooting sporting events (like the Olympics, of course).
An NHK spokesperson told Tech in Asia that the company will begin test broadcasting 8K SHV video in 2016 ahead of the planned 2020 rollout. Of course, you'll need to buy an 8K TV to take advantage of it, so start saving now.
2. 133 megapixel image sensor for 8K SHV cameras
In order to realize 8K SHV video, NHK had to develop a powerful new image sensor. The broadcaster is currently conducting research on a 133MP sensor that measures only 43.2mm diagonally. That's the same size as full-frame 35mm sensor, the industry standard, which will allow future compact 8K cameras to use a variety of commercially-available lenses.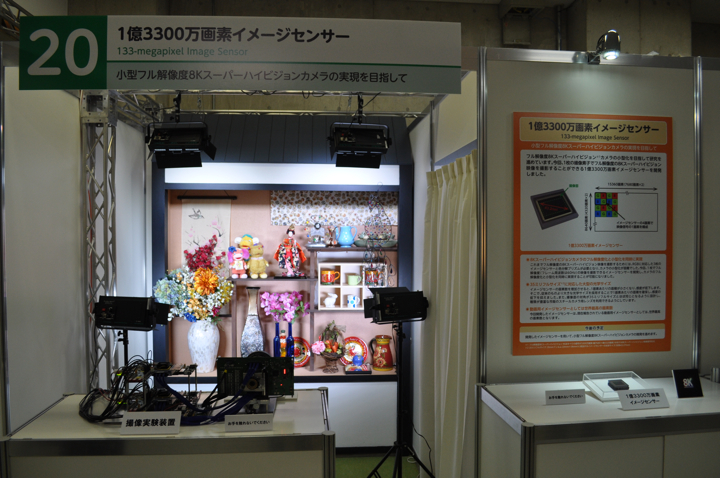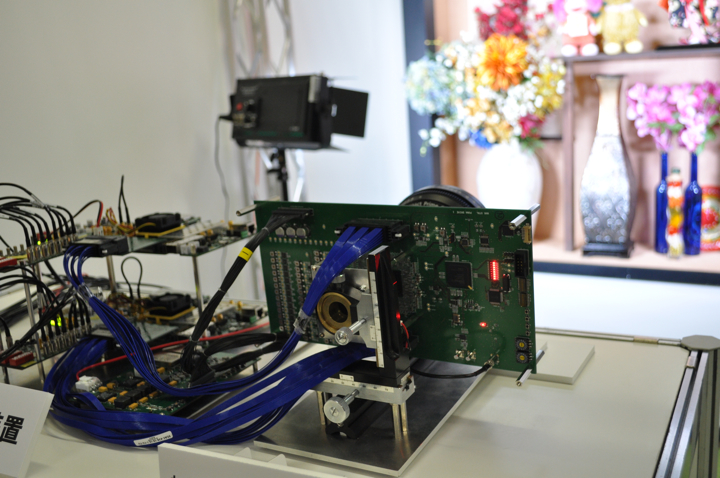 NHK said that its new sensor has the largest pixel count in the world among image sensors designed for shooting video – 15360×8640. If this sounds like overkill – it is. But the insane resolution will allow for more post-production flexibility when it comes to enhancing or adding effects before scaling the image down.
3. 8K Hybridcast
NHK is also working on a major upgrade to its broadband-connected Hybridcast service. For future 8K broadcasts, NHK will offer a multi-window display that it hopes will boost viewer engagement and offer real-time interaction.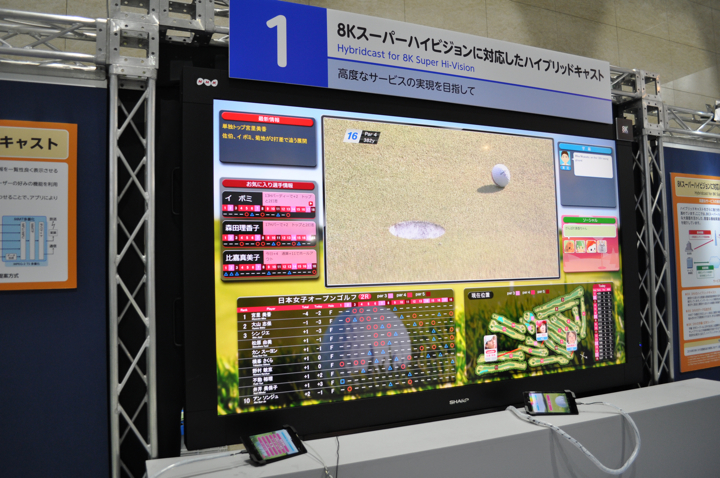 One of the examples on display showed a golf match. The center window displayed the "live" event, while surrounding windows displayed current leaderboards, a course map, and real-time social windows that allow viewers to comment on the action. Windows can be customized via tablet or smartphone – there was even a simple CG golf game that viewers could play if they got bored.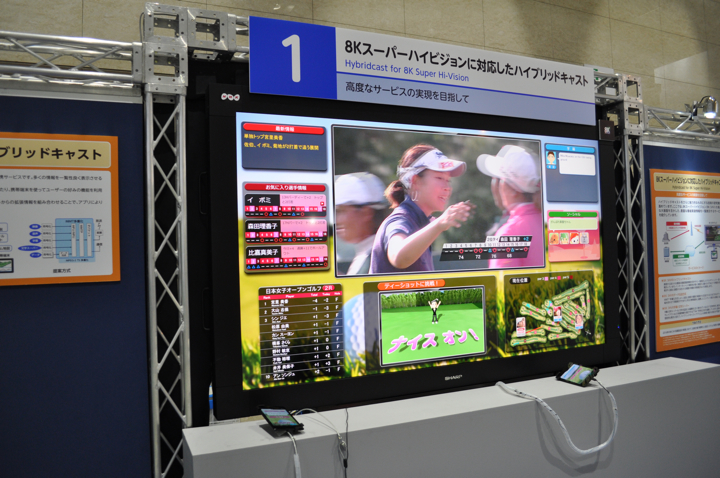 NHK won't be the only one offering Hybridcast – independent Japanese networks such as Zero Tele, TBS, TV Tokyo, and Fuji TV will also utilize it in the future. An example being shown off by Zero Tele involved viewers voting on a TV host's outfit (the choices were AKB48 and maid, of course).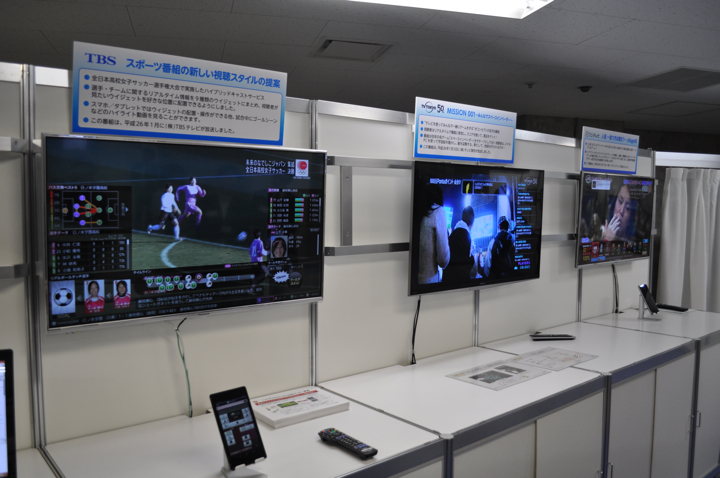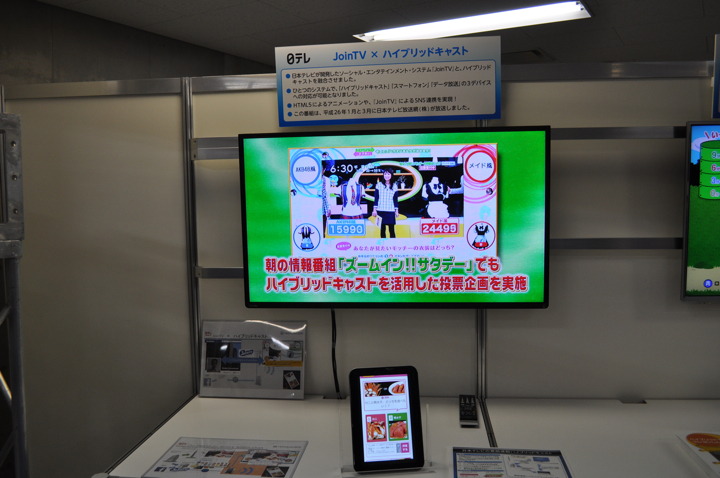 4. TV navigation based on facial recognition
NHK is also pushing facial recognition technology to gauge a viewer's interests and recommend programming accordingly. Using an Xbox Kinect to track facial expressions, the software analyzes six reactions and matches them to keywords in the program's closed captioning. For example, if a person smiles a lot during a segment about sushi, the software might recommend programs that involve traditional Japanese food or fishing.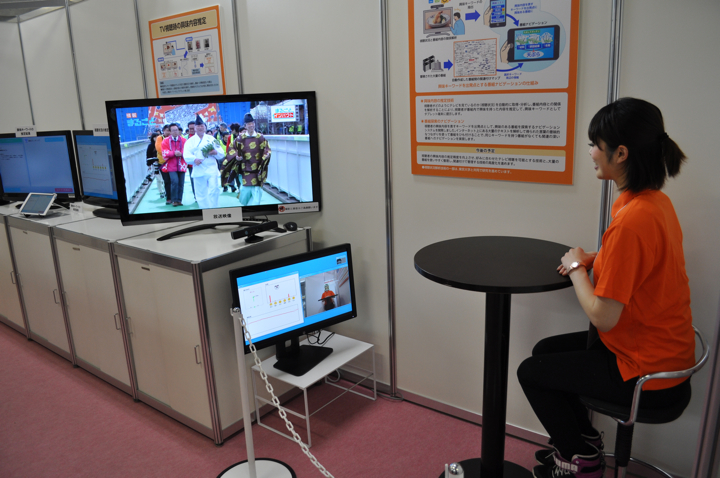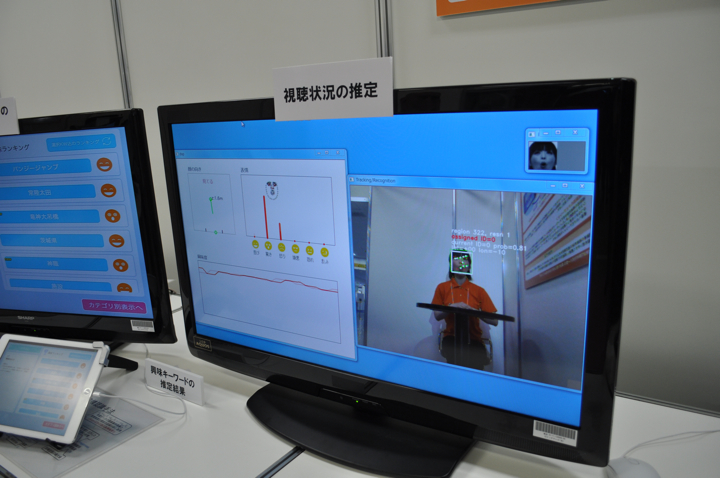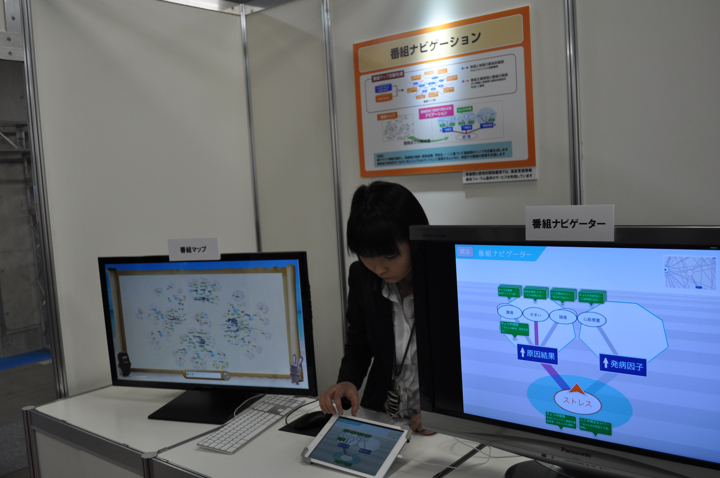 5. Haptic presentation technology for the blind
Perhaps the most interesting thing on display at STRL was NHK's haptic presentation system that may pave the way for what the broadcaster calls "tactile TVs." The system uses ultrasound and lasers to measure an object's shape and hardness without actually touching it. The object is then virtually reproduced, allowing a user to "feel" the object using a ring-like device attached to a mechanical arm. A key difference between other haptic systems is that the ring stimulates multiple points on a user's finger, allowing them to feel corners and edges.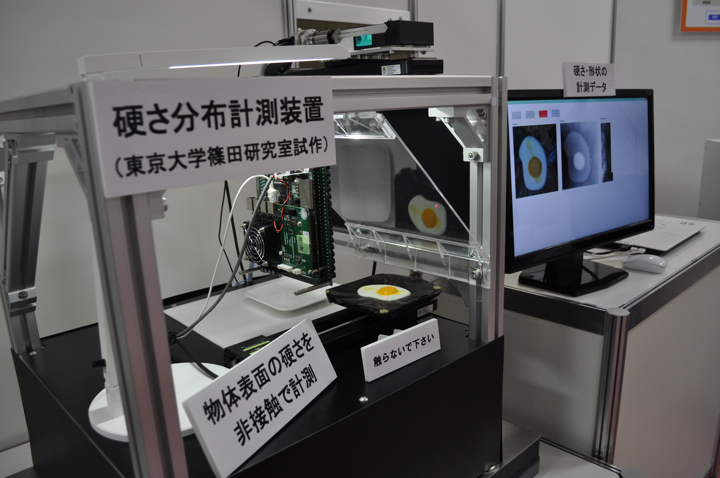 The example on display was a fried egg. The white felt slightly harder than the yolk, which "squished" when pressed (though it didn't break). It felt strange with open eyes, but much more realistic with them closed.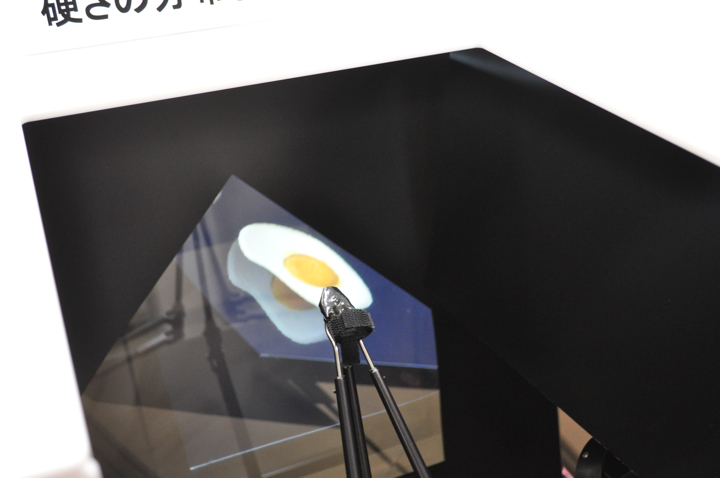 See: 22 cool gadgets from Asian hardware giants at CES
Only time will tell if Japan can rise to the challenge of being the first country to broadcast the Olympics in 8K SHV in 2020. Perhaps it will be up to consumers whether or not they choose to upgrade their current HDTVs to 4K, and again to 8K, within the next six years. Regardless, Japanese citizens can at least see (and feel) that their mandatory NHK fees – 4,460 yen/month (US$44) for satellite service or 2,520 yen/month (US$25) for terrestrial – are being put to use.