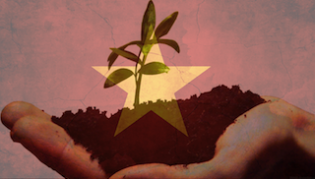 What do startups in Vietnam need or lack? I asked this recently to a bunch of friends on the way back from new annual conference for the technology community. They immediately replied: Focus! Technical Skills! Exposure! Creativity! Courage! The event underlined something rather poignant in technology events in Hanoi and Saigon. There's a disconnect. High-level speakers flew in from around the world to talk about what's next in technology, but how relevant are 3D gesture interfaces to a country that is still dominated by feature phones?
One of my venture capitalist friends summed it up well: "From heaven to hell", he said. "Speakers at all the local events in technology talk about things that are rarely ever relevant to actual problems in Vietnamese startups. It's like angels talking to devils." But what are the problems? Essentially, the question really is, how can the Vietnamese tech community, centered in Hanoi and Ho Chi Minh city, achieve a Silicon Valley-like cohesion that produces great individuals, companies, and products that significantly impact domestic and worldwide markets?
Over the last three months, I've uncovered five main areas of improvement commonly cited by local CEOs and executives in the tech industry: community building, handling of ideas, execution, technical skills, and business savvy. Let's delve into the mechanics of each.
1. Community building
In 2009, community was something rather hard to find here. Facebook was still well under three million users (but now it's the largest social network in Vietnam, with over eight million users) and events for tech enthusiasts were hard to come by or low in attendance. Barcamp Saigon was the biggest event on the map with a few hundred attendees. Homegrown web companies like VNG, VC Corp, and others were still on the rise. Online, there was no place to meet other like-minded folks except in fragmented forums across the web. That's where Launch came in.
Launch, branded as the "Vietnam Internet Startup Community", only had a few hundred members by the end of 2009. For Trung Huynh, one of the early co-founders of Launch, he felt that communication was vital.
People didn't know each other, they didn't know who was doing what, they didn't have access to Silicon Valley wisdom about starting up, they barely had access to the latest trends in tech. So we first started Launch by translating content from leaders in the the tech scene like Paul Graham, and monthly events with successful Vietnamese CEO's.
After six months of this, the community started to self-sustain. Launch members organized their own events and brought their own topics to the Facebook group. Today, there are 5,631 members and it's the number one place to go for techies to go to talk about hot tech topics in Vietnam.
Today, more Facebook groups are popping up in more niche web-oriented areas: technical, founders, startup news, and so on. And yet, the community problem persists somehow. That's because Launch only solved the logistical problem. The other side of communication is an attitude towards ideas.
2. How new ideas are handled
Like much of East Asia, Vietnamese kids are raised in a Confucian household. That means veering from the status quo is frowned upon and adhering to a hierarchy is the default. Also, being a developing country and burgeoning tech community, that means the environment is both very competitive and young. The status quo makes people cautious about new ideas, and competition makes people feel protective about their creations. This is reflected in the market.
When a startup goes to a big business to pitch, let's say, from a B2B e-commerce service, companies are skeptical. B2B startups will often think here: "Why should our company take a chance on your no-name company that has not proven itself in the market?" The risk is high. Is it any wonder that there are so many consumer-oriented e-commerce and social media clones in the market? These are considered safer bets, consumers are more ready to take a chance than businesses. The risk is low.
This has bred, as Nguyen Tuan Son of Kleii puts it, two types of thoughts that entrepreneuers have:
That idea is too big, I can't do it. Or someone else will do it.
I'll just follow other people's ideas.
Protecting ideas, on the other hand, actually bleeds into another much ignored area: execution.
3. Protecting new ideas vs executing new ideas
In a developing Asian economy like Vietnam, people copy ideas. Therefore, there is a fear of being copied, and it's warranted. We've seen it in neighboring China. Every new market among tech startups in Vietnam is crowded: e-commerce, chat apps, social media, daily deals. The problem is that this has reduced emphasis on other more important factors to success and put more emphasis on ideas and protecting those ideas. What's missing is an emphasis on execution, team building, and relationships.
Startups don't realize that ideas are not what make a startup successful – a good execution of those ideas is. As Nhan Tri Vu of JoomlArt told me recently, companies believe too strongly in their ideas to their own detriment. They don't know how to read their own data and the market, and instead play deconstructive ego games.
Viet Hung of KMS extols the benefits of team-building over ideas:
One one side, the business landscape needs to support the development of software, but also leadership and communication is still weak. Entrepreneurs and technology people don't realize the importance of building a great team. If you are a great leader, you can get other people to join you, but if you are a weak team, why would talented people join you?
4. Technical Skills
But are there enough talented people in Vietnam's technical landscape? Vietnam churns out over 150,000 graduates per year in information technology, but many managing directors and CEOs complain that it is hard to hire and maintain good talent. This is especially true for projects that require advanced technical solutions like OCR, augmented reality, and newer programming languages like Python.
The conference I mentioned at the start is BTIC. At this year's event, Le Hong Minh of VNG, one of Vietnam's top tech companies, cited three criticisms of Vietnamese tech talent from a Japanese company they worked with:
They're not hungry enough
They're don't eat their own dog food
They're not fast enough.
On top of these three issues, it's also hard to find technical people who willingly go out and experiment with new languages and create their own projects without supervision.
A common criticism that I have also encountered in interviews is that there is a lack of product managers and system architects. When building new products, teams don't have a power user that is extremely knowledgable about the details of a product and can lead a vision of a product. They also don't have people that can build highly sophisticated pieces of software that can handle a large amount of data and computations.
This has been a struggle for foreign companies and outsourcing companies who need to complete more sophisticated software projects for international companies. It also ripples into startups. If there aren't experienced product managers and system architects around, how can entrepreneurs dream about high-tech solutions?
5. Business Savvy: Going to Market
Lastly, and maybe most importantly on this list is business.
Some technical teams don't realize how much they need a business person, and others are struggling to find a capable one. The problem is that teams are not looking at problems. Nguyen Van Loc at Ao Thun advises:
Businesses make money by serving society. Our biggest problem is to define what our society really needs.
Chris Zobrist at The Start Network echoes the same:
Most of them get stuck in the very early phase of a new venture due to a lack of focus on what customers need and solving a real customer problem.
Is the market ready for such thinking? Viet Hung of KMS warns that the Vietnamese software market is precarious. If I sell software to a consumer, but he can get that same software on the street for free on a DVD, where's the money? If I can't get any money from this, how can I fund talented engineers? If I can't fund talented engineers, how can I produce a great product? It's better to go global instead.
The Way Forward
To top it all off, software policy may be becoming more restrictive in 2013. In EuroCham Vietnam's recent recommendations (PDF link) to Vietnamese policy makers, they've warned that the new restrictive and bureaucratic regulations on software development will stunt a lot of needed growth that would address many of the above issues.
All of this looks pretty stark, right? Well, let's leave it at that for now, I'll address the strengths of Vietnam's tech scene in a later article.
(Thanks to the quoted interviewees, as well as other CEOs and directors who agreed to talk but preferred to remain anonymous)