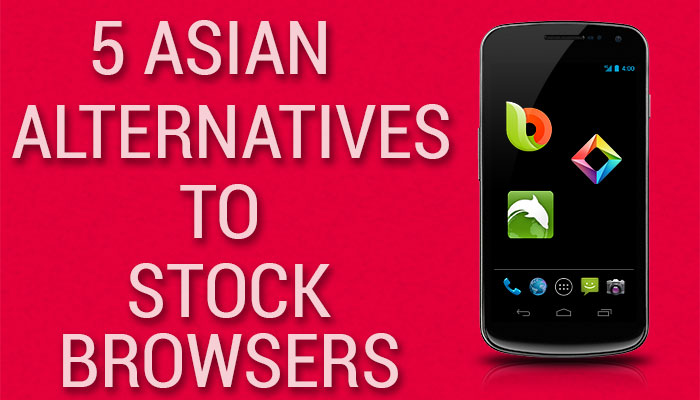 When it comes to smartphones, many people have their preferred selection of apps that they download when first setting up a new phone. But one thing that people tend to ignore is their browser.
To most consumers, a web browser is just a utility that you need only on certain occasions, and there isn't much use in taking up storage space with an additional browser. To some users however, a browser is their gateway to the internet, and the stock browser that comes preinstalled just doesn't cut it. Below we've listed some snazzy alternatives to stock browsers, all of which were born and raised in Asia.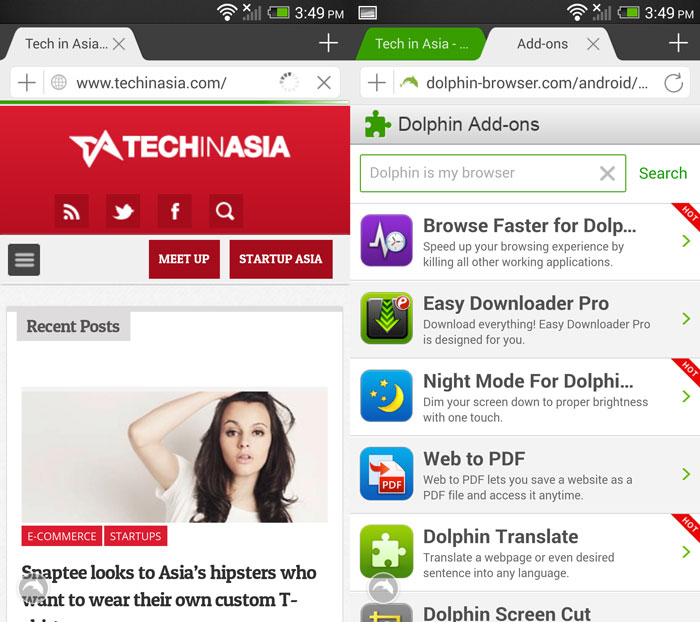 Dolphin browser is one of the most known browsers to come out of Asia. It prides itself on the extra features it adds to the browsing experience such as gesture control, which basically lets you draw on the screen to go to a website (for example, draw a "G" to go to google.com). Other features include an array of browser add-ons; and "Sonar," which allows you to search the internet with just your voice, not unlike Google's voice search.
Dolphin was also one of the first browsers to introduce tabbed browsing. In my hours of testing Dolphin, it performs on par with mainstream browsers like Firefox and Opera and even outperforms Chrome in some ways. If watching web video is a huge part of your day, Dolphin is most certainly the best option for you as its rendering engine is miles ahead of the competition. It manages to playback HD video quicker and at a higher bitrate than any other browser.
Dolphin has over 50 million users in 208 different countries.
Dolphin is available on Android and iOS.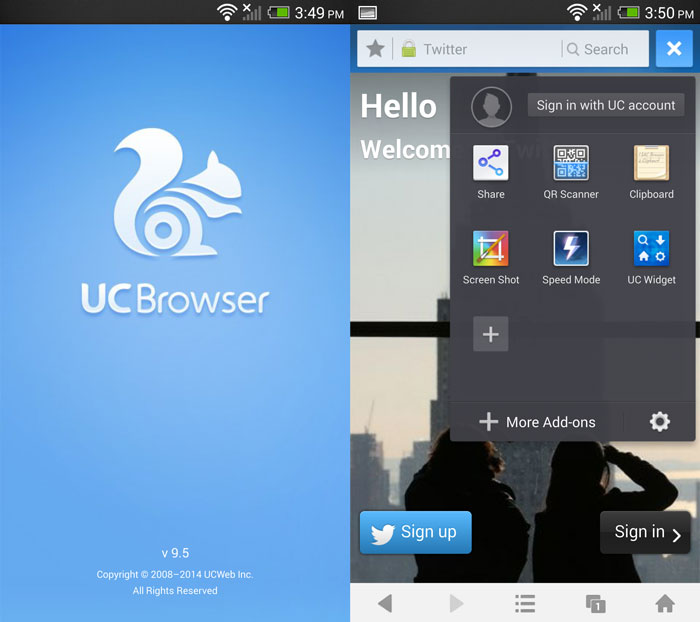 Sometimes, a simple browser is not enough for some users. That's where UC comes in. At first glance UC seems like just any other browser, but take a deeper look and it starts to feel like an operating system of its own.
With its own library of apps, widgets and even tiled homescreens for your apps and widgets, UC is for those who want their browser to be the central hub for all their mobile activities. Performance on UC is decent but rendering images and large websites does cause it to stutter and choke, and if you use it regularly you'll get accustomed to the occasional force quit.
UC Browser has over 400 million users worldwide.
UC Browser is available on Android and iOS.
One Browser, developed by Tencent, is yet another of the many alternative browsers available in the Google Play Store. One Browser prides itself on supporting its user community and taking up suggestions. In the latest version they even mention that a lot of the added features, such as night mode, page capture, and custom font-sizes, are based on requests from users.
In the performance department however, One Browser is severely lacking. It takes a few clicks of the "Go" button to register the click and even then still takes an extremely long time to render a web page.
One Browser is available on Android and iOS.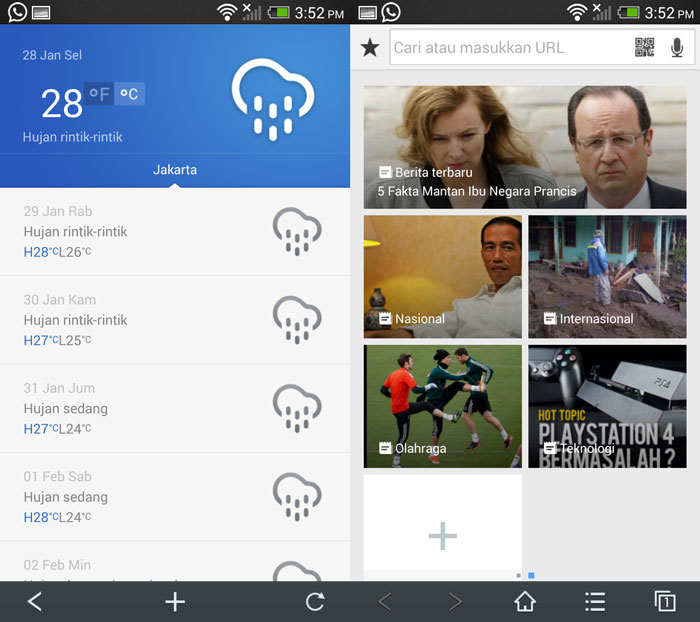 Baidu Browser, while lacking some of the bells and whistles of the aforementioned browsers, has gained popularity with good reason.
The app tries to reduce clutter while still keeping useful information at your fingertips. Baidu Browser has one of the best-looking built-in weather apps I've ever seen, and also features a news ticker/shortcut menu that's curated with articles based on the region you reside in.
(Read also: Baidu Browser goes after Indonesian users, places emphasis on speed)
Other than that, however, there's not much else to say about the browser. It has decent performance and load times but won't really blow your socks off. One feature that I found rather obtrusive was that the Baidu icon remains on the screen (similar to Facebook's chat heads), but this function can be easily disabled.
Baidu Browser is only on Android.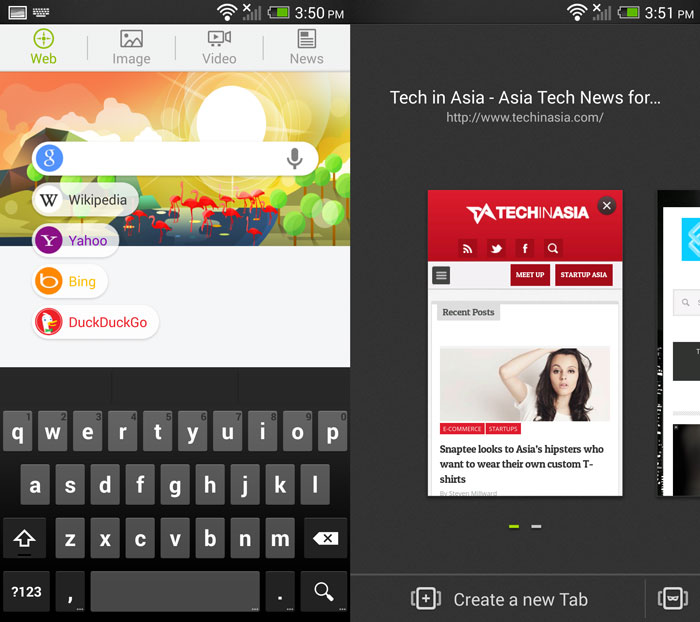 Next Browser is developed by the team behind Go Launcher EX and Go Locker 1 and for that reason I had low expectations. Boy, was I mistaken.
Next Browser is the fastest Android browser I have ever used. Not only was it blazing fast on my HTC One, but even on lower-end hardware like my Galaxy Nexus, Next Browser prevails where Firefox and Chrome tend to burn out.
Next doesn't have that many extensions, but it offers up night mode, Pocket, and Evernote integration, all of which are very useful. Next also lets users switch between search engines with a single tap, a feature that's helped me out on several occasions.
Next Browser is exclusive to Android.
(Editing by Josh Horwitz, Steven Millward and Enricko Lukman)