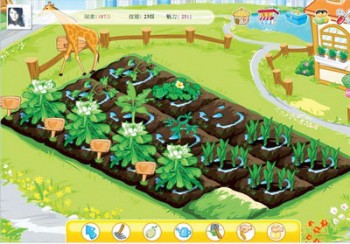 Happy Farm (and its English Zynga clone Farmville) made a big splash in the casual gaming world back in 2009, and for a few years, it was difficult to walk into any office in China without seeing somebody stealing vegetables or planting crops in the game. And although the game was hosted in a number of different places — some of them legitimate, some of them less so — a lot of people played it via the social network Renren because it allowed them to play with their friends easily.
Those days are officially over now, though, as Renren announced yesterday the closing of Happy Farm servers after four years of offering the game. The shutdown is not a huge surprise, as Happy Farm is nowhere near as popular as it once was. In fact, the studio behind the game had massive layoffs last year and its current status is unclear.
Gamers don't seem to be too broken up about any of this, as many of them have long-since moved on to other casual (and increasingly, mobile) games. But the announcement did provoke a bit of nostalgia about the good old days of a few years ago, especially from those who spent a lot of time playing it back when the game had upwards of 100 million players.
Of course, Happy Farm still being offered by Tencent, so would-be vegetable thieves can still get their fix on those servers if they want to. But the shutdown seems to be another indication that Renren is moving quickly away from its traditional social networking business. Where it's headed, of course, is another question entirely.
(China Radio Network via TechWeb)