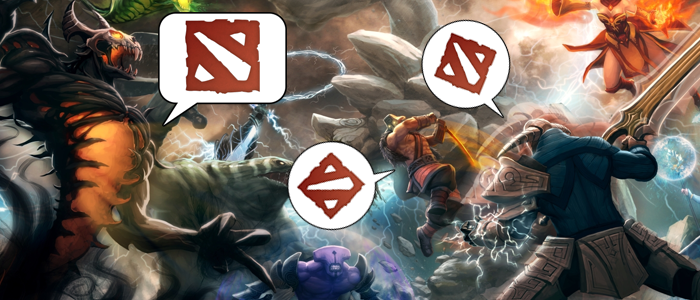 After winning third place and being the only Asian team in the top three in the recently concluded 'The International 2013' event, Team Orange has become an inspiration to many. There are many DOTA 2 players who aspire to be pro-gamers in hopes of following in the footsteps of famous players such as Chai Yee "Mushi" Fung, Daryl "iceiceice" Koh, and Ng Wei "NWP" Poong.
However, few of the usual problems when it comes to going pro are finding a team to play with, teams to play against, and tournaments to join. Thankfully, we have the web to help us with this problem and you can go to sites like GosuGamers or joinDOTA to see news about the game and the scene. However, if you are part of the newer players who may be too intimidated or overwhelmed by the diversity of the community, you might want to check out the following Asia-Pacific DOTA 2 communities, which may be closer to home.
1. Southeast Asia: DOTA Talk
Although DOTA Talk also brings news about the international scene in general, it's more centered on the Southeast Asian (SEA) community. It also covers SEA tournaments such as the Pro Zone Cyber Cup 2013, SteelSeries MY Cup, and the Gigabyte E-Sports Tournament (GEST).
The site also includes team registration for their events, while the forum has a team recruitment section. The DOTA Talk site also has an active Facebook page where you can find fun posts and updates as well as meet other DOTA 2 fans.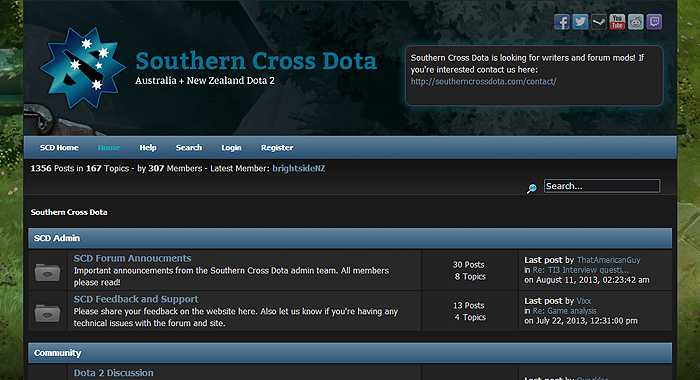 Southern Cross Dota (SCD) launched in April this year as the new home for DOTA in Australia and New Zealand. Though new, members of the community have been around for quite some time. Southern Cross DOTA is a good way to bring Australian and New Zealand players together as the community continues to grow. The SCD forum currently has 307 members in total and is still growing.
Aside from the team and player recruitment section and the scrims and casual play section, the forum also has the streams and casters section for discussions, advertisements, and questions about streaming and site casting. This site is a great portal for fans in Australia and New Zealand to come together and keep updated with the latest events, tournaments, and game changes.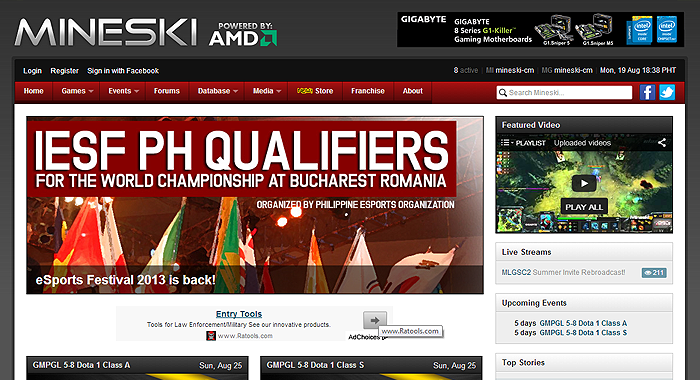 DOTA is one of the most common games in the Philippines, which is why having an online portal for the gamers' needs should be almost automatic. Mineski is popular in the Philippines, not only for their online site, but also for their eSports teams as well as hosting important local tournaments and projects such as the Gigabyte Mineski Pro Gaming League (MPGL) and the National Cyber Collegiate League. The website also features a calendar of events, an online store, teams and players database as well as a forum where members can form and find teams as well as discuss strategies, the state of the game and tournaments among other things.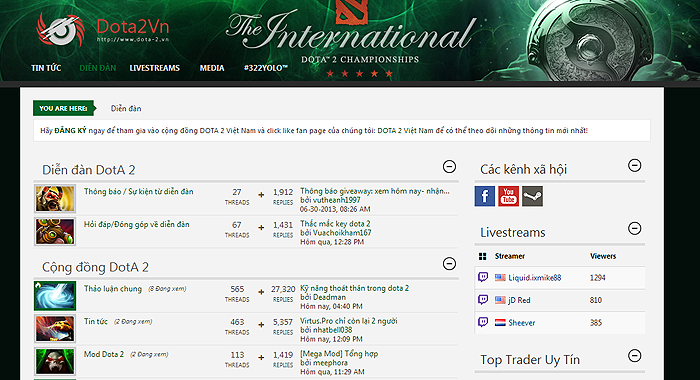 Dota2Vn is an online website for the DOTA 2 community in Vietnam and serves not only as an online place for players to gather and discuss, but also provides news and updates about the scene. It also has a stream ticker on the homepage so people can immediately see which streams are live and which ones have the most viewers at the moment. The site also has a forum where players can find sections for teams and clans, scrims and challenges, and even in-game trading.
Finding your DOTA 2 online home
At the moment, other communities still do not have a website of their own. As such, fans gather via Facebook or as sub-forums or threads to existing larger sites and forums. You may also head to the Steam community and search for your choice of group. Type a keyword (i.e. "DOTA 2 Indonesia", etc.) in the search box and select a group from the results in the groups tab.
Before joining or posting in any community, make sure to read the rules so you don't end up breaking them. It would be nice if you have a good idea of what you are looking for in a group. For example, are you more interested in strategies or guides? Would you prefer groups with threads dedicated to teams or the scene? Are you interested in trading or betting? Different communities have different features so make sure you check that first before joining. If you feel like you've found the group for you, but it doesn't have the features or rooms you are looking for, perhaps this could be your chance to take the initiative and make a suggestion.
Keep in mind that online communities are not only for those who want to embark on their journey as a professional gamer, streamer, or caster. These communities and groups are open to all fans and players, whether they opt to stay casual gamers or go pro. Online communities may also be your online home to discuss all things DOTA 2 such as news, strategies, updates, patch notes, bugs, and issues – to name just a few things. Remember that each forum has its own resident trolls, veterans, nice-guys, and the like, so it all boils down to which one has the best online environment for you.
What are you looking for in an online community? Which community are you a part of? Let us know in the comments section below!
(Editing By Anh-Minh Do and Steven Millward)