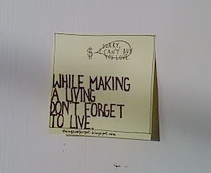 I'm not too sure how many of you out there have heard of thingsweforget.
After being introduced to the site last year, I grew to become a fan of this kind samaritan's work – I checked in on the blog periodically, added the account on Facebook and Twitter, and secretly hoped that I would be able to chance upon a Post-It with an uplifting message on it too.
I thought the person behind it was a selfless angel, spreading words of kindness and virtuous wisdom, throughout the streets of Singapore. Evidently a lot of people do too – check out posts on the Facebook wall.
Now, my dreams of hope for humanity were abruptly dashed when a friend told me that it was a campaign by 3M. I hung on to my stubborn belief, but he was armed with evidence (here and here.) I was shocked. I was angered. And after all the drama, I had to give the Post-It guy (Joji Jacobs, previously from BBDO and now in DDB) some credit.
The campaign is still ongoing, and till date, thingsweforget is liked by 24 542 people all over the world. BBDO leveraged on other social tools like Twitter and Flickr for added eyeballs. They've been featured in traditional and online publications. And all they had to pay for was… well, nothing. I'm sure Jacob's Post-Its were sponsored.
I can't help but kowtow at the genius of this campaign – it's so subtle – no average person would have suspected it of being a campaign. (I'm sure there are some creative, pessimistic types out there who might have suspected its probability…) It uses emotional appeal which reaches people on a personal level.
It reminds Singaporeans – a widely hard headed, paper-chasing bunch – to slow down and smell the roses. To remember to do the most basic, menial things that we truly tend to forget. And so many people have bought in to this message; each and every single Post-It note contains a snippet of wisdom that can be applied throughout the world, and that can be shared. It's believability lies in that there wasn't any overt branding. They didn't scream, "HEY BUY MORE POST-ITS!". It was done in style, and truly deserved each and every follower they managed to get over the months. Kudos also goes to Jacobs for churning out a new message every day.
Who cares if it's a campaign, it still appeals to the inner emo in all of us.
Thumbs up, BBDO Singapore.