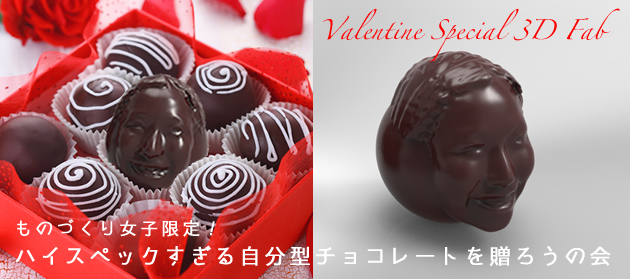 We've had a few fun 3D printing stories over the past few weeks. You may recall this 3D printing photo studio from Xi'an, China which prints a miniature bust of the customer in just a few hours after the initial photo is snapped. But just across the water in Japan, the folks at Fab Cafe Tokyo are cooking up some 3D printing goodness that is just a little bit sweeter, and just in time for Valentine's day.
In early February, Fab Cafe will hold a workshop for women where they can make 3D chocolates modeled from their own face using a 3D printer and scanner. The workshop will be held on consecutive Saturdays, February 2nd and 9th, and participants will be able to learn about 3D modeling. You'll also have a chance to create a mould, from which you can later make your own chocolate replicas.
This particular event is targeting women, since the Valentine's Day custom in Japan is for women to give chocolate to men. Fab Cafe notes that they are considering a similar event for men later, so there might be one leading up to 'White Day,' which is when men reciprocate by giving ladies something in return.
The workshop will cost 6000 yen (about $68), but for the information you'll take away, not to mention the chocolate, it looks to be a pretty awesome deal. For our female readers in Japan, you can find out more details over on the Fab Cafe website.
(Via Chiho Komoriya on Japanese VW)