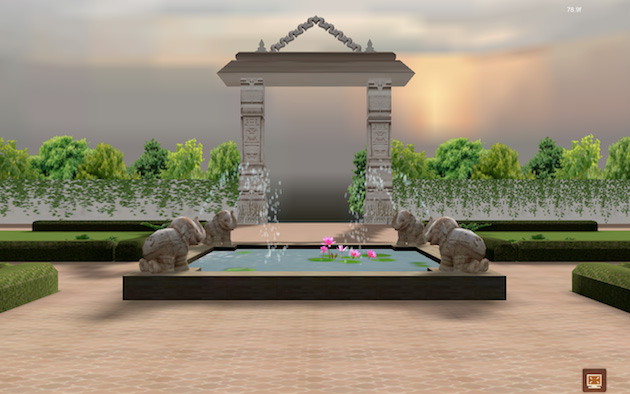 If humans can go 3D, then gods and temples can too. Girish Dhakephalkar, founder of India-based start-up, Shoonya, had the vision to use 3D technology to create an awesome online experience for both geeks and folks who don't have convenient access to temples. The first mobile and web app 3D temple experience was created for Krishna – a god that is widely worshipped in Hinduism. The web app provides a game-like experience, reminding me of my days as a level 60 hunter in World of Warcraft a couple years back.
With its rich interactivity, the app allows you to do simple rituals, called 'Puja).' Girish explained to Penn-Olson that Puja is performed to please the Hindu gods as worshippers offer flowers, sweets, and apply vermillion paste of the god's forehead. Girish added:
What we have tried to do is create something which goes through the rigidity of religion and allows a fun and interactive way to experience spirituality.

This is especially true for younger people who are bred on technology and gadgets as well as older people who are restricted in movement due to their age and therefore cannot visit temples. Because we have brought these online, people can take a quick break from their daily routines of life and get in touch with their spiritual identity.
The Krishna iOS(iTunes link) and web app were both created using Unity 3D, a core game engine used in many mobile and web games. Leveraging Unity 3D technology helps Girish to ensure what he has developed can be easily ported to multiple platforms. Girish has also developed the Ganesha3D app — Ganesha is another popular god in Hinduism.
Besides 3D temples, Girish works on other 3D interactive projects for clients in the online fashion, real estate, and advertising industries. You can check out Girish's portfolio at LifeSpaces.me and have fun with all his 3D web projects.