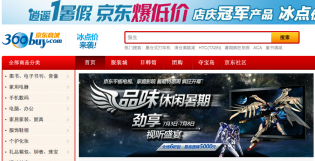 Chinese e-commerce giant 360Buy is taking to the cloud, or so it appears with the company's announcement yesterday of the launch of a major cloud computing research center located in Beijing's tech-friendly Haidian district. The new research center, founded in partnership with Renmin University, encompasses 10,000 square meters and will be able to employ up to 1,500 workers.
At yesterday's launch meeting, 360Buy chief strategist Zhao Guoqing explained the decision:
As one of China's most influential e-commerce websites, 360Buy is in the processof expanding its scope, and we must use scientific methods [to do so] that are based on the multifaceted demands of users and the behavior of consumers […] in the US, England, and the other 500 strongest global companies, more than 90 percent of their important investments and strategic decisions are based on deep data analysis[.]
To that end, the cloud research center will primarily be a facility for hardcore number-crunching rather than the source of a 360Buy-branded entry into the cloud storage market or anything like that. Since 360Buy is engaged in a battle with Alibaba and a few other players for space in the Chinese e-commerce market, every little bit counts, and 360Buy will hope that this new cloud research center will allow the company to move with confidence when they're making strategic shifts or investments.
(via Sina Tech)