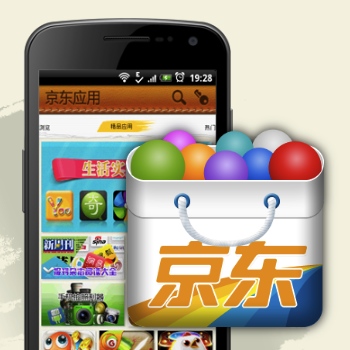 Chinese e-commerce site 360Buy seems to be cranking out new features on a daily basis. Yesterday, an e-bookstore; today an app store. 360Buy's newly-launched apps market offers Android applications and games, and is yet another alternative to Google Play in China.
It enters a very crowded market for third-party Android app stores in the country, while also giving 360Buy a more Amazon-esque line-up of digital offerings.
This new app marketplace (at play.360buy.com) is all part of 360Buy's digital diversification, which will eventually cover nearly all the bases in online entertainment: e-books, online games, music, and video. So far, it's three down and one to go – streaming video must be next.
'360Buy Apps', as it is called, comes with a market app for Android phones, and there are also upcoming apps for Android tablets and for Windows PCs. The PC app will offer an iTunes-like syncing experience for Android users, something that Google avoids, instead prefering to do syncing in the cloud. But Chinese users have never been so keen on that. Indeed, lots of Chinese sites have opted to fill this niche with their own syncing apps, such as the startup Wandoujia, right up to China's biggest web company, Tencent, with its App Assistant.
Putting our skeptical hat on – which is, by the way, our favorite hat – some might say it's wise for 360Buy to offer more digital content at a time when it's still struggling to turn a profit. That's because it's relatively cheap to expand its line-up in this way – perhaps the cheapest possible area of expansion of them all. But that doesn't mean it's a good idea. Indeed, it's a very late entry into the third-party app market scene, and it doesn't make much sense to try such a low-profit portal. My colleague Willis is less charitable and reckons that this is "seriously stupid" and diluting the company's focus on e-commerce sales of books, clothing, and electronics.
360Buy, despite its recent series D funding worth $400 million, is thought to be really in need of greater cash-flow.