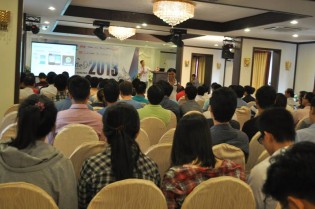 Last Saturday and the Saturday before, Vietnam held its third ever Mobile Day in the country to throngs of people. All told, over 2,500 people attended the events with 1,500 in Hanoi and 1,000 in Saigon. To say the least, there's a big buzz for mobile in Vietnam and the industry is only going to get more crowded. Some of the presentations were pretty cool, so I'll give you a quick taste of a few that caught my eye.
Presentations covered some very key concerns for mobile developers in Vietnam, like memory management for Android applications; four secrets to success for app monetization; building an online community and getting to the top of the App Store and Play Store; launching a mobile game in just three months; the issue of mobile payments. We'll embed the slideshows of three of the many informative presentations here. You can click on the links below for more.
12 things you can learn from mobile products made in Vietnam
Zalo challenges foreign chat apps
Another interesting talk came from VNG's Dao Ngoc Thanh who covered many of the technical aspects of Zalo and its growth over the past year from just a few users to over two million:
Going mobile and embracing mobile ads
Nguyen Minh Quy, from NovaAds, also gave some interesting insights about mobile ad networks. His presentation showed some really interesting numbers on the growth of mobile and what the opportunities are:
Next year, the event is sure to be even bigger with mobile growth growing even faster than last year and more companies jumping into the Vietnamese market before it's too late.
There were plenty of other really awesome presentations at the event from across the board, but most of them were a bit more technical, so the slides in these will give you a quick good idea of the mobile landscape in Vietnam. You can find all the links to presentations from Hanoi and Saigon on the Mobile Day homepage.