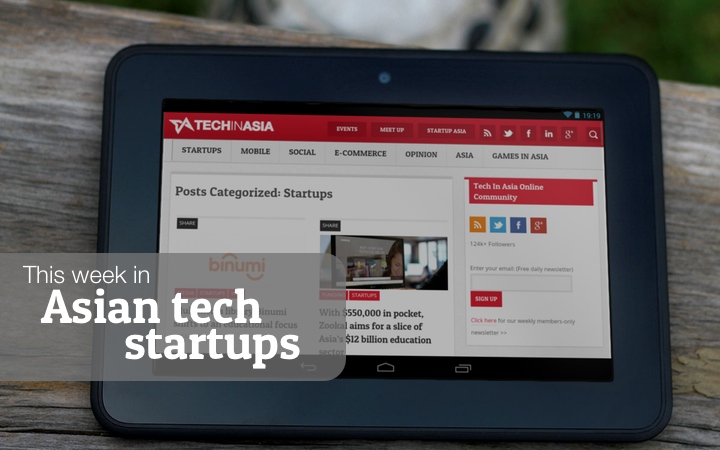 Here's our newest round-up of the featured startups on our site this week. If you have startup tips or story suggestions, feel free to email us or tell us about your startup on this form. Any juicy tech news tips go here. Enjoy this week's list!
Health-tracking gadget maker Picooc is best known for its smart body scales which not only shows your weight but also indicates important metrics like body fat, body mass index, body water, and muscle mass. It ties to an app for a fitness-tracking experience that complements wearable tech gadgets. The startup is revealed to have raised funding rom two of China's leading web giants, Tencent and JD. Gobi Partners also contributed some cash.
---
Founded in 2011, Japan's biggest amateur baseball league Gigathlete's G-League currently boasts 85 teams and more than 1,200 players. The company's G-Score service offers real-time scoring that can be updated via feature and smart phones, while its G-Lockerroom platform provides real-time statistics, player interviews, and photographs. In addition, the startup also has G-Dugout, a player matchmaking service to connect them with substitute players, and G-ShopBoard, which connects players with sporting goods shops in the greater Tokyo area that offer equipment customization and repair services at discounted prices.
---
Taiwan-based visual search service Viscovery claims that they have the best recognition speed in the market right now. With their mobile app, images that are taken do not need to be uploaded to the main server to be recognized – the recognition occurs within the mobile app itself, which makes the entire process extremely quick.
The team was chosen as one of the top 10 startups at GMIC. They have received seed funding from Pinehurst Advisors, and are currently looking to raise a round of series A funding to accelerate growth both in Asia and beyond.
---
India's FindmyCarrots is a travel startup which uses data analytics with semantic search to offer best deals for transport and accommodation, and do the bookings. It mimics the aggregation model of a large travel portal like Expedia or MakeMyTrip but has other variables and layers of metadata for destination discovery and booking to one's taste.
---
Singapore-based Style Tribute is a consumer-to-consumer (C2C) fashion marketplace that wants to focus on the top end of the secondhand market. It was one of ten startups who participated in the Startup Arena Singapore 2014 competition just last month. They recently raised a round of seed funding from Great Simians, Crystal Horse Investments, as well as three angel investors, one of which is Trevor Healy, CEO of Amobee and former VP/GM of Paypal.
---
Graph, a new service created by Tokyo-based startup The Coco, hopes to provide users with easy access to credible statistical data by going straight to the source – governments and corporations. Type a search term and Graph instantly generates a graph (the user can choose between pie, bar, line, and dot graphs) with selectable timeframes and parameters. The startup is currently fundraising.
---
CreoPop is a new battery-operated 3D printing pen from Singapore that uses a light-sensitive resin which solidifies at room temperature upon contacting UV rays and has inks with unique properties such as magnetic ink, ink that changes color based on temperature, aromatic ink, as well as ink that conducts electricity, stretches, or even glows in the dark. The startup is fundraising on Indiegogo, and it's well on its way to meeting its goal many times over. It is also part of HaxAsia, a hardware startup accelerator run in Singapore, Silicon Valley, and China.
---
Founded in November last year and beta launched in early May, Indonesia's CekAja helps Indonesians compare financial and insurance products. The startup works with many prominent banks and insurers in Indonesia to provide extensive options for users, where they are able to compare a wide range of financial products such as personal loans, credit cards, deposits, and syariah, a deposit that follows Islamic principles.
---
Sepp.com is a friendly betting startup from Vietnam where you are able to bet on the next ten games at the World Cup. Depending on whether your team wins, loses, or draws, you'll gain (or lose) points. The point system will determine if you are good at predicting matches or not. The main point is that you get to challenge your friends and colleagues without the risk of losing money on a real gamble.
---
Yu-Link is a co-working space based in Shanghai, which not only offers a comfortable space for tech entrepreneurs to work in, but also offer a package that can help cut through the red tape that faces a new business – especially one run by non-Chinese nationals. The company is looking to specialize in medical devices startups, which is an area of interest of the firm's Chinese partners as well as an under-served segment in the country.
---
Appier is a Taipei-based company that leverages artificial intelligence to help businesses and brands push their ads to the right people. It offers an ad optimization engine that leverages big data, artificial intelligence, and real time bidding to ensure that advertisements have a better chance of reaching their ideal target audience.
The startup has just raised a US$6 million funding round from Sequoia Capital. The investment marks the venture capital firm's first bet on a Taiwanese startup.
---
Founded in 2012, Delhi-based Unicommerce offers SaaS solution to online Indian retailers in all multi-channel markets. It manages orders, shipments, and is in the midst of introducing payment reconciliation to their system. The company reveals to have processed over a million orders a month, which represents 10-12 percent of ecommerce in India, excluding travel. It has integrated more than 45 marketplaces on its panel, and vendors can simply choose as many of them as they want to be on.
---
Singapore's Clubvivre is a platform for users to book private chefs for their house parties and other special occasions. The platform caters to events big and small, from two people to a crowd of over a thousand, and is an efficient online solution where you can search for a chef to deal with the logistics of cooking at your place.
---
MyRealTrip is a Korea-based open crowdsourced marketplace for local guides and travelers that offers authentic, customized guide services. The startup announced its third round of funding. SmileGate Ventures led the round, contributing 70 percent of the funding, with Capstone Partners joining in.
---
Pantera Engineering is a startup from Pakistan that developed the 2014 Football Cup Companion, which it touts as the most useful and comprehensive scoring, tables, and text commentary app for the 2014 World Cup. It's available in English and around the world. The team was part of the second batch of startups that graduated from the Plan 9 incubator in Lahore
---
Founded in June 2012, Housing.com is known as one of India's leading real estate portals and the first to bank heavily on technology to make house-hunting in India easier. This week, the startup announced that it has raised its fourth round of funding from Helion Venture Partners, Nexus Venture Partners, and Qualcomm Ventures.
---
Darma is a smart cushion that detects your breathing patterns and stress levels, measures your heart rate, and determines your sitting posture. Based on those readings, Darma prompts you to stand up and stretch if it finds you've been sitting for too long, nudges you towards the proper, upright sitting posture, and reminds you to meditate. It comes together with an iOS app to give guided meditation and dish out a training program to release sitting stress and relax your back. The Singapore-based startup is prepping for a Kickstarter campaign that will launch before the end of 2014.
---
Taipei-based Kronosight is the creator of Sentri, a plate-sized slab that uses geofencing technology to learn when its owners come in and out of the house. For security, the device comes equipped with an HD video camera and motion detector. Whenever the motion detector notices irregular movement, it sends a notification to the owner's iPhone. The startup launched the Kickstarter campaign for Sentri about a week ago and surpassed its target in just two days.
---
Startup lists
---
Related startup stories
---
We're gearing up to bring you yet another round of our signature conference series with Startup Asia Tokyo 2014, happening 3 – 4 September 2014.
If you're an entrepreneur, investor, developer or just someone looking to meet and learn from the speakers and companies, get your tickets now.
From now till July 3 2014, enjoy 20% off conference passes with discount code 'earlybird'.
Read here for tips on where to eat, sleep, and stay while you are in town for Startup Asia Tokyo.
See you there!
---
Like RSS? There's always our Asia startups RSS feed!