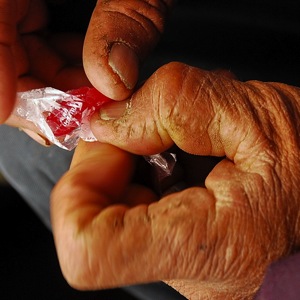 Two days ago, one team of four young Temasek Polytechnic students beat 231 other teams to be crowned the winners of the Singapore leg of the Imagine Cup (IC) student technology competition. The winning team, Team ElderGuardian, uses Microsoft Kinect to aid the rehabilitation and recovery process for stroke patients by measuring the range of motion in the joints of stroke patients and lets them play games and do rehabilitation exercises. The four students are Satrughan Kumar Singh ("Sunny"), Ho Chee Boon, Wong Kin Seng, and Kim Arvin Galutera Evangelista.
Imagine Cup is a competition that challenges students to "Imagine a world where technology helps solve the toughest problems", and draws the challenges from the eight United Nations Millennium Development Goals.
Team ElderGuardian's solution was aimed at goal 6: Combat HIV/AIDS, Malaria and Other Diseases.
Sunny was also part of the winning team from Singapore last year and represented our little red dot in Warsaw, Poland to emerge top 6 worldwide. (Disclosure: I happened to be one of the judges in the final round to decide from amongst this top 6 to find the top 3 last year.)
We speak to Sunny post-IC 2011 Singapore to find out how he and his team is preparing for the upcoming worldwide finals in New York City come July.
How is your team feeling now?
 
It has been a dream come true for the team to be receiving the honor to represent Singapore in New York during Imagine Cup 2011 Competition. We are very excited. I think, for most of us in the group, we've never been to the United States which adds to the excitement. We are looking forward to meeting the other competitors and being in the US.
 
We are also very grateful for the support we received from the staff at Temasek Polytechnic School of Informatics & IT, as well as the doctors and therapists from the various Hospitals and Rehabilitation Centers who guided us in making sure the solution helped in solving the problems in Stroke Rehabilitation today.
 
Tell us about yourself?
 

My Name is Sunny, I will be graduating this month from Temasek Polytechnic's School of Informatics & IT with a Diploma in Information Technology. I have a passion for using technology to solve social problems, and this is why I participated in the Imagine Cup. I was the team lead for the team, MamaBear, that represented Singapore last year in the Imagine Cup 2010. Last year our team beat 60 other teams to emerge among the top 6 teams worldwide.  
How would you compare your experience between IC 2010 and IC 2011?
The experience in the Imagine Cup is similar in some areas and different in others.  
One similarity is that process of finding a social problem that we could solve using technology and then developing the solution. This is great because it is a good opportunity for students like ourselves, to unleash our creativity in problem solving.  
One different thing was that we managed to get our solution tested with its intended users such as the Stroke Patients and their therapists. This provided us the opportunity to work with people in the industry and see how the deployment of IT solutions in its intended environment was actually carried out  
And presenting to a crowd for the Singapore finals was definitely a different experience from last year where it was a closed door presentation. Nevertheless it still has been a very enjoyable experience for the team and I.  
What happened to your team and idea from last year?
The team for last year had been busy with their internships and now that we are all graduating we are currently awaiting our enlistment into the National Service or applying for a job. Last year's idea is currently being refined by another group of students who are working on it.  
Are you doing anything different this year in terms of preparation?
The thing we will be doing differently in order to prepare for the International finals in July is to get more done in improving the system's functionalities.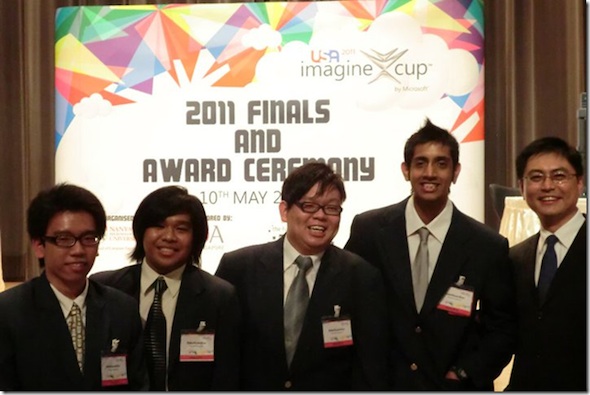 From left: Ho Chee Boon, Kim Evangelista, Wong Kin Seng, Satrughan Kumar Singh "Sunny", Yeak Shaw Wen (Mentor).
Thanks Sunny, and all the best!
Image credit: irumge