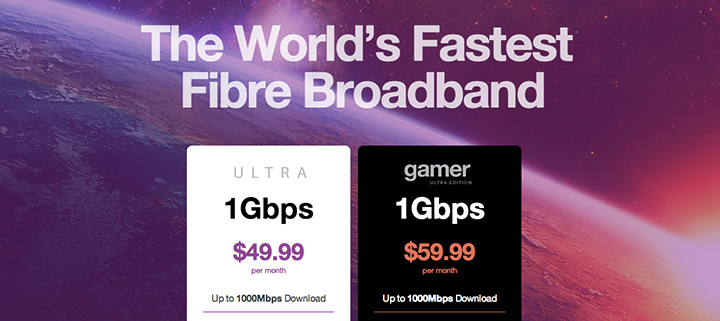 Internet provider MyRepublic has introduced a new fibre broadband plan with a download speed of up to 1Gbps which costs just S$49.90 ($39.40) a month. The promotional pricing is available only to the first 10,000 sign-ups starting today, although the regular pricing has not been revealed.
To entice customers, it is even crediting S$200 to customers who abandon their existing contracts with other providers to use MyRepublic. The credit should be enough to cover early termination costs, which is typically the internet service's monthly price multiplied by the number of months remaining on the contract.
This is the first time a broadband service of this speed has become available in Singapore at such a low fee. StarHub, one of the country's largest telcos, offers a similar plan at an astronomical S$395.90 ($312.25).
But what does 1Gbps mean for users? Tech writer Alfred Siew explains that 99.9 percent of consumers probably won't maximize it. True internet speed is determined by a multitude of factors including hardware. He writes:
For starters, your PC's hard disk may or may not be able to keep up with a 1Gbps download. The Gigabit Ethernet router you got may also be maxing out and probably cutting a few corners without hitting 1Gbps, unless you have a well-made one…there are other things that matter, such as how much lag you can get when connecting to game servers or overseas websites.
Nonetheless, the added bandwidth means that users can share huge files with friends smoothly. Also, a full HD video could take just seconds to download. Such such high-speed broadband will enable internet services that are impractical now.
With MyRepublic's new offering, the Singapore fibre broadband network's speed limit of 1Gbps has been reached. Expect the other internet service providers to match MyRepublic in both speed and pricing soon, quality of service notwithstanding.
MyRepublic is a rambunctious new internet service provider that burst onto the scene in 2012. It currently has more than 15,000 residential households and businesses on board, which is about 3.3 percent of Singapore's fibre broadband subscriber base of 450,000 as of October 2013. However, the company says its market share is around 4 to 5 percent, so the national subscription figure may be slightly inflated.
The company is known for its Teleport service, which lets users watch videos previously blocked by copyright restrictions, and its lack of BitTorrent throttling, which is present in Singapore's other internet providers.
With the introduction of this new plan, Singapore is closer to matching Asia's internet speed demons, which include Japan and South Korea. Japan has a 2Gbps plan which costs $51 a month, while Korea has been offering 1Gbps internet since 2011.
(Editing by Josh Horwitz)