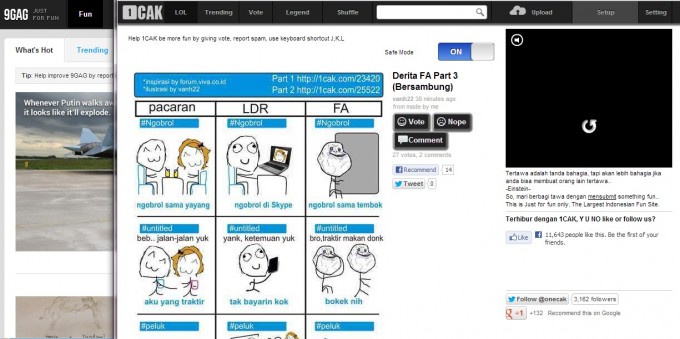 We are familiar with the cloning strategy of some internet companies, made especially famous of late by Rocket Internet's Samwer Brothers. Following in that dubious tradition, we now see an Indonesian version of the popular humor and meme blog 9gag.com, called 1cak.com. To find out more about it, we talked to Aji Ramadhan, the founder of 1cak, about the website's progress so far and its plans for future development.
When looking at the 1cak site, it does look very much like 9gag's interface, and even some of the meme jokes are similar. Though 1cak's jokes are tailored for the local audience. As Aji put it, 1cak is inspired by 9gag, but is not necessarily an exact clone of it.
Since the website's launch back in February, 1cak has already hit 25,000 registered users. Aji believes that simplicity is key to the website's success so far. Interestingly, there is only one person behind the 1cak site development, and that's Aji.
But 1cak is not alone on the comedy platform in Indonesia. Aji acknowledges other Indonesian humor meme blogs like na9a.com and memecomicindo.com as competition, but stressed that 1cak's simplicity sets it apart from the rest. Indeed, 1cak is currently leading the competition according to Alexa's web rankings. The site has even managed to beat the more established humor site MalesBanget (see it on Alexa) in the process.
1cak is a new domain, having changed from its previous name, 1cuk.com. Aji explained that several people thought that the 1cuk name had negative connotations (as in onecuk/wancuk/jancuk, which are perceived as lewd terms for Javanese people). 1cak now means one place for kocak (meaning "funny") things.
So far 1cak uses just Google Adsense for monetizing the site. Aji doesn't have any investors on board, but he has a partner who pays for server costs in return for ad placements. The site is also looking to launch its mobile app in the near future.