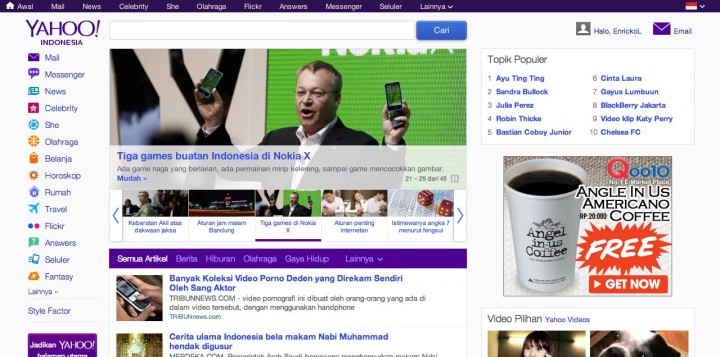 Yahoo US revamped its homepage last year, and now the homepage upgrade has made it to Indonesia, as well as India, Malaysia, Singapore, the Philippines, and Vietnam. Yahoo1 also shared some statistics about its Indonesian site:
19.1 million unique users visited Yahoo Indonesia homepage in January, with 1.5 million daily unique users. If Indonesia has about 75 million internet users, then that means about 25 percent of people online in the country visit Yahoo regularly.

Yahoo's homepage in India, Indonesia, Malaysia, Singapore, the Philippines, and Vietnam has 80.8 million monthly unique users, with 7.4 million daily unique users. Out of all these, India and Indonesia make up the top two countries.

Yahoo Indonesia's number of mobile users grew 41 percent by more than twice in 2013, but desktop users still hold a bigger portion overall. The revamped homepage caters to that trend.

The most popular Yahoo product in Indonesia is its email service, with the homepage in second place.
The new Yahoo homepage design has a cleaner look and better personalization options, especially for its articles. Users who are logged in to Yahoo can save articles they want to read later. Yahoo learns about its users' behavior and recommends more relevant articles. But the Yahoo editors are still the ones choosing which articles get highlighted.
Yahoo is still quite big in Indonesia. While the email and homepage products still look good here, there is huge doubt whether its Messenger app can hold its ground thanks to the popularity rise of Line and KakaoTalk's PC apps. It will also have to compete with Google's trademark minimalist homepage in search
(Editing by Paul Bischoff)
---
Disclosure: Tech in Asia is a regional content partner of Yahoo. See our ethics page for more information.↩