2012 is over, and it was quite an interesting year for startups. Chinese-language startup database 17startup.com has put together quite a lengthy report on the year in startups based on its very sizable database. We'll be combing through the report for more interesting details over the next few days, but let's start off with some big picture trends.
First, and most importantly, what kind of startups were Chinese entrepreneurs founding in 2012? The answer, overwhelmingly, was mobile and e-commerce startups. Here's a translated graph from 17Startup's report; as you can see, mobile and e-commerce amount for more than 50 percent of the new startups founded last year. Social is a large player too, although its numbers are down from previous years; games and web tools were the other big winners. Since the graph can be a little tough to read, note that I've listed all the percentages along the right side of the image in next to all the category types.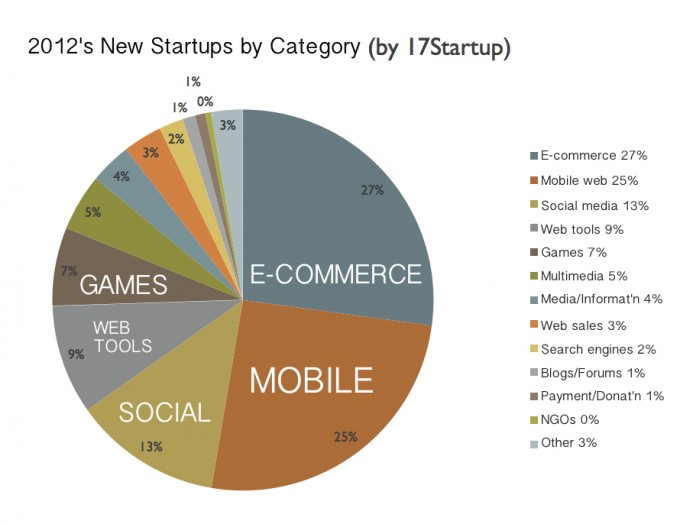 But while those guys were checking into China's startup scene, who was checking out? 17Startup also has a breakdown of the year in failed startups. So what kinds of startups bit the bucket in 2012? Unsurprisingly since most startups fail, e-commerce and mobile are still at the top of the list. Social startups also took a big hit, and comparing this with the breakdown of new startups above, it's quite obvious that social as a trend is on its way out in the Chinese startup scene.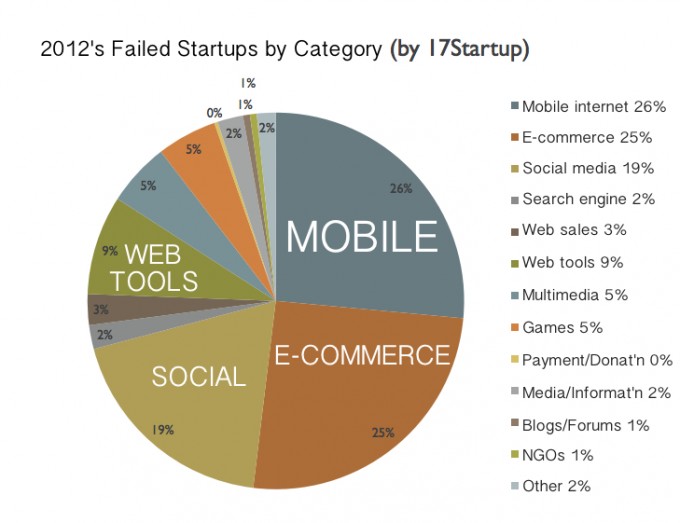 We'll likely have more over the next few days as we dig further into the 17startup report.