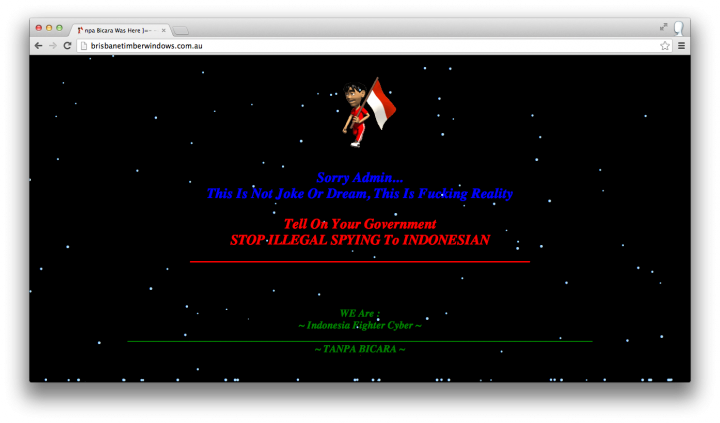 Hackers in Asia have been quite active recently with The Sydney Morning Herald reporting yesterday that an Indonesian hacker group called "Anonymous Indonesia" claimed to have hacked over 170 Australian websites. They are demanding that Australia stop its spying activity on Indonesia as revealed by a whistleblower.
One of the many Australian sites being defaces says "Stop spying on Indonesia" while another says "Tell on your government, stop illegal spying to Indonesian. (sic)" These hackers also left information like who's behind this attack and how to contact them.
It seems like the Australian sites being defaced are chosen at random. We have tried to contact the hackers and will update if we hear back from them.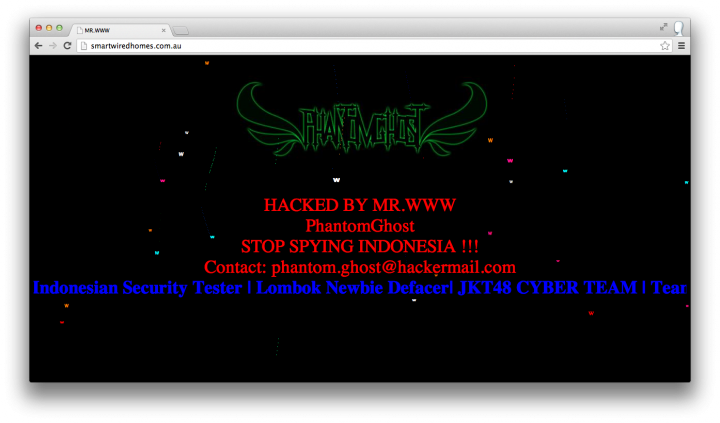 This is the third major hacking activity happening in Asia Pacific in the last few days. Singapore and Philippine governments had their hands full with Anonymous in respective countries hacking their government sites.
The Messiah, a hacker that claims to belong to the Anonymous collective, threatened to wage a digital war with the Singapore government if it implements an internet licensing framework that could restrict freedom of speech. Meanwhile, Anonymous also chastised the Philippine government for not being at their best in providing for its citizens.
Hackers on both sides, which appear to belong to different sub-groups of Anonymous, then asked citizens in both countries to participate in the Million Mask March protest tomorrow, which also happens to be Guy Fawkes Day. That day has been made synonymous with hackers who commemorate their anti-government protests with plenty of hacking activity. Last year, hackers around the world cracked numerous financial, government, and entertainment sites, including PayPal, NBC, and Symantec.
If the Australian episode is just the pre-party, I wonder what these hackers have in mind to "commemorate" the Guy Fawkes Day tomorrow.
(Editing by Terence Lee)