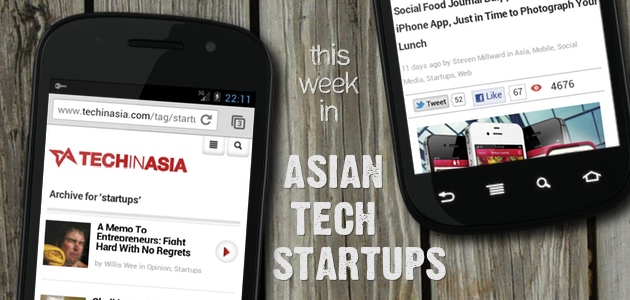 It's been another week here at Tech in Asia and we have for you a compilation of all the startups in Asia we have covered. For tips and stories suggestions, feel free to e-mail us. Alternatively, you can submit tips here and/or your startup here. Enjoy!
Voicepic received some attention last week at the Techcrunch Tokyo 2012 event, walking away with the 'Mashup Award.' This app for iPhone brings the element of sound into your photos, letting you add a brief voice comment, or record and attach ambient sound from where the picture was taken.
Tiket serves as a ticket booking platform for almost everything – travel to entertainment. This startup has also recently bagged several awards such as the [ASEAN ICT Awards (AICTA) held in Seibu, Philippines, a couple of weeks ago.
Travelog is a mobile app developed by the four-person team at Korea-based startup CultStory that takes note of all your key travel details that you want to keep track of or share.
Fiverpager is a web development startup based in Singapore from the Philippines. Starting from $50 a month, a user can get three web pages with custom design, email service, domain, and hosting. It's aimed at putting small businesses on the web.
Douguo is a social recipes website that recently received its second round of funding worth $8 million from GGV Capital. Douguo has apps for iPhone and Android, and claims to have six million users who have uploaded 10,000 recipes so far.
Indonesia's Bilna is a new specialist e-commerce site that sells everything that could be needed for babies and infants – and also the mothers – such as food and milk formula, clothing, toys, accessories, and maternity skincare products. This startup also comes prepared with seed funding from both CyberAgent Ventures and East Ventures.
Travel search engine Wego has announced partnerships with several online travel accommodation websites – and revealed its newest accommodation booking feature called Holiday Rentals. Fancy renting a castle for your next holiday?
Australia's Tweaky is a service that helps small businesses make small changes (or tweaks) to their website, and after they specify their request, a designer or developer can take up the task in exchange for the specified fee.
Indonesia's Eloku is a top-end cloud-based solution to keep track of delivery services. It is one of the three startups that graduated this week from the most recent batch at the Jakarta Founder Institute (JKTFI).
Here's another new one fresh out of JKTFI. Pouch is a marketing and loyalty program app which allows customers to collect digital stamps on their smartphones from retail partners.
The last of the newest JKTFI batch trio is Ticbox.co, a startup that helps companies conduct credible and fast online surveys at affordable prices in Indonesia. It is scheduled to be launched in February 2013.
Rewardz is a new Singapore-based company that enables employees in startups and small- to medium-sized companies (SMEs) to have the ability to enjoy welfare benefits.
Japan's Otaku Camera is an Android app by up-and-coming startup Tokyo Otaku Mode that helps turn your phone's photos into manga-style pictures.
Speaking of photo apps, the Chinese-made FotoRus has so far seen 20 million downloads worldwide across its iPhone and Android app. The newest feature to be added is the "animegram," which is a way to animate a single photo by drawing on it or warping it in some fun way; the end result is a short video, not a GIF file.
---
Related Startup Stories
---
---
Like RSS? There's always our Asia startups RSS feed!.