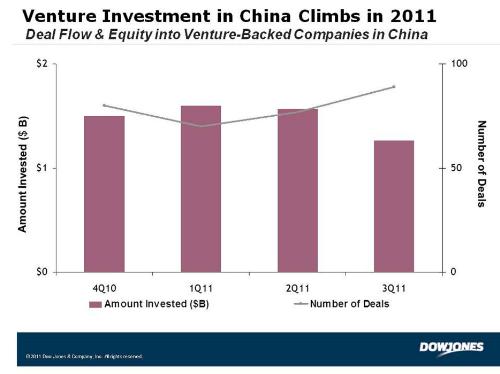 Things MUST be looking real good when capital is flowing into a country. And in China, Dow Jones says that a whopping $1.3 billion was invested in 89 venture-backed companies in Q3 2011. That is a 84 percent increase in investment and a 19 percent increase in deal flow over the same period last year.
IPOs dropped a little though, perhaps partially attributable to the VIE that scares so many companies in China, causing them to stay put with their IPO plans. A total of 29 IPOs raised $4.6 billion in Q3 2011 compared with 33 IPOs that raised $3.9 billion in the same period in 2010.
IT and software companies raised $130 million in 15 deals which is twice the number of deals and thrice the capital raised during the same period last year. The IT industry also saw four IPOs in the third quarter which include popular video share website Tudou. Other Chinese tech companies prepping for IPO are Vancl, 360Buy, Lashou (reportedly filed today), 55Tuan, and YY.com.
The market is hot now and it doesn't seem to be stopping anytime soon (or at least that's how I feel). It looks to be a good time to be an entrepreneur with big ideas in China. If you stick with the basics and build a product that serves a need and want, then you should be on the right track.