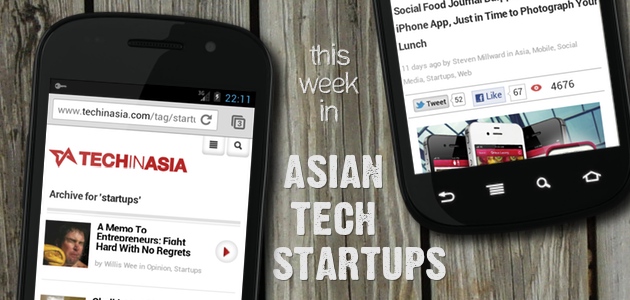 We here at TechInAsia have been once again busy watching the startup world over the past week. For tips and stories suggestions, feel free to e-mail us. Alternatively, you can submit tips here, or tell us about your startup here. Enjoy the list!
Infinit Closetis a web and mobile app for users to share their closets (clothing) with friends. This Thailand-based startup emerged top in the recent Startup Weekend Bangkok.
Two Singapore-based startups, Travelogy and TripFlick, have partnered to create a useful mobile app for tourists called ComeSingapore. Currently available for Android, this mobile app targets travellers visiting Singapore, with features such as trip planning and a travel guide.
Looking at a hardware startup for a change, Aftershockoffers four laptop configurations from which customers can build upon to create their perfect gaming system.
Created by Shanghai-based startup ExploreMetro, TaxiCrabis an Android and iPhone app that lets you rate Shanghai cabbies on their driving skills, professional appearance, and their personal hygiene.
Luxolais an online cosmetics e-commerce startup which currently carries 48 international brands and over 500 different products on its site.
Singapore's Roam7is a startup that aims to map your friends' travels in the hope of helping you plan your own trips.
Singapore's BillPinis a startup which helps friends and roommates easily manage shared expenses, keeping friendships squabble-free. This article features an interview with the co-founder, which is a part of our female entrepreneurship series.
Dropmyemailis a startup that offers an email back-up solution. It has expanded into providing enterprise services, offering unlimited email storage and email communications monitoring.
Taiwan's Gabble, officially launched in mid-July this year, and is a free app that provides users real-time questions and answers on-the-go.
The team behind ThatAppwas awarded first place in the recent Social Innovation Camp Asia. This Malaysia-based startup proposes a mobile application to help answer teens' questions about sex – so that the youngsters can make smart, informed decisions about their sexual health.
DoctorPage.sgallows Singaporeans to browse through doctors in their local area and make appointments in real-time. This startup has received seed funding a mere two months after it launched.
Singapore startup NoiseStreetand SPH MediaBoxOffice have partnered to launch a smartphone-based solution that aims to bring a new level of engagement, interactivity, and immediacy to what's called out-of-home advertising – ads in stores and on the street.
POPS Worldwide is a Vietnam-based startup that develops and distributes media content through cross-media platforms in Vietnam.
---
Related Startup Stories
That's all for this week, folks! For our full coverage of the hottest and most innovative startups in the region, you can click here or subscribe to our Asia startups RSS feed. For tips and news, sent us a note via editors[at]techinasia.com