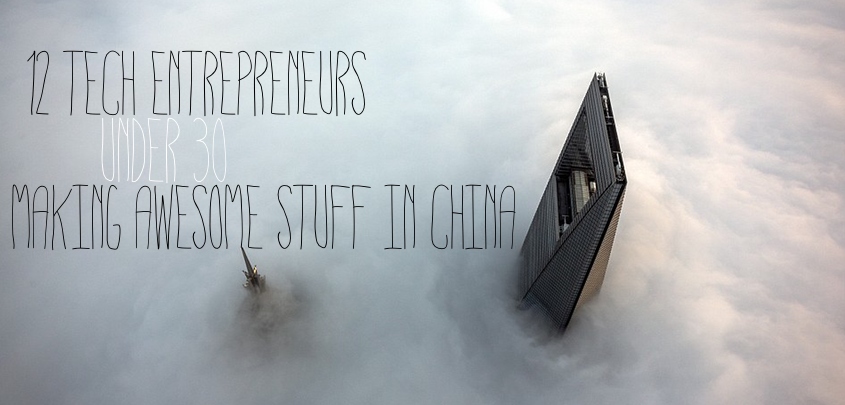 Inspired by a Forbes list of 30 entrepreneurs in China, we decided to pick out the most exciting-sounding and promising tech and web startups run by young entrepreneurs in the country.
Compared to our list last year, we see fewer young entrepreneurs tackling ecommerce. There must be more out there, but it's undeniable that China's mature ecommerce market – estimated to be worth US$275 billion in 2014 – is pretty much sown up by existing players in that sector.
While there is great diversity on display in these businesses – across gadgets, social media, enterprise IT, app-based services – it's a pity that it's still all so male-dominated. There's one female founder on the list. One interesting trend is a lot more hardware startups this year. Here's our dynamic dozen:
1. Chai Ke @ Dayima
Tech category: Social media
Age: 27
The startup behind the Daiyima app is called Yoloho. What it has created is a very niche social network mobile app for women focused on health and lifestyle. It incorporates a mestruation calendar. The site and app have 40 million registered users.
Although it's focused on women, the firm's founder is male. Daiyima investors include Sequoia, Bertelsmann, and ZhenFund. Yoloho's series B last September raised an unspecified sum said to be well over US$10 million.
2. Chen Fangyi @ MeetYou
Tech category: Social media
Age: 27
Surprisingly, MeetYou is in the exact same area as Dayima – and yet it's run by another dude. Upon launching in April last year, MeetYou was simply a menstruation tracker and calendar, but then the company introduced social elements in September. That's when it began to see strong traction. It has two million daily active users in total, 1.2 million daily active users of its social network, and over 800,000 daily posts.
MeetYou got $15 million in series B funding from Matrix Partners at the start of this year.
3. Peter Zhang @ Refone
Tech category: Green
Age: 26
Refone buys and sells used phones. The people getting rid of the smartphones are in China – the buyers of the pre-loved phones are in emerging markets across Africa and Southeast Asia. The China side of the operation is all done online. Someone with a phone to sell – especially iPhone, HTC, Samsung, and Xiaomi models – can go onto the site, input some details, and get a price quote. You can, for example get as much as RMB 2,500 (US$400) for a used Samsung Galaxy Note 3 that's in top condition.
4. George Zhu @ Zhima
Tech category: Enterprise gadgets
Age: 28
Zhima's gadgets won't be bought by folks like you and me. Instead, they're bought by retailers. The devices use wi-fi to collect data for consumer traffic analysis. The resultant data can be used to get to know shoppers and their movements around stores or malls.
Tech category: Enterprise SaaS
Age: 24
This startup makes a China-focused customer relations management (CRM) web app for business. It's created by the only female entrepreneur on this list.
Meike CRM has funding from CBC Capital, Northern Light VC, GSR Ventures, and the Sequoia-backed Cloud Angel Fund.
Tech category: Ecommerce
Age: 26
FocalPrice takes China-made gadgets and goods to a global audience. There's everything from watches to never-heard-of-them-before Chinese phones and tablets, to one-dollar phone accessories.
FocalPrice has 70,000 items in stock. It's in a tough space, as Chinese web giant Alibaba (known in China for Taobao and Tmall) is doing the same thing in English with AliExpress.
Tech category: Gadgets
Age: 26
We first looked at the Airbot, a 3D-printed nanocopter, last summer. That's when the groovy gadget flew past its US$10,000 Kickstarter project goal in less than 12 hours. The Airbot eventually raised over US$500,000.
The mini drone is now up for pre-order in three configurations.
8. Jared Psigoda @ R2Games
Tech category: Gaming
Age: 27
R2Games was founded by the only non-Chinese on this list. The online MMO and mobile game publisher specializes in freemium games that tend to be RPG titles. Games like League of Angels are online web games, while ones like Excalibur are available for iOS and Android. They're all in English.
This startup already has more than 200 employees, and three offices across China.
Tech category: Mobile-based service for car-sharing
Age: 26
iCarsClub is probably the most recognizable startup name in this list. Jamie Wang and the crew started the peer-to-peer car-sharing marketplace in Singapore in 2012, despite the fact that most of the founders are from mainland China. Then, in October last year, the service rolled into China under the PPzuche name.
The startup raised nearly US$500,000 from Singapore's Red Dot Ventures last March, which helped with the China launch.
Tech category: Gaming
Age: 28
Along with a number of social games, Playcrab has two mobile titles, both RPGs themed on Chinese historical characters.
This startup is a good example of an (all too rare) Chinese startup exit. In October last year, giant local game developer OurPalm (SHE:300315) wholly acquired Playcrab for $280 million.
Tech category: Social media
Age: 23
This startup makes a mini social network and messaging app for university students that's built around a class scheduling app called Super.
The Super app had six million users late last year, according to Chinese tech blog 36Kr, when the startup attracted an unspecified amount of series A funding from backers including Sequoia.
12. Nelson Zhang @ Wearhaus
Tech category: Gadgets
Age: 20
Wearhaus is working on headphones that promise to "change the way you listen to music with people around you." There'll be a crowdfunding campaign soon.
Co-founder and CTO Nelson used to work at Leap Motion. After Facebook's $2 billion buy-out of the makers of Oculus Rift, the virtual reality headset, many people are looking to this kind of smart, immersive hardware for the next big thing.
---
See the full list of 30, covering more sectors than just tech, over on Forbes.
(Photo credit: Vadim Makhorov)