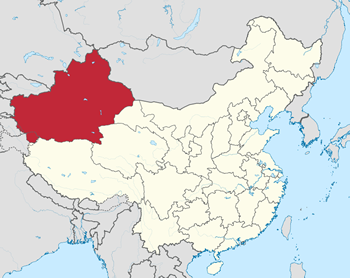 After a month-long investigation by Chinese authorities, 110 people were detained in northwest China's turbulent Xinjiang province for spreading online rumors, according to state-run media. Another 164 received warnings, and almost 400 were investigated altogether.
The report says those arrested are accused of instigating violence and creating and spreading rumors. Specifically, it says they disseminated religious extremism and material that threatened stability. No word yet if any have been released.
In an apparent attempt at propaganda, the report goes into detail describing an alleged case in which investigators discovered 2GB worth of ethnic separatist-related e-books that were viewed more than 30,000 times, uploaded by a an 18-year old Uighur laborer employed by a local elementary school. After being caught by police, the accused Uighur expressed regret for his actions, and thanked the police for taking corrective measures.
Xinjiang is the home-province for many of China's Muslim Uighur minority group. Some Uighurs are part of a separatist movement who believe the territory is not part of China, but was invaded by China in 1949 during the Chinese Revolution led by Mao Zedong. The province is also marred by intermittent terror attacks, the last of which killed 24 people in June. Three men were sentenced to death as a result.
A few years ago, the whole of Xinjiang was disconnected from the web for 10 months after 197 people died in ethnically-motivated riots in the province during the summer of 2009.
The Communist Party of China has been cracking down on online rumors for the past few months, but most high-profile cases have involved outspoken celebrities on Sina Weibo.
(Source: BBC, via Xinjiang Daily)
(Editing by Josh Horwitz)