Indonesia can be really challenging when it comes to commuting as the country does not have a developed land transportation infrastructure. People who ride public transportation have difficulty in commuting as there's a lack of resources to inform them about which route or type of transport to take. While for those who ride their own cars or bikes, good luck finding the best route through the insane traffic jams.
Thankfully more app developers are now building helpful mobile apps for people taking buses, trains, or who are driving.
Apps to avoid traffic jams
Most cities have traffic jams, but Jakarta, the capital of Indonesia, has extraordinary ones. At rush hour, people might spend two hours on the road for a distance that could be reached within 10 minutes in normal traffic conditions.
So first let's look at apps that help you beat the jams.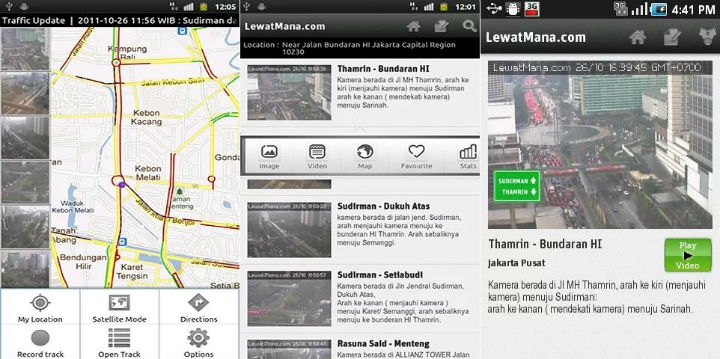 Jakarta's traffic jams are not only heavy but also really unpredictable. Commuters cannot predict which way is the clearest path to reach a destination and often end up driving straight into a bottleneck.
Lewat Mana tries to solve this problem by sharing real-time information on traffic conditions through live CCTV cameras and real-time compilation of tweets from its community members. Users effectively get updated with traffic conditions in real-time without needing to buy GPS kit, allowing them to avoid congested areas.
Lewat Mana is available on Android (Lite version), Blackberry, iOS, and Windows Phone.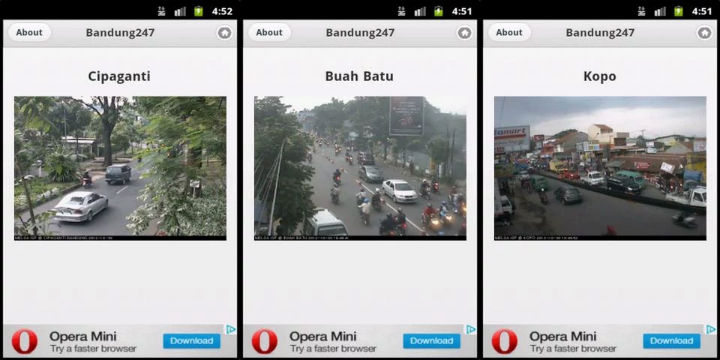 Bandung is a restful city that has become a weekend retreat for many Jakarta citizens. This makes the city crowded and clogs up the traffic on weekends.
As with Lewat Mana, Bandung 247 is a mobile app with real-time CCTV showing the traffic at important points on the streets of Bandung. By using this information, both local people and tourists will be able to avoid traffic snarl-ups and take other routes to reach their destination.
Bandung 247 is available on Android, iOS, and Windows Phone.
3. Smart Traffic Controller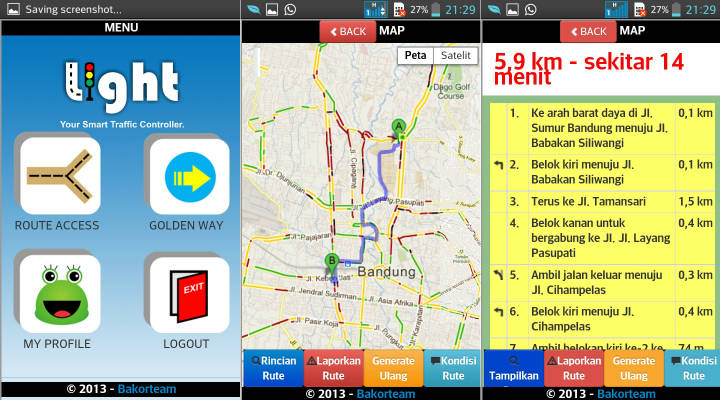 Smart Traffic Controller aims to reduce traffic congestion by suggesting other routes. It helps users find a route that is free from jams by using an algorithm created by the startup. It also lets users share information about traffic conditions and blockages to help people make better decisions.
Smart Traffic Controller is available on Android.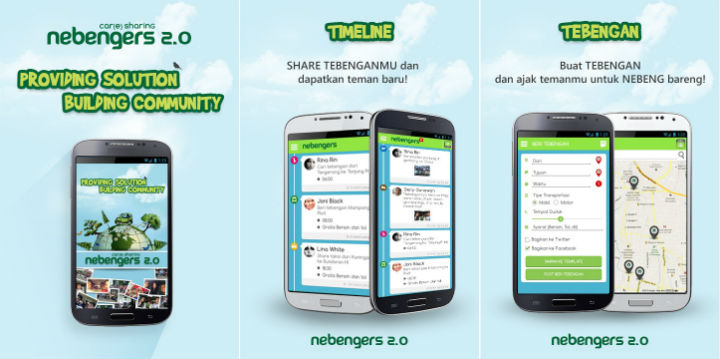 This one is different. Nebengers is an online community that wants to alleviate traffic congestion by reducing the number of private vehicles on the road. It's basically a ride-sharing app that encourages people who are going in the same direction to share space in their cars. It's especially useful for daily commutes to work.
Nebengers is available on Android, Blackberry, and iOS.
---
Apps for public transport
5. Komutta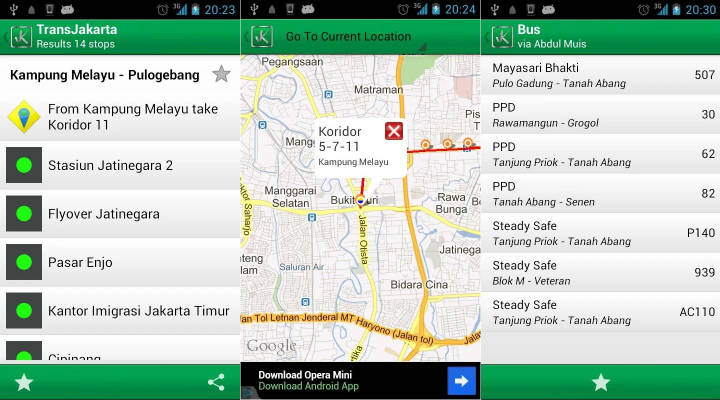 Komutta is a commuter guide for people living in Jakarta. It shows route maps and bus shelter location for Transjakarta, the capital's buses that run on special bus lanes, as well as other local transportations modes such as regular buses, minibuses, and more. The app also gives information about commuter line and train schedules including current train positions, and a notification feature before a selected train departs.
The mobile app also allows users to mark their frequently used routes as favourites so as to retrieve them more easily next time.
Komutta is available on Android.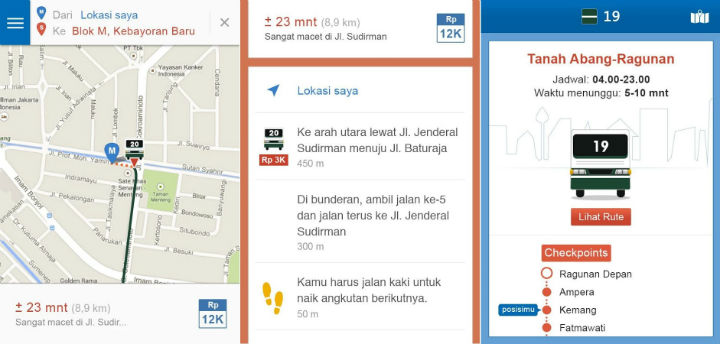 Appaja helps commuters find the fastest and the cheapest way to travel in Jakarta. This mobile app shows route maps, time and distance estimates, prices, and allows for information sharing between users.
The app is currently in beta and will be fully launched in the near future. Besides Android, it will also be available on iOS, Windows Phone, and a web version.
Appaja is available on Android.
7. Busway Transjakarta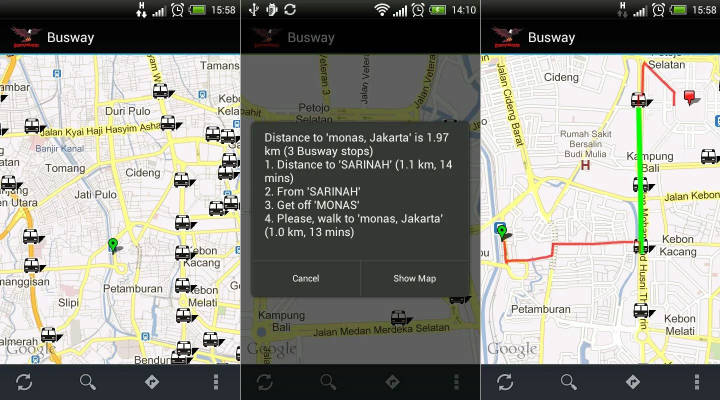 Busway Transjakarta is another mobile app that helps commuters navigate on Transjakarta lines. Users must first input information about their location, such as as the name of a nearby building, area, or street. Then it will recommend the nearest bus shelter based on the shortest route by calculating the fewest number of stations passed by the bus.
Busway Transjakarta is available on Android.
8. Buspot Transjakarta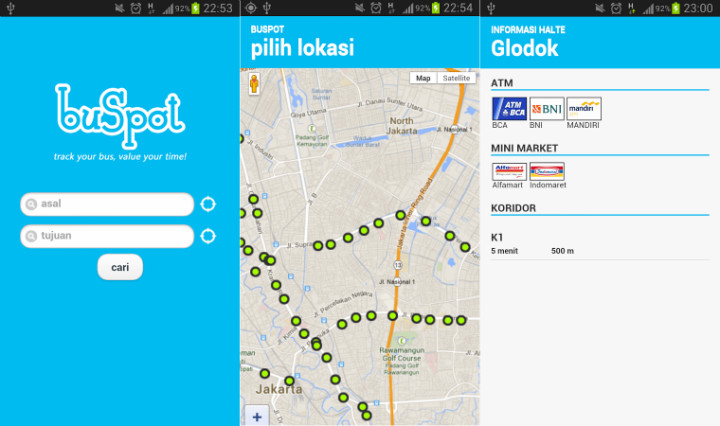 Buspot is a crowdsourced effort related to real-time information about the estimated time and distance for a Transjakarta bus to reach a certain bus stop. It displays routes and also local information around each bus shelter, such as the nearest ATMs and mini-marts.
Buspot Transjakarta is available on Android and Windows Phone.
9. Indonesian City Explorer (ICE)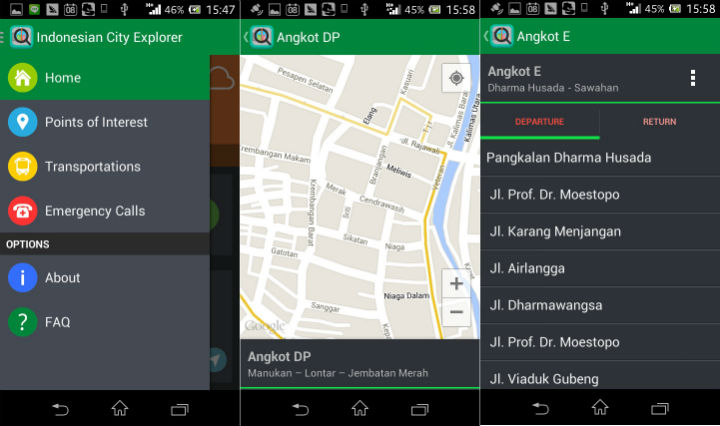 ICE is a city guide. However, the app is currently limited to Surabaya only. It provides information about public transportation such as taxis, buses, train schedules, and smaller local buses called angkot.
Indonesian City Explorer is available on Android.
10. Tiket Kereta Api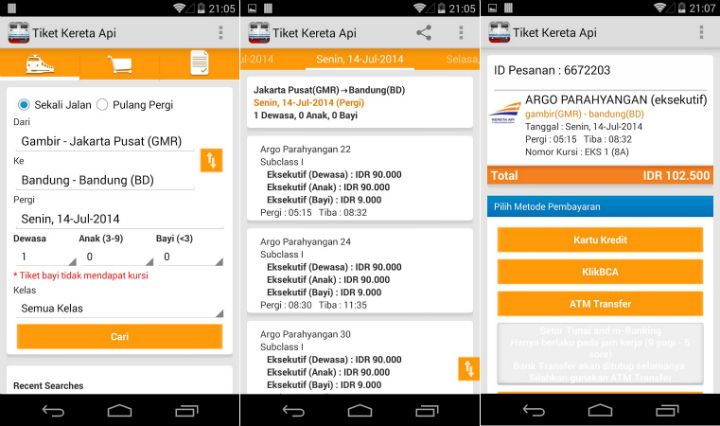 This application shows train schedules and offers direct reservations. Users can make bookings 90 days prior to departure. Tiket Kereta Api provides multiple payment methods and will send an email containing a voucher that can be exchanged for real tickets.
Tiket Kereta Api is available on Android.
11. Info KRL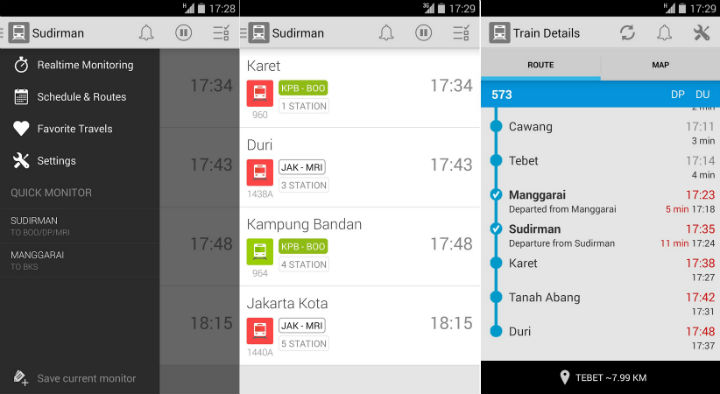 Info KRL gives information about KRL Commuter trains – like their location and status – with real-time data. It also can predict departure times for all late-running trains and measures the distance between the train's current position and your station. This app also provides users with real-time status updates via notifications.
Info KRL is available on Android.
(Photo credit: Flickr user Ahmad Saiful Muhajir)