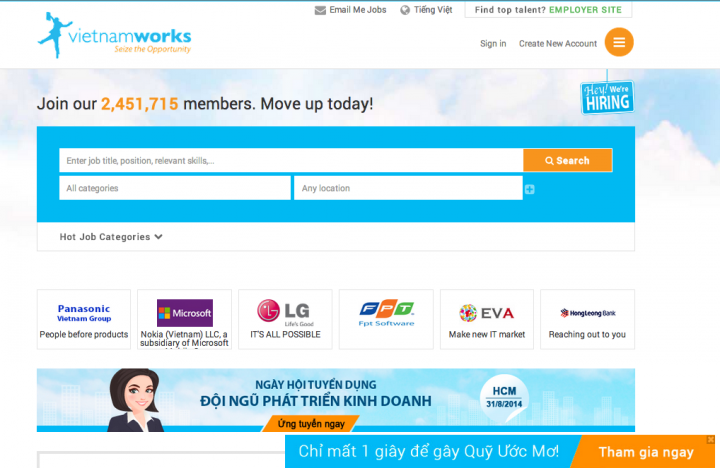 Last April, Vietnamworks, Vietnam's top recruitment site, was acquired by En-Japan for a rumored $22 million. That made it one of the top acquisitions last year. It showed that indeed, Vietnamese companies can exit. But how exactly did this headhunting and online recruitment site rise to the top?
Vietnamworks was started twelve years ago by Jonah Levey. Just before coming to Vietnam, Jonah was managing director at a successful head hunting business in New York. But it was just after 9/11 and Levey had just broken up with his girlfriend. He went to Vietnam for vacation and was struck by the opportunity and culture he encountered. Vietnam was still developing, and it was a wide open field for innovation. Recruitment was clearly a problem: good talent was scarce and the number of new businesses rose steadily. Six months later, Levey launched the website. He was an expert in recruitment and was intent on bringing that expertise to Vietnam.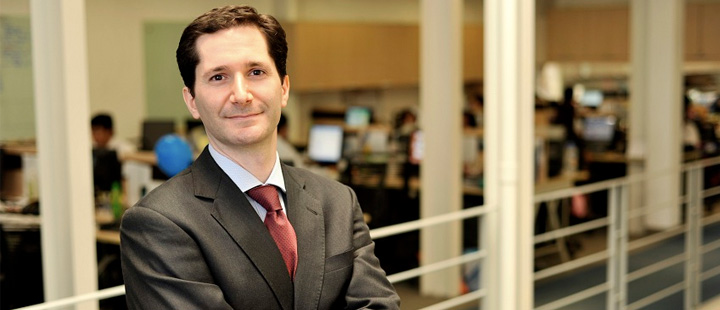 The early days: 2002
But for Levey and his cofounder, Sean MacDonald, it wasn't easy. The team found a great investor in Chris Freund, who was profoundly supportive. Freund is also a key investor in MobileWorld, which just IPO'ed in Vietnam at a valuation of over $250 million.
Back then, we ran out of money several times. One year in, and we were already very tired. We were using used computers. We had little traction. Customers didn't believe the internet would work. And we couldn't generate enough revenue to survive. So we wanted to call it quits. We were really tired.
Levey says both he and MacDonald wanted to go back to New York and get real jobs. They were solemn and upset. But they didn't tell Freund that they wanted to quit yet.
"We set up the dinner. Sean was vomiting and sick. And we sat there and told Chris all the reasons why we wanted to quit. And he was very understanding. We started talking about the trends and he pointed out that we were actually growing. We had six weeks worth of money left", says Levey.
Back then, Levey was most worried about the cost of closing. In fact, that might cost more than running the business. But Freund reassured him that he could cover the closing, in case that happened, and said: "You can keep going. It's not time yet."
After that dinner, Sean left. He couldn't afford to live with no salary. But we turned a corner, we squeezed our costs and we were able to break even on a cash flow basis. We just needed a little bit of emotional encouragement. And it was just so physically hard on us. But that dinner was the turning point. It's a vivid moment for the VietnamWorks story.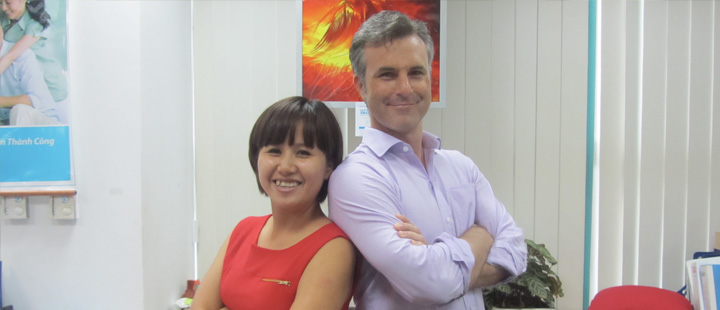 Getting a new CEO and the path to profits
Persistence and focus led to the eventual success of VietnamWorks. Levey spotted a perfect moment. Other businesses, like Ernst&Young, were pulling out of online recruitment while the market was still open. After the initial road bumps, Jonah met Chris Harvey, who eventually ran the VietnamWorks division in 2006. Chris Harvey had experience from the Silicon Valley, working at AOL and Yahoo. And Harvey wanted to work in Vietnam in an internet company.
(See more: VietnamWorks, Vietnam's Top Online Recruitment Site, Gets Acquired By En-Japan)
In those early days, VietnamWorks was just one of eleven product lines that the team was testing on the market. Eventually, VietnamWorks, the online recruitment portal, and Navigos Search, the head hunting service, won out. They decided to cut a significant number of products. Nine other products were closed down or were split off. Among the products that split off included an HR product sold to HR2B, a payroll management service sold to KCS, and Caravat, a LinkedIn for Vietnamese professionals. Harvey describes this focus as crucial to the later success of the company.
During Harvey's tenure, he focused on four key areas. First was culture. "So I focused a lot on making it a special and fun place to work. We had Halloween and Christmas. We played a game where I learned all the names of everyone in the company. We had an all hands meeting once a month. And to give people's work meaning I started talking about how we helped people achieve their dreams and what meaningful work that was", says Harvey.
Next came sales, product, and marketing:
I borrowed a marketing idea from Singapore Airlines. They have the "Singapore Airlines girl" brand image. So I created the "Vietnamworks girl". Our sales team were all women. We tailored suits and VietnamWorks-style blue neckerchiefs for our girls. We gave them a unique and professional brand image. We even gave them modeling training. How to walk, how to stand, and how to shake hands. We gave the girls framed certificates after they passed a sales practical test. They were so proud of that, of being VietnamWorks girls, and it really created an amazing team spirit. The third thing was product, make it simpler and clearer. And the fourth thing was marketing: project a fun and friendly image. We had to become an image of friend and advisor before we could project it. So we did.
Harvey assumed the CEO position in 2010 and stepped down in 2012 to work on his own projects, having caught the startup bug, like Levey. Harvey now leads his own recruitment startup, ITviec, focused on online recruitment in the IT space. Basically, it competes with VietnamWorks in the IT category. But during his tenure, Harvey was able to grow VietnamWorks considerably. In 2012, Levey returned to the company and led it to its acquisition in 2013 by en-Japan.
The journey from angel investor and back to CEO
During the time when Harvey took the reins of the company from 2010 to 2012, Levey scratched his serial entrepreneur and angel investor itch. He co-invested in several ventures including a company that manufactures Argentinian shoes and handbags with the cofounder of VNG, Bryan Pelz. He also invested in a milk yoghurt and moon cake company, and even a subscription ecommerce play in Los Angeles, California. Levey has been very active in the startup scene in Vietnam, speaking at competitions and supporting new startups.
Levey describes this period as the much needed rest and recuperation that has fueled his renewed interest in VietnamWorks today.
I needed that time away, traveling, spending time with family, and exploring other ventures to clear my head and center myself. I think everyone needs that. And now I'm even more refreshed to take on the new directions we're looking at with VietnamWorks.
Today, with the acquisition from en-Japan, VietnamWorks is looking at new frontiers. Currently, it has over 8,000 clients per year from small and local companies. And Levey says that customers are currently his central focus at the company. The company sends out over 500,000 emails per day to over two million email subscribers. The team also has more plans to be more active about supporting the community. This includes a monthly event on lean startup and even open sourcing a bunch of VietnamWorks' code. It also remains the top recruitment site in Vietnam, despite its formidable competitor in CareerBuilder.vn. Levey remains actively interested in angel investing in Vietnam's new generation of startups.
(See more: CareerBuilder Acquires VON to Expand Job Recruitment in Vietnam)
VietnamWorks: a picture of what it takes in Vietnam
It took VietnamWorks more than 10 years to get acquired and achieve its position in the ecosystem. That's 10 years for $22 million. If you look around Vietnam's tech ecosystem, you'll see similar numbers. Vietnam's big three: VNG, Vat Gia, and VC Corp are all around ten years old. Of course their valuations are much higher, but if you look at the numbers from last year, you see a similar runtime before exit. And none of the big three have exited. The lesson here is Vietnam is a long term game.
And in that long term game, VietnamWorks had to keep key elements in place In the beginning, it took the founding team's persistence under the guidance of a great investor. Later, it took strong leadership to build a culture that could scale and produce sales. What many startups in Vietnam miss today is the business mettle to make their startups happen. VietnamWorks is one picture of what is possible in Vietnam.
And the story isn't over yet. Vietnam's recruitment market remains under assault from small vertical recruitment sites, its newly funded competitor CareerBuilder.vn, and incoming recruitment site JobStreet. Time will tell if it can stay on top.