Tech is still largely a man's world and entrepreneurship even more so. The reasons are many and we discussed them in depth in a recent article on sexism.
But more and more women today are coming out of their homes to play their part in the innovation economy. And women who swim against the tide to become technopreneurs are changing the world by inspiring others to do the same. So their success is worth celebrating twice over.
We have many examples of such enterprising women in India in diverse domains. Here is a list of 10 change-makers in the Indian tech startup scene, including some who have made it big and others who look full of promise. Some of these startup heroes do not like to be called women entrepreneurs. They find shades of sexism in the gender prefix. But others wear it with pride in having carved out a strong base in a man's world.
Richa Kar had worked with a retailer and global technology company before starting Zivame. As part of her earlier work, she studied the Indian lingerie market and realized that most women were not comfortable shopping for lingerie in brick and mortar stores. She conceptualized Zivame as a lingerie store where women could understand their lingerie needs, browse through styles, order for the right size, and get the goods delivered to their doorstep without any embarrassment.
Zivame, therefore, takes care to deliver products discreetly. Their products are packed without any branding or product description to make sure that orders can be delivered anywhere without inviting comment or curiosity. The startup, one of the best places for online lingerie shopping in India, is funded by IDG Ventures, Kalaari Capital, and Unilazer Ventures.
Preeta Sukhtankar started The Label Corp to provide curated, rare-to-find products to a niche audience who want a tasteful home. Her earlier stints in media and brand-building helped her to connect with celebrities and create three brands as part of The Label Corp: The Home Label with Suzanne Khan, The Closet Label with Malaika Arora Khan, and The Trunk Label with Bipasha Basu. She has an all-women team, and interestingly, Kalaari Capital, led by Vani Kola, is her startup's venture investor on board. Vani Kola herself was an entrepreneur in the US, who had a billion-dollar exit before starting a venture fund in India. In her, Sukhtankar found a perfect mentor.
Aditi Gupta was doing her post graduation at the National Institute of Design (NID), Ahmedabad, when she took up a year-long project to study the level of awareness about menstruation among young girls in India. Girls are largely brought up to be ashamed of menstruation, and are even ostracized as impure during that time. Gupta shared her concerns with Tuhin Paul, her boyfriend (now, husband), and together they conceptualized a friendly guide which helps girls and women stay healthy and active during their periods.
They saw the issue not just as a women's health and hygiene problem but also one of communication design. So they created a prototype where they explained menstruation through comics using characters and stories, and tested it with young girls. The warm reception it drew got them to bootstrap Menstrupedia. Gupta has won multiple awards for her year-old startup.
Valerie Wagoner, ZipDial
Valerie Wagoner founded ZipDial, a consumer engagement tool for brands, along with Sanjay Swamy and Amiya Pathak in 2010. Her startup capitalized on the missed call phenomenon in India, where phone users give each other missed calls to convey anything from 'I miss you' to 'call me back.'
ZipDial has tie-ups with Facebook and Twitter, and works with over 500 brands, including Disney, Gillette, and Nivea. It raised funding from Mumbai Angels, 500 Startups, Jungle Ventures, and Blume Ventures. While India remains its main market, it has ventured into Bangladesh and Sri Lanka and is now gearing up to expand into Indonesia, the Philippines, and South Africa.
See: ZipDial CEO who left glamorous Silicon Valley for India: don't call me a woman founder
Suchi Mukherjee, LimeRoad
Suchi Mukherjee started LimeRoad in 2012 as a social commerce site targeted at the modern woman. It aggregates a wide range of carefully picked lifestyle product retailers, across categories like apparel, accessories, home products, and non-perishable food.
Mukherjee was picked as one of the top global leaders at the World Women's Forum. A Cambridge University graduate, she studied finance and economics at the London School of Economics as a British Chevening Scholar. Her startup raised US$20 million in series A and B rounds from Lightspeed Venture Partners, Matrix Partners, and Tiger Global.
Sabina Chopra, Yatra
Sabina Chopra founded Indian online travel portal Yatra along with Dhruv Shringi and Manish Amin in August 2006. Online travel commerce was in its nascent stage in the country then, and the Gurgaon-based startup soon grew to become one of the leaders of the space.
Before starting Yatra, Chopra was heading the India operations of eBookers, Europe's leading online travel company. She has also worked with airline companies such as Japan Airlines, and also in the business process outsourcing sector. She brings over 16 years of work experience to Yatra, and is in charge of operations and sales, besides heading the startup's domestic hotel business.
Yatra is now funded by Intel Capital, Norwest Venture Partners, Valiant Capital Management, Reliance Venture Asset Management Ltd, and Web18.
Pranshu Bhandari, along with her husband Nishant Patni, created CultureAlley, an online tool that helps you to learn languages via interactive videos, and practice them using your Facebook wall or Twitter feed. They were part of 500 Startups' eighth batch.
When Patni moved to China for work, he had to learn Mandarin as quickly as possible. He tried out almost all options available but found them boring, cumbersome, and next to impossible to manage along with the schedule at Kellogg School of Management. Bhandari and Patni spotted the opportunity in it and decided to grab it. So far, close to 500,000 people have used CultureAlley to learn Spanish, Chinese, or Portuguese.
Thrillophilia is a travel startup specialized in activity-based holidays. It offers travelers close to 1,500 offbeat adventures, activities, and experiences to choose from. Since inception, it has served over 90,000 travelers.
Gurnani founded Thrillophilia with Abhishek Daga, her husband. Most of the startup's revenues at the moment come from corporate clients. They have raised funding from Hyderabad Angels, iLabs Venture Capital Fund, Navlok Ventures, CII(IIM A), and a US-based investor.
Gurnani has an MBA from the Indian School of Business (ISB). She opted out of campus placements, and chose to run Thrillophilia full-time.
Ashwini Asokan was leading the mobile innovation team at Intel's Interaction and Experience Research Lab (IXR) in Silicon Valley when she got hooked on artificial intelligence. Anand Chandrasekaran, her husband, was in the thick of neuromorphic engineering – building computer chips that imitate the human brain – at Stanford University. She wanted to change the narrative around artificial intelligence from killer robots, cops in flying cars, and machines taking over the world to a more positive, real, and fun one.
That idea compelled her to move back to Chennai, her hometown in India, to found Mad Street Den. They built a cloud-based platform that uses artificial intelligence to enable any smartphone with a camera to identify faces, detect facial expressions and emotions, and react to facial and head gestures.
See: What if your phone could read your face? This 'mad' couple brings artificial intelligence to the smartphone camera
After studying electrical engineering at IIT Bombay and University of California, Los Angeles, Parul Gupta worked with Ittiam Systems and IBM Research before starting SlideRule, an education startup. SlideRule collects relevant data about online courses and presents it in a user-friendly format that lets you compare, read reviews, and pick what suits you best. It also curates sequences of online courses to help you learn more complex job skills like web development and data analysis.
Gupta and co-founder Gautam Tambay thrashed out their first prototype a year ago.
And there are more…
There are many more such outstanding women leaders who have smashed the glass ceiling in India. Further examples include Anisha Singh, founder and CEO of discount coupon site MyDala; Bhawna Agrawal, advisor at VentureFund; Minnat Lalpuria Rao, founder of wedding consultants 7Vachan; Priya Maheshwari, founder of Properji; Ajaita Shah, founder of solar startup Frontier Markets; Sneha Thakker, founder of web development service provider Thakker Technologies; Sukriti Vadula, founder of Robotics and Artificial Intelligence Foundation (RAIF); Anu Sridharan, founder of water conservation solution NextDrop; and Neha Motwani of fitness finder Fitternity.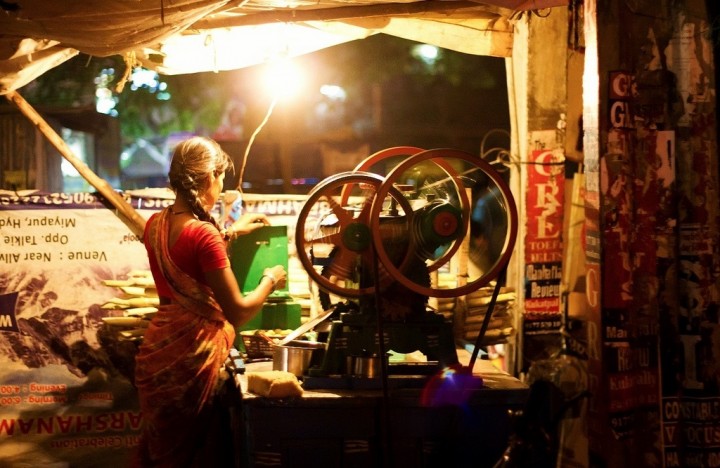 While women technopreneurs are still an uncommon sight, the number of women running their own small businesses in India is expanding. According to a report by the International Finance Corp, the country is home to millions of female entrepreneurs, in charge of their own tiny businesses. They brave many hurdles to fight for financial independence in a patriarchal society. They need their heroes, women who went ahead and succeeded, even if in a world different from theirs.
See: Are you sexist and you don't know it? Why you should ask yourself that if you're in tech
(Bottom image: Flickr user Ahmed Mahin Fayaz)