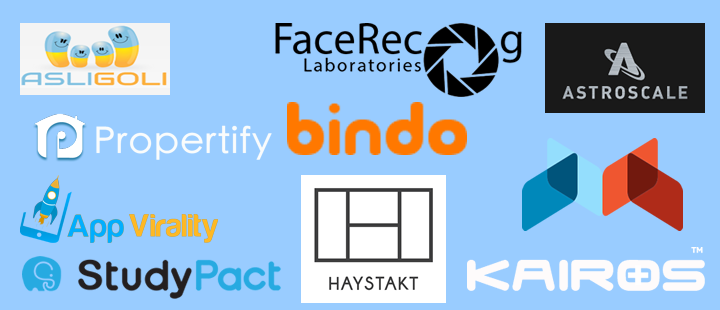 Startup Asia is underway and we've got 10 new startups gearing up for battle in our Startup Arena competition. These seed-stage up-and-comers were all hand-picked by the Tech in Asia team.
This year, we've introduced audience voting, which means you can vote for your favorite Arena startup. The winning team chosen by our judges panel gets US$10,000 cash. As a bonus, we also have special prizes from Global Brain, Chevrolet, and Jungle Ventures.
Judges on the grand stage will include Shirley Wong, managing partner at TNF Ventures; Peng T. Ong, Director at Banean Holdings; Paul Srivorakul, Co-founder and executive chairman at Ardent Capital; Khailee Ng, Venture Partner at 500 Startups; and Willson Cuaca, managing partner at East Ventures. They'll be deciding the winner based on each startup's demo, innovation, practicality, investment potential, and pitch quality.
So, who do you think will win? Check out the line-up below, and keep an eye out for their individual profiles coming soon.
Here are the 10 startups competing for cash and glory:
For those who need some incentive to study and enjoy friendly wagers, StudyPact is the app for you. Set how long you aim to study for and how much money you want to bet, and the app monitors the time spent on other education apps. If you fail to meet your goal, you lose the cash that you wagered. But if you make it, you'll be rewarded.
A Kairos Watch is for men who enjoy the finer things in life, but are by no means old-fashioned. This luxury smartwatch sports a special glass display that turns into an opaque screen when the user receives a notification on his or her smartphone, but is completely transparent at all other times.
This crowdfunding site doesn't just let supporters choose which projects they want to support, it also determines the price of a prospective product depending on how many people make a pledge. Based on economies of scale, the more backers a project on Haystakt has, the cheaper the final product will be.
AppVirality uses a new type of marketing scheme for app developers to make their products and services known. By running in-app giveaways, developers can go viral on social media, retain customers, increase downloads, and get feedback from users. They can also build a relationship with the biggest social media influencers.
Bindo (Hong Kong)
Bindo's point-of-sale solution arms small businesses with a full suite of hardware and software to bring them into the 21st century. Shops are added to the online Bindo marketplace, inventory and sales are monitored in real-time, and everything is backed up to the cloud. The cash register hardware comes with a receipt printer, cash drawer, credit card reader, cash drawer, and barcode scanner, which all converge at a central tablet.
We all walk by public advertisements every day, but quantifying how many people actually see those ads can be tough to evaluate. Facerecog helps solve this problem by installing small cameras in out-of-home (OOH) advertisements, which recognize and count the faces looking at it. That data is fed live to Google Analytics. Based on the startup's face recognition technology, it can also figure out a viewer's gender, age, and more.
This ambitious young startup hopes to send 'sweeper' satellites into space to remove debris from Earth's orbit. Anyone familiar with recent Oscar-hungry Hollywood flick Gravity knows how dangerous that stuff is. By gathering the debris and pulling into Earth's atmosphere, the garbage is incinerated and George Clooney stays safe.
We dubbed it "Mint for business." MergePay helps small business keep track of cashflow, receipts, and other general bookkeeping via a mobile app and a desktop dashboard. The software connects to over 12,000 banks and financial institutions worldwide with an emphasis on Southeast Asia. The paid version of the service enables the mobile app's optical camera recognition (OCR), which can digitize bills and receipts using the phone's camera.
Asli Goli tackles the widespread problem of fake pharmaceuticals in Pakistan. The startup wants to add its scratch-off labels to medicine bottles. Beneath the removable top layer is a serial number that the user can send to Asli Goli via SMS. Seconds later, an automated reply will inform the user of the type, volume, and expiration date of the medicine.
Proxperty (a.k.a. Propertify) lets real estate agents instantly autopost property listings to major real estate portals like PropertyGuru, iProperty, and STProperty. The agent only needs to snap a photo and list the property, and the job is done. It can even be done from a smartphone on Proxperty's iPhone and Android apps.