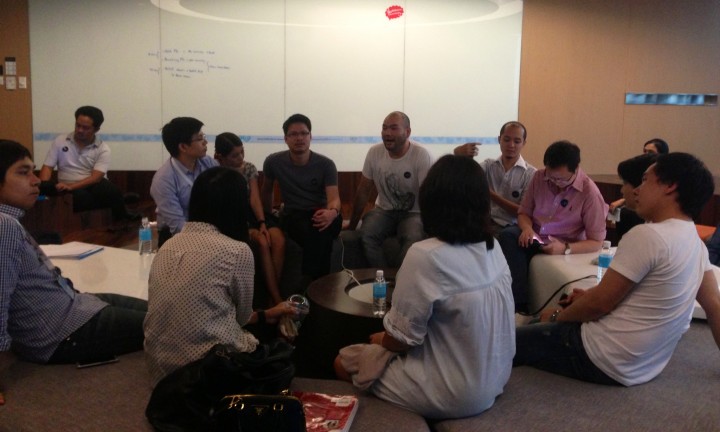 After months of training from industry gurus, Dtac Accelerate, an incubator program by Thai telco dtac, has annouced the 10 finalist teams, who will be pitching their ideas in front of Stephanie Palmeri from SoftTechVC, Matt Walters from Ardent Capital, and other representatives from VCs in the region on the Demo Day, August 28th. The winner will be sent to Silicon Valley to participate in the Blackbox Connect as one of 12 participants from around the world. Tech in Asia was invited to get to know each team and watch them practice pitching before the Demo Day. Here are the final 10:
The 10 finalists
1. Haamor
Haamor is an app that allows users to pre-diagnose themselves based on lead symptoms. The app is a way for the company to leverage its already famous website (four million unique visitors in the past 20 months) and bring the info to another platform. Haamor partners with over 100 physicians from over 30 hospitals. The app presents users with a series of yes/no questions, leading to a summary of whether the symptom is self-curable (and how), or if the patients need to see a doctor (and how urgent). The 6,000 question cover over 90 percent of diseases in the world. The team also just participated in the APEC Stratup Accelerator & Leadership Summit 2013 by Intel in Taipei last week. With dtac's help, Haamore expects to use the brand as a door opener to connect with other mobile operators in other countries. It has its eye on Laos, Cambodia, and Indonesia next.
2. DietParty
DietParty is a mobile dieting app that claims to be more social to make dieters enjoy their diet. Similar to Fit it! or Lose It!, the app helps users focus on exercising and eating better food. Acting as a social platform, users can share what exercises they have done or photos of what they have eaten within the app or on Facebook. Praises within their community can motivate them. In addition, with the gamification function, users can earn virtual rewards or badges once they reach a certain goal. The app is in the closed-beta period right now with over 200 people already signed up. It aims to launch in the iOS app store next month.
3. Fastinflow
Fastinflow is a consumer research platform that allows marketers to get consumer insights within five minutes. Marketers can create questions, send them out to their target demographic (with filter options), and receive insights from customers. This is similar to a Facebook poll, except brands use Fastinflow services instead of their own websites.
4. Shopsuke
Shopsuke is a B2B2C app that aggregates all fashion and design Facebook shops in one app. It's a hub for users to browse, find, and share latest products from those shops. Users can also chat and track purchases directly from the app. Shopsuke now has 70 shops on the platform and 120 more pending approval. It aims to be the next Ensogo of Thailand in helping promote brands and offering special discounts to its users. Shopsuke is now available in the iOS app store and Google Play.
5. Quest
Quest is an app to connect new entrepreneurs or professionals together to help on a project. It works under the "give to get" concept. Basically, users come online and ask for help. All users start with the same amount of virtual currency; every time someone helps someone else solve a problem, he/she earns more money. The person who asks for help has to spend the virtual currency to seek help. Quest was started by the folks at Hubba, a famous co-working space in Bangkok. Quest is an online version of Hubba, where people meet and help each other out.
6. Storylog
Storylog is a story-telling social network, where everyone can share their stories and experiences with others. It's not a blog, but an entertainment Twitter with no character limitation. Instead of just sharing to a small group of friends on Facebook, users can share it with everyone on Storylog. The app focuses on entertaining stories, categorized by genre, time, and place. Everything on the platform is public and Storylog will hopes to be known as a place where people come to read stories. Each story can be "emovoted," meaning readers can express how they feel after reading a story. In the future, Storylog aims to make a profit by selling its promoted stories or promoted places (the story setting).
7. Evrdi
Evrdi is a social diary allowing users to create and share their special moments with friends and family. It can be used as a private diary or a collaborative one like a yearbook or a wedding book. The main selling point of this app is the visuals. Users can choose themes to make their diary more colorful and beautiful. In-app purchases of more themes are also available. Evrdi is also considering branded themes to sell to hotels or restaurants that host important events. Evrdi diary can be set as either private or public. There's also a video function that will pull pictures from a diary to make a video out of it.
8. Facecard
Facecard is an app that aims to simplify the way users recognize people. Think of CamCard, Evernote Hello, and CardMunch, but better. The app is not just an OCR business card reader/scanner app. The key feature that makes the app different from other apps in the market is the browsing function that allows users to sift through contacts by event, meeting date, notes. The app also auto-geotags and allows users to add notes, photos, and video clips to each contact. All the data can be stored on Dropbox. The business model is based on similar competitors – users can scan up to a certain number of cards, then after that they have to buy more cards or invite friends to join in order to scan more cards. The goal of Facecard is to be acquired by a larger company. Unfortunately, Thailand and other countries in the region won't be able to use this app just yet. Although, the app hasn't launched, Facecard's main focus is the US market, while the regional market is its second priority for now.
9. Packlink
Packlink is a social travel checklist app. It aims to help travelers pack in an easier and smarter way. Through crowdsourcing, users can use Packlink to check what they should pack in order to visit a certain place at a certain time. For example, users can search for Phuket in August. The packing list will show an umbrella and raincoats. It will also include some notes from other travelers about the monsoon season.
10. Sabuy.me
Sabuy.me wasn't at the media briefing event. But from what I can gather, it's an e-commerce app that help sellers sell products on social networks as an all-in-one marketing service.
(Editing by Paul Bischoff and Charlie Custer)