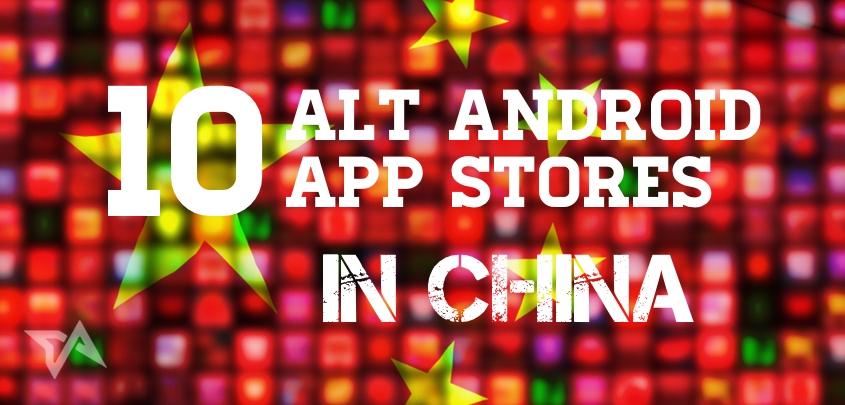 There are an estimated 700 million active smartphones and tablets in China – most of them on Android. Since Chinese consumers don't like being trapped in Google's ecosystem and have largely spurned the Google Play store (1), a multi billion-dollar business is growing around serving up apps and games to the nation's Android users.
It's tough to judge which of these third-party Android app stores in China are the larger ones because each company reveals different metrics – but we've tried to get a sense of scale from each of the main players. Here's our list of the 10 most significant Android app portals in China, presented in no particular order.
It was clear last summer that Baidu (NASDAQ:BIDU), China's top search engine, was suddenly taking its App Store more seriously when it paid up US$1.9 billion to acquire rival 91 Mobile. These two are now run separately.
Baidu App Store is available for Android. As with most on this list, there's also a web app for installing Android '.apk' files without needing to sign up or download the actual mobile version of the app store.
The Baidu App Store gets a big boost from being effectively integrated into Baidu's search engine. If you search for the name of an app or game, a widget appears on the first page of the Baidu results. Clicking on the most prominent button – labelled "install to phone" – actually installs the Windows PC version of the Baidu App Store. Once you've strong-armed someone into installing that, they're more likely to also use the companion Baidu App Store for Android for a complete syncing experience.
No active users numbers are available from Baidu.
Tencent (HKG:0700) is making use of its popular messaging app WeChat to give a boost to its own Android app store. A few days before a new WeChat update arrives on Android, it gets an early launch on Tencent App Gem before the freshest version of WeChat is distributed to other app stores. The clincher is that you need to install the App Gem Android store in order to access the early WeChat release.
Tencent can't reveal active user numbers for this app, but a representative says that daily active users and daily downloads on App Gem have grown by 400 percent in the past six months. It now sees a cumulative 64 million daily app downloads, which has quadrupled in the past year.
It's available as a mobile app for Android and as a web app.
Just as Qihoo barged into the search market in 2012 in order to disrupt Baidu, so Qihoo is now trying to do the same with its revamped 360 Mobile Assistant.
Qihoo's app store has "over 400 million users," according to Qihoo's newest financial report – but that's likely a conflation of download or install numbers rather than a figure relating to active users. Nonetheless, Qihoo is China's second biggest search engine and it has a lot of other resources that can be used to bring more traffic to its third-party Android app store – such as its popular web browsers for PC and Android.
It's available as a mobile app for Android and as a web app.
Wandoujia's mobile app store has been installed more than 350 million times (but Wandoujia declined to reveal active user numbers), making it China's top startup and indie third-party Android app store. It sees 800,000 new installs each day, explains a representative to Tech in Asia. It's available as a mobile app for Android and as a web app.
The startup got $120 million in funding at the start of the year to grow its business. It's gradually expanding into other content areas, recently adding in a search function for online videos and ebooks.
Wandoujia goes after China's geeks with some exclusive early launch partnerships – just as it did for the Chinese edition of Flipboard.
Aside from its apps portal, Wandoujia makes a PC-to-Android sync app. The Chinese version of that bears the Wandoujia name, but the separate and more minimalist English/global app is called SnapPea.
Both 91 Mobile Assistant and HiMarket (see below) are run by Baidu. Since 91 Mobile Assistant is the best known of the search giant's properties, it seems this store gets the most attention from the parent company.
A Baidu representative explains that the firm's current focus is to get more developers onto its mobile ecosystem and into its trio of app stores. There's also a big push to get more games onboard. Earlier this year, 91 Mobile Assistant lowered the distribution fee for mobile game developers from 10 percent to five percent.
91 Mobile also jointly operates some titles with game developers. In those cases, developers get 70 percent in the revenue share program if their games generate less than RMB 500,000 (US$80,000) per month, or just 50 percent of revenue if the title pulls in more than RMB 500,000 each month.
Baidu declined to reveal active user numbers for 91 Mobile or HiMarket. 91 Mobile Assistant is available for Android and Windows.
See: China wants to kick its Android habit in three to five years
This is another Baidu-owned app. Often when I browse gadget malls in China I find that HiMarket has been installed on a number of the grey-import Android phones – the ones smuggled in tax-free from Hong Kong and then tweaked to include a different ROM and a deluge of pre-installed apps (all of which earn the importer or vendor some under-the-table money). So I always get the feeling this store is kind of dodgy, along with others often flashed onto grey-import phones like Anzhi (not on this list). Baidu, of course, would disagree strongly with that perception.
However, since a great many of China's Android phones and tablets are grey imports, it's a huge market for app stores to tap – especially as preinstalled stores often cannot be uninstalled.
HiMarket is available as a mobile app for Android and as a web app.
This one is from ecommerce titan Alibaba. It's integrated into the Taobao eshopping app, which gives it a big boost in visibility among the marketplace's hundreds of millions of users. It launched quietly in 2012.
Taobao Mobile Assistant is available as a mobile app for Android and as a web app.
This isn't limited to Xiaomi phones – it's also available as a web app and an Android app that can be installed on any Android device.
There's a themes section as well, but that's limited to Xiaomi phone owners, allowing them easy, one-tap Android MIUI theme customization.
For Xiaomi, which is aiming to sell 60 million phones this year, its own App Store is an important part of how it makes money as a company that sees itself more about ecommerce than hardware. It's an integral part of Xiaomi's MIUI ecosystem. The company makes $4.9 million per month in revenue from that whole ecosystem.
In August last year, the Xiaomi App Store had 17 million active users.
D.cn – called Dang Le in Chinese – was born out of a gaming web portal, but the Games Center has all kinds of apps. Inevitably, there's a strong preference towards games, which top the website.
This site has long been an official partner of Rovio Mobile for distributing the free-with-ads versions of the Angry Birds series in China.
D.cn has an Android app and a web app.
Startup app store AppChina seems to have stagnated over the past few years, but it's still surviving. What was once a fresh yellow-hued design looks fairly old without a major update, and the startup hasn't kept pace with rival startup Wandoujia or China's web giants entering this space.
AppChina is available as a mobile app for Android and as a web app.
---
In fairness, Google gets a very rough ride in China, and many of its services are blocked or throttled by the Great Firewall to make them slower. As a result, the Google Play store is often painfully slow in China.  ↩