Low banking and credit card penetration in the Philippines has been a factor hindering the growth of the country's ecommerce sector in its earlier years. With a mere 27 percent banking penetration and two percent credit card penetration, the prospect of increasing ecommerce transactions doesn't look promising.
But today, online vendors can encourage consumers to purchase online through alternative online payment methods. Ewallets and payment gateways are bringing bank and non-bank payment options to the table.
To help the up-and-coming Philippine online merchants and online buyers to find the payment gateway that fits their needs (and budget), here's our list of payment players in the Philippines:
Ewallets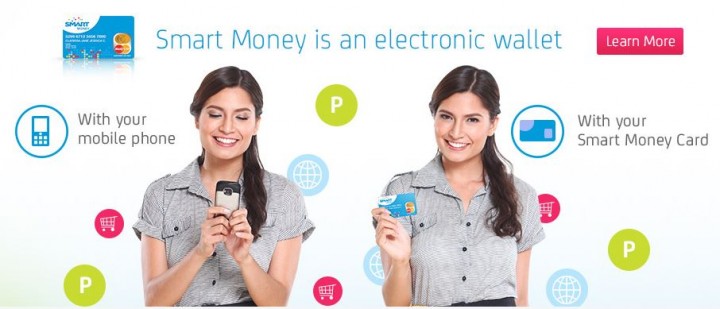 Smart Money, one of the first ewallet services in the Philippines provided by telco Smart Communications, provides a payment service for both merchants and online shoppers.
It offers a web-based payment service for merchants to accept payments. Regular consumers must have a Smart SIM. The user will then have a designated account number that gives them the capability to purchase online. It's linked to MasterCard, which means any payment from the ewallet will be equivalent to a credit card payment. On top of that, an SMS notification will be sent to the user when the account is used for any transactions.
Apart from online purchases, it also allows users to pay bills and top up their phone credits using their ewallet balance.
Fees: Users are charged a one-time fee of Php 120 (US$2.71) upon applying for the Smart Money account, and will be charged an additional Php 2.50 (US$0.06) for every online purchase and credit top-up.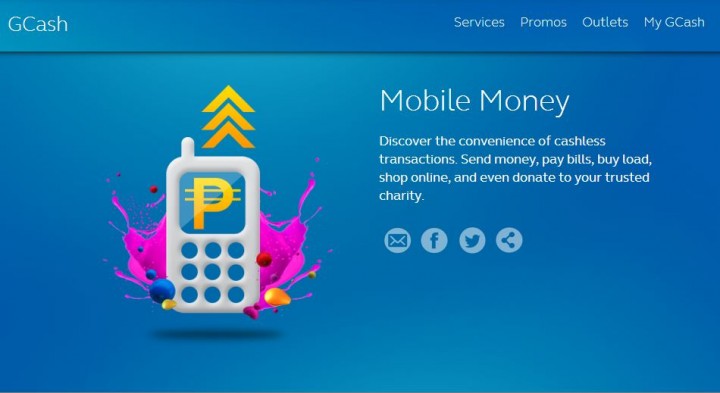 GCash, telco Globe's counterpart to Smart Money, is also being used by online sellers and shoppers, and other payment gateways. Users likewise have to own a Globe SIM. By activating a GCash account, users just have to put in their mobile number linked to their GCash account on the designated ecommerce site, and the balance will deducted from the wallet. It also uses an SMS notification feature that informs the user of transactions.
It also offers bill payment and phone credit top up directly from ewallets.
Fees: GCash users are billed Php 50 (US$1.13) every month.
Payment gateways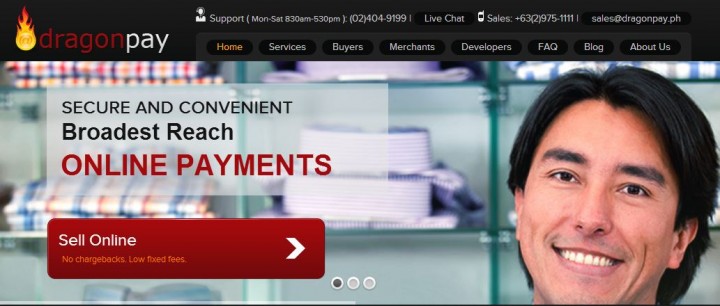 Payment gateway DragonPay launched in 2010 during the height of daily deals in the Philippines, aiming to offer alternative payment methods for ecommerce sites in the Philippines. To date, DragonPay has hundreds of merchants using the payment system in the areas of daily deals, retail, travel, and other online stores.
Payment options: By integrating DragonPay's payment system in an ecommerce site, its customers can pay online (via banks or PayPal) or over-the-counter (through over 10 partner banks and brick-and-mortar payment centers).
Its non-bank partners currently include SM and Robinson's malls, LBC, Cebuana Lhuillier, and GCash, among other outlets. By the end of the year, its set to add Bayad Center and e-wallet Smart Money to its payment options.
Merchant fees: For integrating DragonPay into an ecommerce site, the payment platform charges a one-time setup fee of Php 28,000 (US$633). DragonPay charges merchants per payment. Fees are as follows: Php 10 (US$0.23) for online banking payments, Php 15 (US$0.34) for over-the-counter payments, and Php 20 (US$0.45) for payments done at non-bank partners. Merchants who sell items for Php 200 (US$4.52) and below can opt to use the micro-payment plan, where the charge will be 5 percent of the total transaction.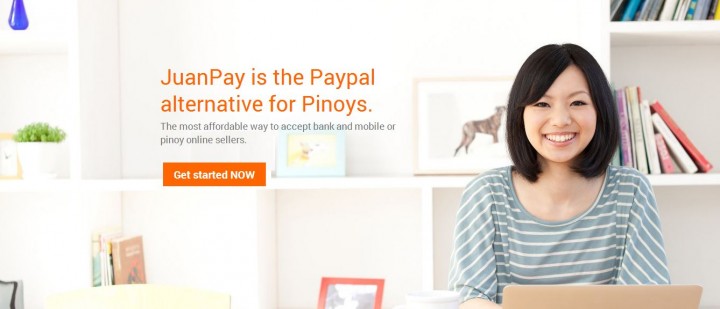 A Cebu-based startup which launched in 2013, JuanPay, also offers an alternative payment method for ecommerce merchants in the Philippines by integrating its software on their websites. Smaller scale sellers on Facebook and Instagram can also coordinate with JuanPay's support team to have accept payments using JuanPay's payment system.
Payment options: JuanPay allows credit card payments and online and over-the-counter deposits from 10 banks, as well as e-wallet payments through GCash and Smart Money.
Merchant fees: Signing up is free and merchants are charged a 1.5 percent fee for every payment processed. These payments will be transferred to the their account the next business day.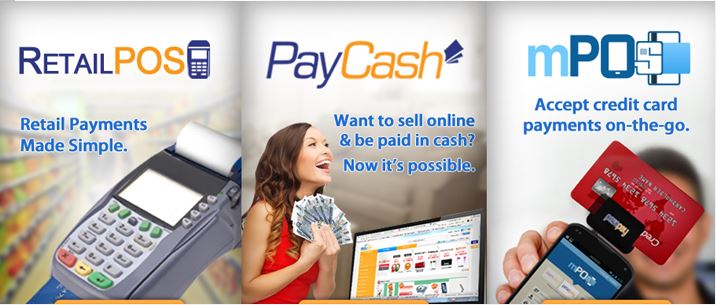 PesoPay is a service by e-payment service provider AsiaPay, which focuses on providing payment options for merchants and consumers in the Philippines. Similar to other payment gateways, its payment system can easily be integrated to the site.
Payment options: It accepts payments via credit cards (such as Visa, Mastercard and JCB), online bank transfer payments through ATM consortium Bancnet, over-the-counter payments through banks (RCBC and BDO), non-bank payment partners such as pawnshops and other brick-and-mortar shops, and PayPal.
Merchant fees: PesoPay charges an annual set-up charge, a transaction commission based on the payments received, and a chargeback handling fee (amounts remain undisclosed and merchants can coordinate directly with PesoPay for these charges).
(See: A complete list of the 18 payment players in Vietnam)

One of the services provided by internet-based services company Mozcom is PayEasy, which also integrates it payment system into ecommerce sites' shopping carts.
Payment options: PayEasy accepts payments via PayPal, major credit cards (Visa, MasterCard, American Express, JCB), online payments through ATM consortia BancNet and MegaLink, ewallets (Globe G-Cash and Smart Money) and direct debit from different global banks. It also uses DragonPay's online and over-the-counter payments.
Merchant fees: Most ecommerce sites are charged an [initial set-up fee of P25,000]http://www.payeasy.ph/payeasy-plans) (US$565), with an exception with group buying sites which are charged at Php 50,000 (US$1131). It also takes a 6 percent fee of the total amount of each transaction.
PayEasy also has enterprise plans for large companies, which are not charged a set-up fee but pay a Php 30,000 (US$679) annual fee, instead. For each transaction, it charges 4.5 percent plus Php 6 (US$0.14) of the transaction for credit card payments, Php 10 (US$0.23) for local online bank payments, and Php 15 (US$0.34) for local over-the-counter payments.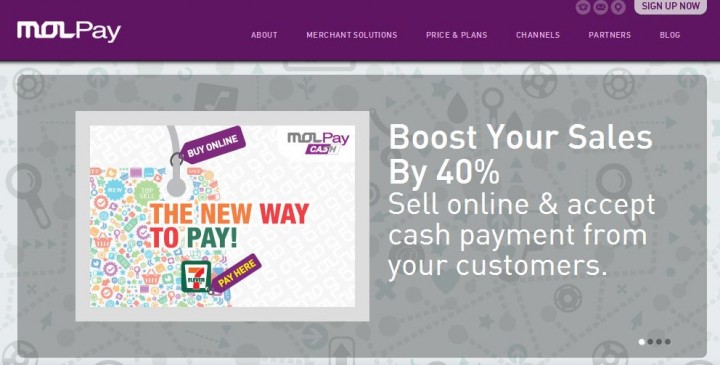 Malaysia-based payment company Money Online (MOL) is an online payment platform for games throughout Asia. In addition to this, it also gives merchants more options to accept payments through its local partnerships with different countries in Southeast Asia – Malaysia, Singapore, Philippines, Thailand, China, Indonesia and Vietnam.
Payment options: In the Philippines, MOLPay lets its merchants' customers pay online through its partnership with local gateways DragonPay and Pay Easy, together with ATM consortia Bancnet, Megalink and, other partner banks (BDO, Chinabank, East West, UCPB). It also accepts in-store payments through payment centers such as 7 Connect, Cebuana Lhuillier, Western Union, and GCash.
Merchant fees: MOL charges a non-refundable one-time sign-up fee of US$100 and another annual fee of US$100. Every internet banking transaction adds a 3.5 percent charge or Php 18 (US$0.41), whichever is higher. On top of this, a fee of Php 65 (US$1.47) is added for credit card chargebacks and US$5 for every time payments are claimed.

WeePay is another recent addition to the list of payment gateway startups in the Philippines. The payment company is a subsidiary of brokerage company Accord Capital Equities
Apart from the online payment service, it can also integrate a shopping cart look-and-feel to ecommerce sites. For brick-and-mortar stores, it offers on-site payments via its WeePOS terminals.
Payment options: It accepts online payments from all the banks accredited under ATM consortia Bancnet and Megalink along with ewallet payments via GCash.
Other payment methods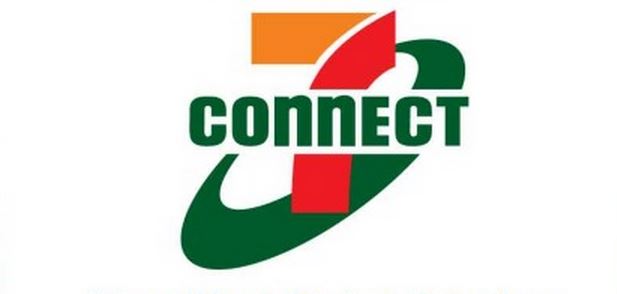 The huge convenience store franchise 7 Eleven has likewise jumped into offering payment options for merchants and consumers in a few Asian countries. This service is available in the Philippines and is already being utilized by some online sellers.
Payment options: The online aspect to it will be most beneficial to ecommerce sites that have have the 7 Connect option on their websites. Customers go to any 7 Eleven branch to pay. Customers who don't have access to credit cards will can use this as a way to make purchases online.

The cryptocurrency Bitcoin has become a new way to send money anywhere, including merchants.
In the Philippines, Bitcoin trading platform Coins.ph has also created a payment service for ecommerce sites in the country. It jumpstarted the service by offering the Bitcoin payment service to top daily deal sites Metrodeal and CashCashPinoy.
Payment options: To pay using Bitcoin, a user needs a bitcoin wallet to send the funds from. Upon purchase through these sites, a QR code of the Bitcoin address is displayed for the user to process the payment using their bitcoin wallet.
Merchant fees: No service fees are charged to the merchant for transactions made by the its consumers.