Kleii, Vietnam's resident Dropbox, went down last month. The website quietly posted an obituary on its main website, telling users that:
Everything is not too late and we do not want to give up just yet. CEO of Kleii Corp has decided to temporarily stop the service at Kleii.com. At the moment, we are building a local data center at Vietnam and rebuilding a new service just for Vietnamese users; meanwhile reducing all activities at other data centers as much as possible. During this time, we also restructure the Kleii Corp then we will turn on our service again with a better planning and a better business model so that – hopefully – our service shall never experience this problem again.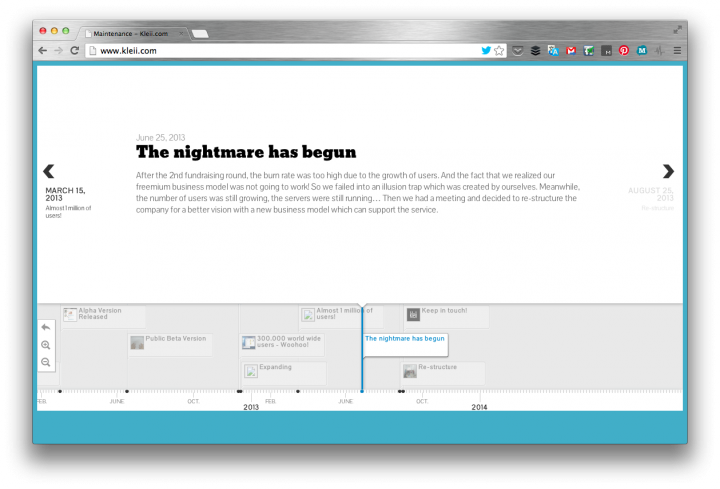 So, we might have to add this Vietnamese startup into the deadpool.
Kleii, which raised a round of funding from its initial investors and several other angels, was offering a total of 50 free gigabytes for its users. Any outsider looking at this would realize immediately that the model is not sustainable. If you are burning thousands of dollars on gigabytes that users will not pay for and have no other source of revenue, it's like digging your own grave. Kleii was hoping that it could secure contracts with Vietnam's telcos to ship Kleii as a value added services for their users. Unfortunately, this strategy did not pan out.
With 50 gigabytes free for all its users, Kleii quickly gained massive traction. By October 2012, four months after launching public beta, the service had over 300,000 users. By March 2013, the service had almost a million users. Suffice it to say, Kleii had a huge burn rate, leading it to secure it's first round of series A funding in April.
We contacted Nguyen Tuan Son, the CEO of Kleii, asking if his service would be gone permanently, and he states:
Kleii is changing its strategy to be more suitable. Therefore, we are closing Kleii for now. It doesn't mean we are shut down, we will bring Kleii back as soon as we can after we've made the change.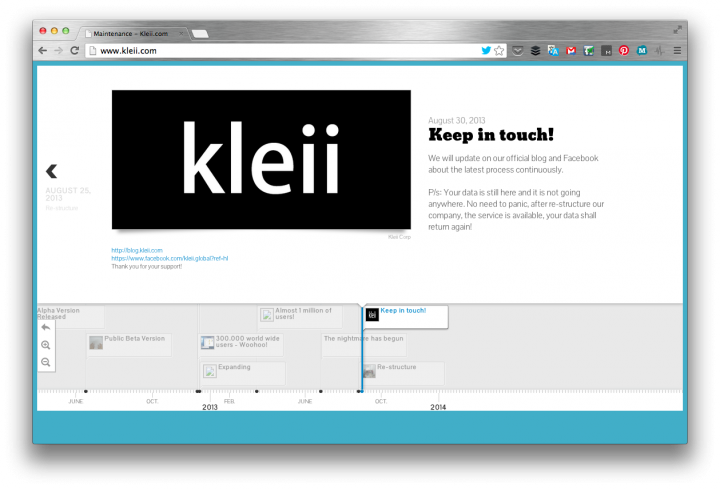 Within the next few months, we'll be monitoring the Kleii blog and website closely to see if there are any changes or relaunches.
Kleii is one of the first startup investments by the BTIC group, n investment firm based in Binh Duong province (about one hour north of Ho Chi Minh City). BTIC launched a huge event last year for the local startup scene, kicking off its incubator which provides money and physical office space for Vietnamese startups
No doubt, BTIC investors, which have put many of their eggs in Kleii's basket, will be hoping that Kleii pulls itself out of its current slump.
(Editing by Terence Lee)