You know that e-commerce is booming in India when you see several niche e-commerce start-ups cropping up like mushrooms in a short span of time. Bangalore-based Zivame is one such start-up.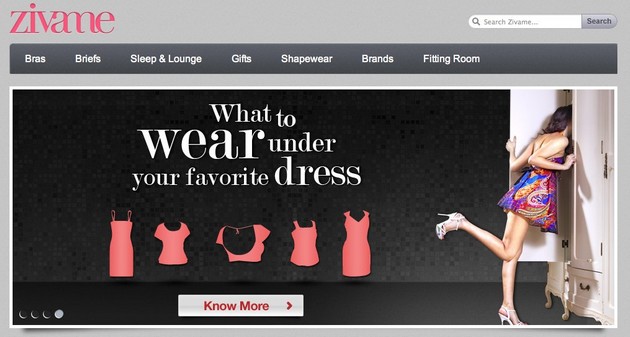 Offering a unique selection of premium lingerie for Indian women, Zivame was started by Richa Kar and Kapil Karekar in April of this year and is a product of Actoserba Active Retail. It offers over 200 lines of lingerie styles, including bridal, plus-size, and swimwear from premium brands such as Enamor, Jockey, and Triumph.
The homepage includes easy navigation into different types of lingerie, and highlights some best sellers, new arrivals, and the staff's top picks. You can also browse by brand, color, and size, and even choose items by selecting which type of dress they want to wear it under, for example beneath an evening dress, a saree, or a T-shirt.
Upon choosing a piece of lingerie, you will be taken to the product page where you can browse through additional information, choose a color and the size of your preference, and then finally purchase it using a credit cards, or online banking – and there's even the option for cash on delivery.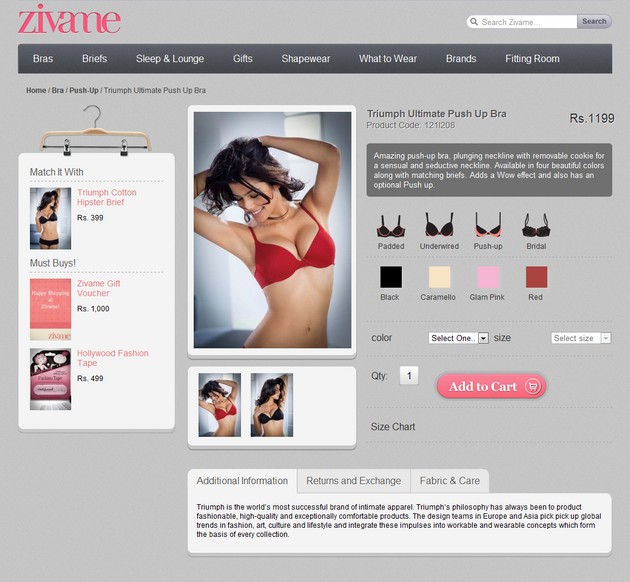 If you're still confused as to what is the right lingerie to suit a specific mood, occasion, or outfit, Zivame also offers styling consultations and bra fitting guidelines on its blog — aptly called "Fitting Room", through its in-house fitters Zoe and Zia.
Richa Kar, founder and CEO, has said they are currently focusing on providing a fast, friendly, and reliable service for female Indian consumers. However, five years down the road, they plan to expand Zivame's product portfolio to include many more products and introduce premium international brands in the women's apparel and accessories category.

Facebook Conversation
comments