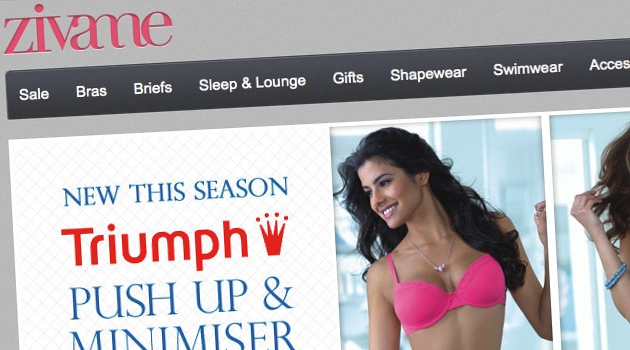 The Indian e-commerce site Zivame, which specializes in selling premium lingerie items, was only launched in August 2011 but has already wrapped up some major series A funding from IDG Ventures and IndoUS Venture Partners. The financial terms of the funding have not been revealed.
Zivame claims that the lingerie segment is the highest growth category in women's apparel, yet it is poorly served in bricks-and-mortar stores across India – and so online shopping can make it a more comfortable and less awkward experience for female consumers. The site only sells mid- to upper-range brands of lingerie, mostly from international marques, and says it has seen its growth in visitor numbers go up from just 6,000 per month after its launch, to over a quarter of a million in the month of February.
Apparently that's the kind of growth and market specialization that interests the two VC firms. The MD of IDG Ventrures India Advisors, T.C. Meenakshisundaram, said in an announcement:
Zivame is a leader in the category of lingerie which lends itself extremely well to e-commerce. […] Zivame has one of the best teams comprising varied experience in retail, technology, and strategy. We believe that Zivame will be able to extend its lead significantly with this capital raise.
The store's CEO, Richa Kar, said that the funding would be invested in "providing a top notch customer experience and making many more brands and products available for our customers, scaling our technology and operations, and to create many more consumer touch points."
Just last month, IDG Ventures India put $14 million into Brainbees Solutions which runs two e-commerce stores for baby and beauty products. And so IDG seems to be on something of a VC shopping spree for Indian online malls. And that can only be superb news for the country's burgeoning e-commerce industry which has huge but as yet very much unfulfilled potential – as shown in this excellent infographic.

Facebook Conversation
comments