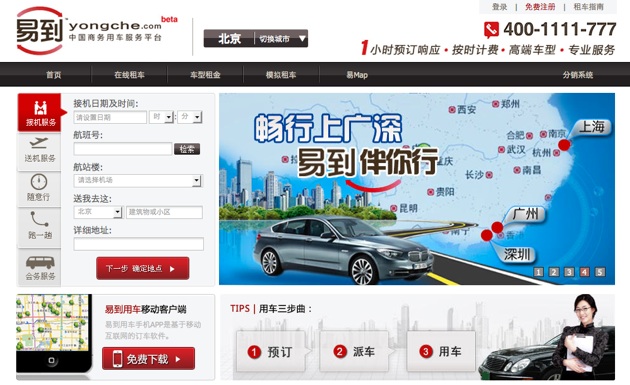 The Chinese start-up Yongche.com – a Beijing-based online car rental service – has secured a non-specific "tens of millions" of US dollars in first-round funding.
In a report from the Chinese-language ChinaVenture site, Yongche's confirmed financing comes mostly from Morningside Ventures, which has a long track record of investing in mainland Chinese tech firms. There was also some input from Qualcomm Ventures.
Yongche started up in August of last year, and quickly became one of the country's top online-to-offline (O2O) e-commerce sites. It now has cars in Beijing, Shanghai, Guangzhou, and Shenzhen. Users can find, book, and browse rental cars in the vicinity using just the iPhone or Android app.
Yongche is similar in concept to Zipcar.com – which has gradually expanded its fleet of cars into over 50 cities in the UK and the US – except that Yongche is, for the moment, more focused on commercial, rather than passenger or leisure, rentals.
One investor already onboard with Yongche is the enthusiastic serial entrepreneur Lei Jun. The last time we encountered Mr Lei it was last month when we looked at the likelihood of his newest start-up, Xiaomi, launching an Android-powered smartphone.
[Source: ChinaVenture - article in Chinese]

Facebook Conversation
comments