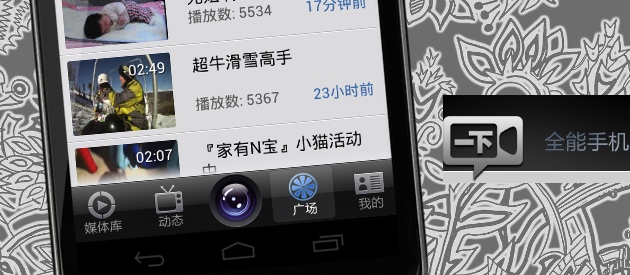 I've said before that mobile video-sharing apps – especially ones with lots of filters and special-effects – could be big in 2012, so let's test out one Chinese startup's contender. Called Yi Xia Shi Pin – meaning 'Next Video' in Chinese – it uses the tagline "life's for sharing" and comes with new apps for iPhone and Android.
Basically, users can record video on their smartphone and then apply one of 36 filters to give it a certain look and feel, just like photos taken with Instagram. Then, that video can be shared with just a few clicks to friends on either the Tencent (HKG:0700) or Sina (NASDAQ:SINA) version of Weibo.
The Yi Xia app was rather buggy and crashy during my testing, but it's still a solid service with lots of potential as China sails well past 100 million 3G users. I uploaded a simple video pretty easily, and also found that there's a whole social network built into Yi Xia that allows you to follow users, download their videos (if they're set to be 'public'), and see which shot-on-the-fly videos are trending on the service.
Once the video is uploaded, you just need to hit the 'share' button and type out a message to send it to your followers on Weibo. In the microblog's timeline, people will see your message, a screenshot and a link. Then just click that to watch the shared video on the Yi Xia site (here's mine).
In the past few weeks we've looked at similar services from Chinese startups, such as the Movie 360 and iShehui apps
Snag the mobile app for iPhone and Android via the links on the Yi Xia homepage.
[Hat-tip to Toumingti for spotting this]

Facebook Conversation
comments