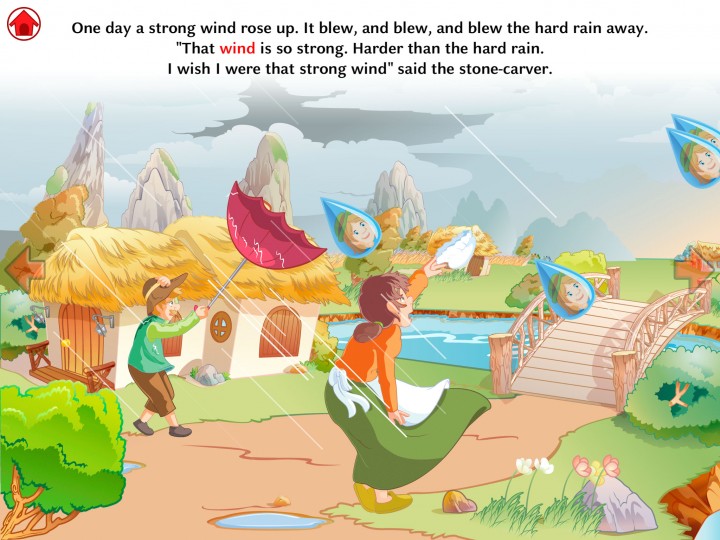 Woof Woof Studio, a Thai startup based in Bangkok with the goal to create infrastructure for digital parenting, has recently launched its first animated children's story-app for iPads. Stone Carver is the classic Taoist tale of a stone-carver who always wishes to be someone else and finally finds happiness as himself.
The story is told with text and voice-over in English, Thai or Simplified Chinese, and very richly illustrated interactive animations. See an example below:
(Note that users do not need an iPad pen; the demo uses a pen just to better illustrate the story)
An interesting perk of this app is that there are no in-app purchases and all links out of the story are restricted to a child-protected Parental Page. This can definitely put some some parents at ease as in-app purchase is one of the main concerns for parents allowing their children to use their devices.
Although, Stone Carver is the first story-app from Woof Woof Studio, it's not the only thing the studio offers. It is also working on the second story from what it calls its Oriental Series: Dragon Dream. According to White Chirakranont, project manager at Woof Woof Studio, Dragon Dream is in the artwork stage now with animation and programming to follow.
Besides the Oriental Series, Woof Woof Studio also has Things to Do series, which focuses on teaching English to children. The first story of this series is called Things To Do: Before You're 9. The second in the Things to Do series will be Things to Do: with Dinosaurs, which is in art production now.
Woof Woof Studio's products are only available for iPads right now. When asked about iPhones and Android, White Chirakranont commented:
As for Android, we think the iPhone will come first. Unfortunately (for Woof Woof Studio) Android users seem to prefer free apps with in-app purchases and upgrades. And we feel that in-app purchases are not really suitable for kids apps…you don't want your kids being bombarded with selling messages while following a story. As for timing, a lot depends on how Stone Carver goes.
He also added about the funding:
We need to allocate limited development funds over new story-apps, and new platforms for older story-apps…unless of course new investors appear! We're always interested in funding options.
Certainly, interactive storytelling app is not something new. There are ZapTales, Grimm's Puss in Boots, and Snow Queen among many others, but Woof Woof Studio hopes that by providing parents with first-rate artwork and animations, good stories, and stories with morals will be the reasons parents pick Woof Woof Studio over its competitors. In addition, for future apps the studio is looking at ways to attract more bulk purchasers like, for example, ESL schools.
This story-app written, illustrated, animated, and programmed in Thailand by a Thai team, has been downloaded already in 50 different countries and is available in every country that has an App Store.
(Editing by Charlie Custer)

Facebook Conversation
comments